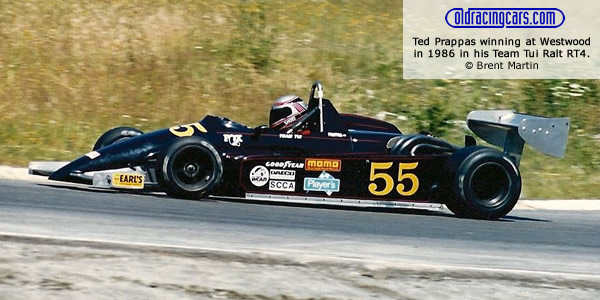 WCAR Formula Atlantic 1986
Ted Prappas had been racing for several years in Formula Super Vee, latterly with RPM Motorsport, and was usually amongst the quicker runners but without ever making it to the top step of the podium. For 1986, he moved into Formula Atlantic where he was equipped with a pair of new Ralt RT4/86s, prepared by veteran Allan McCall's Team Tui. He was immediately right on the pace, taking pole position four times in the first five races and winning at Laguna Seca, Westwood and Portland. However, such was the unforgiving nature of the points system that when Prappas skipped the Laguna Seca race to take in the Canadian GP support race, veteran Dan Marvin and Mexican Roberto Quintanilla, were able to move ahead. Prappas retook the points lead when he, Quintanilla and Marvin finished 1-2-3 at Portland leaving the title race delicately poised going into the Sears Point finale - Prappas now had 97 points, ahead of Marvin on 93 and Quintanilla on 88. Marvin took pole at Sears Point but dropped out after 24 laps leaving Prappas only needing to finish second behind the Mexican to win the title. Which he duly did.
One other driver who deserves a mention in that 1986 WCAR season was Tommy Phillips, son of legendary local racing car dealer Pierre Phillips, who took four pole positions and two wins in a purple patch that lasted from June to August. He translated that into a CART drive at Laguna Seca that October, but unfortunately it led nowhere.
The races
23 Mar 1986 > Firebird International Raceway

04 May 1986 > Laguna Seca

18 May 1986 > Riverside

01 Jun 1986 > Sears Point

15 Jun 1986 > Laguna Seca

20 Jul 1986 > Westwood

10 Aug 1986 > Tacoma

24 Aug 1986 > Portland International Speedway

27 Sep 1986 > Sears Point

Table 'oldracingcars.watn2' doesn't exist