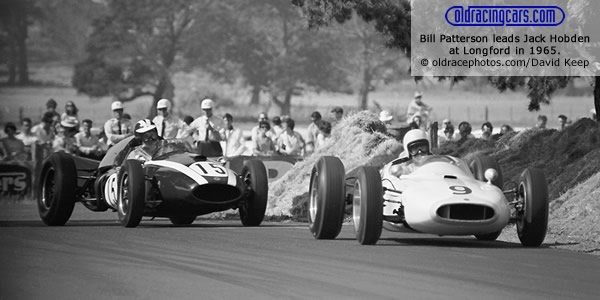 Australian Gold Star 1965
Having won the Gold Star quite comfortably in 1964, Bib Stillwell didn't really need to buy a new car. But he did anyway and cruised to his fourth successive Australian Drivers Championship. Two Internationals formed the opening rounds of the Gold Star and first Australian home at both of these was Jack Brabham which gave him 18 points, enough for second place in the Gold Star without competing in another race. Stillwell was second Australian at both these races and then won Sandown, Mallala and Warwick Farm to dominate the series. The winner of the other race - in Stillwell's absence - was Spencer Martin who had taken over the Scuderia Veloce entry driven by Graham Hill in the Internationals. All three cars were Brabham BT11As, the latest F1-derived Intercontinental car from MRD.
The other competitive 2.5-litre entries in 1965 were Frank Matich in his 1963 Brabham BT7A and John McDonald who had acquired one of the Cooper T70s built for the 1964 Tasman series by Bruce McLaren Motor Racing.
The quickest AF1½ car were Leo Geoghegan's Total Team Lotus 32, which took second place at Lakeside and Warwick Farm, and R.C. Phillips' Brabham BT14 which debuted at the final race driven by John Harvey.
The races
14 Feb 1965 > Warwick Farm "100"

01 Mar 1965 > Australian Grand Prix at Longford

11 Apr 1965 > Sandown Park

25 Jul 1965 > Lakeside

11 Oct 1965 > Mallala

05 Dec 1965 > Hordern Trophy at Warwick Farm

Table 'oldracingcars.watn2' doesn't exist