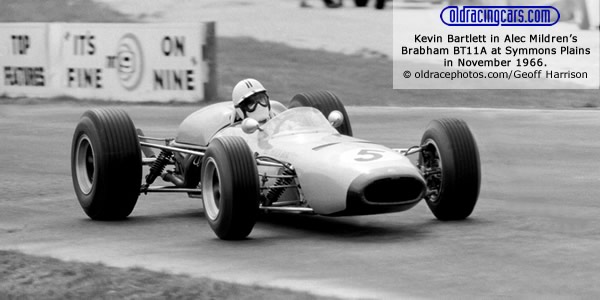 Australian Gold Star 1966
The retirement of Bib Stillwell at the end of the 1965 season marked a new era of teams replacing individual competitors. Three recently retired drivers led the change: Alec Mildren, David McKay's Scuderia Veloce and newcomer Bob Jane. Mildren had fitted a Maserati engine to his BT11A for regular driver Frank Gardner but this was not working out so Mildren snapped up Stillwell's Climax-powered BT11A for Gardner to race in the Tasman series. Mildren's original car was then converted back to Climax power for Kevin Bartlett to race in the Gold Star and the ex-Stillwell car sold to Kiwi saloon racer Kerry Grant. The third BT11A was still being driven by Spencer Martin but was now with Bob Jane Racing, having fallen out with David McKay.
Martin easily won the Gold Star after winning three of the first four races and qualifying on pole more often than not. Kevin Bartlett was typically his quickest rival but only managed three second places although he scored nine point for the last of these as the winner, his Mildren teammate Frank Gardner, was not counted as an Australian resident. Second place in the Gold Star was taken by John Harvey in the quickest of the ANF1½ cars; picking up good points behind the 2.5-litre cars and winning at Mallala when the 2.5s stayed away. His Brabham BT14, entered by R.C. Phillips, was bored out to 1650cc later in the year and moved into the top class.
The races
10 Jul 1966 > Lakeside

14 Aug 1966 > Surfers Paradise

10 Oct 1966 > Mallala

16 Oct 1966 > Sandown Park

13 Nov 1966 > Symmons Plains

04 Dec 1966 > Hordern Trophy at Warwick Farm

Table 'oldracingcars.watn2' doesn't exist