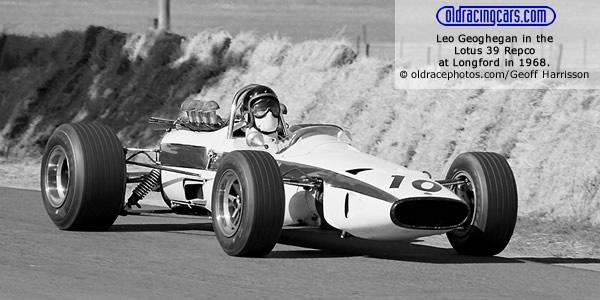 Australian Gold Star 1968
As well as the Alec Mildren Racing Brabham BT23D-Alfa that had appeared at the end of the 1967 season and the Scuderia Veloce BT23A-Repco, a third BT23 derivative, the BT23E also with Repco V8 engine, had been bought by Bob Jane Racing. The only other V8 racing was Leo Geoghegan's perpetually unreliable Lotus 39-Repco.
Phil West took the opening round in the BT23A-Repco but only after Kevin Bartlett retired in the Milden BT23D and both Harvey, in the Bob Jane BT23E-Repco, and Geoghegan crashed in practice. Harvey's injuries kept him out for the rest of the season. Kevin Bartlett dominated at Lakeside, where West was second, and at Surfers Paradise, where he was followed home by Geoghegan whose Lotus 39 remained in one piece for a change. Geoghegan's run of form continued with pole position at Sandown Park but all the V8s broke at that race, leaving the race to Glyn Scott in the FVA-engined Bowin P3. Geoghegan took pole again at Mallala and won the race but Bartlett was second to strengthen his championship lead. Bartlett took his third victory of the season at Warwick Farm to seal a deserved Gold Star from West and Scott with the unfortunate Geoghegan fourth.
The races
15 Apr 1968 > Bathurst

28 Jul 1968 > Lakeside

24 Aug 1968 > Surfers Paradise

15 Sep 1968 > Sandown Park

14 Oct 1968 > Mallala

01 Dec 1968 > Hordern Trophy at Warwick Farm

Table 'oldracingcars.watn2' doesn't exist