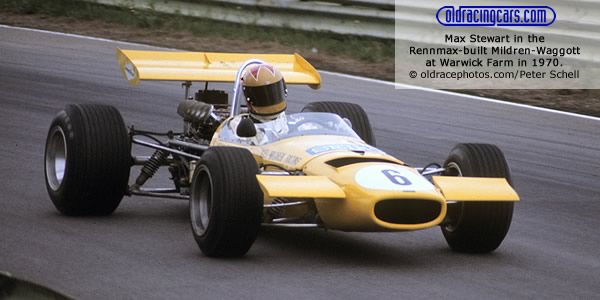 Australian Gold Star 1970
The debate continued in Australia between the merits of 2-litre racing engines and the 5-litre stock block rules of Formula 5000. The Tasman series moved to F5000, but the domestic series would keep to 2.5-litre 'Tasman Formula' rules for 1970. Until the decision could be made, Frank Matich and Niel Allen both bought McLaren M10 F5000 cars, and Leo Geoghegan decided on a new Lotus 59B with 2-litre Waggott engine, but this did not arrive in time for the Australian Tasman races or for the Symmons Plains Gold Star race a week or so later. Max Stewart and Kevin Bartlett stayed with their Mildren-Waggott, but Bartlett's focus was on the US racing season.
The 4-valve Waggott engine turned out to be a very good option, and when the Gold Star contenders reconvened at Lakeside after a three-month break, the Mildren-Waggotts of Stewart and Bartlett shared the front row of the grid, with Geoghegan's new Lotus-Waggott right behind them. Then came four 2.5-litre Repco-engined cars, led by John Harvey in Bob Jane's car. Stewart ran away with that race, with Harvey a whole two seconds a lap slower. Stewart won from Geoghegan at Oran Park, and won again in the non-championship race at Warwick Farm in July. Stewart and Geoghegan were now joint favourites for the Gold Star and shared the front row of the grid at Warwick Farm in September for Round 4. Geoghegan got away best and in Stewart's hurry to get back on terms, he ran into the back of Harvey. Harvey could continue, but his Repco later broke leaving the two Waggott drivers tied at the top of the points table.
Harvey mounted his comeback at the next round the following weekend. Armed with the Jane-Repco, the most developed form of the Brabham-Repco V8 concept, he took advantage of his extra 500cc down Sandown Park's long straights and took pole position. Three Repcos led the opening laps with Stewart and Geoghegan back in the pack, and Harvey was able to establish a 20-second lead and then cruise to victory. Stewart's engine let go and Geoghegan could only manage fourth, so Harvey took a one-point championship lead into the last race at Mallala, with Geoghegan three points ahead of Stewart. Geoghegan took pole at Mallala and beat Stewart by just four seconds to take the title. Harvey's suspension broke, leaving Repco's main representative to finish third in the championship.
The races
02 Mar 1970 > Symmons Plains

07 Jun 1970 > Lakeside

28 Jun 1970 > Oran Park

06 Sep 1970 > Warwick Farm

13 Sep 1970 > Sandown Park

12 Oct 1970 > Mallala

22 Nov 1970 > Australian Grand Prix at Warwick Farm

Australian Gold Star events shown in bold

Table 'oldracingcars.watn2' doesn't exist