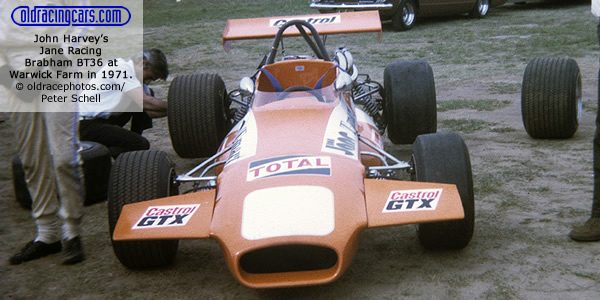 Australian Gold Star 1971
Having thought long and hard about what was best for Australian domestic racing, 2-litre racing engines or 5-litre stock blocks, CAMS decided to have both. The 1971 Tasman series proved that the 2-litres could not compete, so few people could see the sense in the decision. Leo Geoghegan put his Lotus 59B on the market and decided to move to touring cars.
Kevin Bartlett should then have won the Gold Star. He won three races in his McLaren M10B, including the non-championship Sam Hordern Trophy at Warwick Farm, but he retired or was otherwise delayed three times, and that was too much in the six-race series, leaving him tied for second place with the sister M10B of Alan Hamilton. John McCormack also won a race, but his new Elfin MR5 was not ready until the season was half way through. So the title fell to the car that shouldn't have been able to win, the 2-litre Mildren-Waggott of Max Stewart, whose consistent point scoring pipped Bartlett and Hamilton by just a single point.
The other race winner was Frank Matich in his oft-crashed McLaren M10B, but he did not compete in the whole series. At the Australian GP at the end of the year, he debuted his new Matich A50 and won first time out, establishing himself as the clear favourite for 1972.
The races
06 Jun 1971 > Governors Trophy at Lakeside

27 Jun 1971 > Angus & Coote Diamond Trophy at Oran Park

29 Aug 1971 > Glyn Scott Memorial Trophy at Surfers Paradise

05 Sep 1971 > Sam Hordern Trophy at Warwick Farm

12 Sep 1971 > Victoria Trophy at Sandown Park

26 Sep 1971 > Examiner "1000" at Symmons Plains

11 Oct 1971 > Rothmans Trophy at Mallala

21 Nov 1971 > Australian Grand Prix at Warwick Farm

Australian Gold Star events shown in bold

Table 'oldracingcars.watn2' doesn't exist