Chevron B30 and B32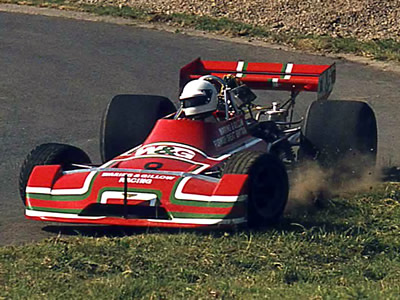 In 1975, Chevron built two further cars furthering the evolution of the B24/B28 series of F5000 cars. The first, given the model number B30 and said to be based on the Formula Atlantic B29 chassis, was built for David Purley who wanted to take advantage of the Ford GA V6 being allowed into the F5000 series. The other, the B32, was built for hillclimber John Cussins and fitted with a 5.7-litre Alan Smith/Dave Whitehurst Chevrolet V8. Both cars ended up on the hills and both were owned by Noel Le Tissier at some point so are covered here together to avoid any confusion.
Thanks to Rupert Lowes, Marcus Pye, Ted Walker, Jeremy Jackson, Chris Townsend and Steve Wilkinson for their help constructing these histories. All further information would be gratefully received. Please email Allen if you can add anything.


Chevron B30 [B30-75-01]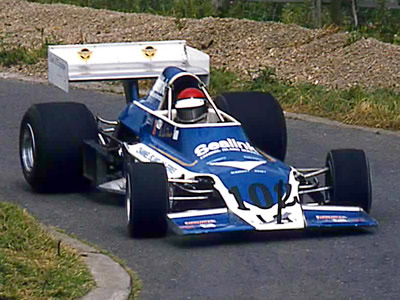 Built for David Purley for the 1975 F5000 championship and fitted with the 3412cc Cosworth Ford GAA V6. Purley was on the podium at each of his first three races, winning at Brands Hatch at the end of March but was not quite on the pace in qualifying and frequently unreliable in the race. He picked up a second win at Oulton in September and took his first pole position at Mallory Park in October.
Mike Pilbeam was brought in to make signifiant changes to the car for the 1976 G8 championship and the car was transformed. Despite the presence of the F1 cars, Purley took six wins and five pole positions from 13 races and comfortably won the title.
The car was raced briefly in 1977 G8 by Evan Clements and Bob Evans before being bought from Purley by Roger Springett for Mike Wilds to drive. He also drove it just once at the end of the season and Roger then sold it to Richard Jones for hill climbs in 1978. It then passed to Tom Coughlan, who had previously had the B32, for Noel Le Tissier to race in hill climbs in 1979, 1980 and 1981.
Bought from Le Tissier by Jeff Wilson and rebuilt over the 1981/82 winter with a BMW M1 bodyshell and run as a "Super Saloon" or GT racer, still with its GAA V6 engine. It dominated the 1982 Donington GT Championship 2001-3600cc class but lost the overall title to a 1-litre machine. Raced again in the Donington GT Championship 1983 and 1984. It is believed to have gone to Janet and Stuart McPherson, still in BMW M1 guise.
Later bought by Rodney Dodson of RD Motorsports for Bernie Rooney to drive in GT events. Rooney also ran the M1 at the Millennium Isle of Man hillclimb.
It is believed that the M1 was later converted back to F5000 form and sold to the Middle East. Subsequent history unknown but reliably reported to be in eastern US in 2002.
Chevron B32 [B32-75-01]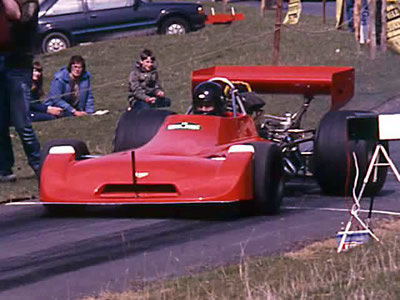 A development of the B28 but built with a 5.7-litre Chevrolet V8 for John Cussins to run in British hill climbs. Roy Lane was to dominate that season in his F5000 McRae GM1 and although Cussins did pick up one win that season, at Barbon Manor, it would be in his Waring & Gillow teammate's Brabham BT35X-Repco after the Chevron broke a driveshaft. With the Chevron he picked up mainly thirds, fourths and fifths to end the season fourth in the championship.
He retained the B32 for 1976 but slipped further off the pace and the car was sold to Tom Coughlan and driver Noel le Tissier for 1977. Le Tissier competed mainly in Channel Island events, taking ninth at the Bouley Bay round of the British Championship in July. He raced it again during 1978, including a run at Brighton in September but was then replaced with the ex-Purley Chevron B30. Tom Coughlan advertised the B32 up to April 1980.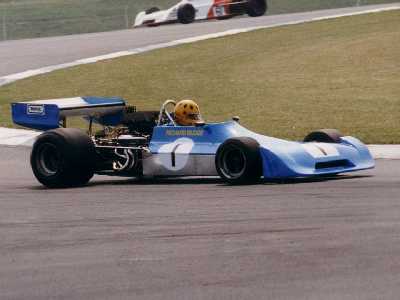 In September 1979, Coughlan shipped the 5.7-litre B32 to the Isle of Man for Brian Redman to drive in a bike versus car challenge where Brian Redan would drive the B32 in competition with Phil Read's 750cc Yamaha. Neither proved as quick as ADO's L&DMC event winning Pilbeam so it was a bit of a non-event.
The B32 may have appeared in 1980 with A Sauvarin but then fades away for several years re-emerging in the hands of Roy Lane in 1984 when he loaned it to Ken Ayers to drive in Sprints in the early part of the season. Ayers was waiting for his potent new Lyncar MS84 to be ready.
By 1990, the B32 had passed into the hands of Chevron enthusiast Richard Budge (Retford, Notts) and was driven by Mike Wilds at a Chevron day at Donington Park in July 1990. Some time around 2000, it passed to Richard Maurice Jones (Rhyl, North Wales) and was rebuilt in 2002 and now has a 5-litre Chevrolet V8. It later passed, possibly via Robin Darlington, to Mike Wrigley (Derbyshire). James Watt ran the car at the 2005 Shelsley Walsh Hill Climb.
Sources
Sources for these histories include "Chevron" by David Gordon and "Uphill Racers" by Chris Mason. These histories last updated on 21 May, 2012 .