Crosslé 15F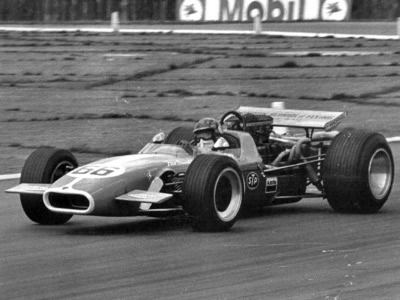 The 15F is listed as a 1968 design but first appeared at the end of that year. The first two cars to leave the factory went to the US in October 1968, one for US Crosslé dealer Roger Barr and one for Ralph Loesser. A third car was being built in October 1968 and was due to go to the US but stayed in the UK and eventually appeared in 1970 UK series for Fred Saunders who used a Rover V8 engine.
Tim Osborne, owner of the Barr car and now also the Stanton car, is painstakingly constructing the history of all three cars and OldRacingCars.com is delighted to be able to publish the results of his work. All and any help would be gratefully received. Please e-mail Allen at allen@oldracingcars.com or Tim at tim@zentekno.com if you can add anything.
Chassis
History
Current owner
Crosslé 15F
C15F-68-39
Built for 1969 season. Roger

Barr

(Glastonbury, CT): raced in US SCCA races 1969 - Terry

Grant

and mechanic Ray Heppenstall: raced by "Francis" Grant at Sebring FA race in October 1970 - Gene

Stanton

- Vic

Myette

last raced 1972 ... Tim

Osborne

: retained 2004.
Tim Osborne (US) 2004
Crosslé 15F
C15F-68-40
Built for 1969 season. Delivered to Ralph

Loesser

... later to Terry

Grant

rejoining the ex-Barr car - Gene

Stanton

(Philadephia, PA): believed to be the car raced by Stanton at Lime Rock in 1972 and at Watkins Glen and Pocono in 1973. Still running in SCCA Nationals several years later (e.g. #98 blue Crosslé entered in FA class by Stanton at Watkins Glen SCCA National 17-18 Jul 1976). Parked by Stanton and unraced until his death in Dec 2003. The car passed via an intermediate owner to Tim

Osborne

(US) 2004, owner of the ex-Barr car.
Tim Osborne (US) 2004
Crosslé 15F
C15F-69-42

Built in 1969 but not delivered and not then used until 1970 season. Fred Saunders: raced in UK 1970-1971 - Brian Leonard April 1972: appeared at Oulton Park 29 May (DNS) and Mallory Park 18 Jun 1972 (retired) ... Richard Evans (Haverfordwest) hill climbs late 1972 (e.g. Pontypool Sep 1972, Pontypool late April 1973 and Gower in mid-Oct 1973) ... presumably the F5000 Crossle advertised by Bill Morris (Dale) May 1975.

Entered by R.S.G. Blake at Bouley Bay 24 Jul 1975 as a 3.5-litre Buick-engined 15F and advertised by Bob Blake (Jersey) in April 1976 mentioning that it was "ex-Saunders" and then had "Chevron bodywork" ...advertised from Birtsmorton May 1978 ... Brian Cocks - Frank Nowak: used in historic racing; retained 2001. Later to Stephan Collisi (Germany): used in historic racing in 2004.

Stephan Collisi (Germany) 2004
These histories last updated on 13 January, 2013 .
A note on chassis number identification
Paul Sheldon's Formula 1 Register Fact Book: Formula 5000 1968-1971 identifies the chassis number of the Fred Saunders car as 15F-70-04. Tim Osbourne's first car carries Serial Number C15F6839 and his second, acquired in 2004, carries C15F6840. According to the race-cars.com web site, the ex-Saunders car carries Serial Number C15F6942. The chassis numbers quoted above have had dashes added purely for the purpose of improving legibility.
Sources
This history was derived from the extensive work of Tim Osborne. His fuller and more detailed history can be read at http://zentekno.com/15f. Tim lists his references as:
1. Motorsport, The Constructors: Crossle, August 1985
2. 30 Years of Winning, Crossle Car Company and Ulster Folk and Transport Museum, 1988
3. Formula 5000: The A-Z, The 1969-1975 Era, by Bernard Crowley, Bookmarque Publishing 1999
4. Ray Heppenstall, telephone conversation, June 2001
5. Roger Barr, email, June 2001
6. Victor Myette, various communications, June onwards, 2001
7. Virginia International Raceway (www.virhistory.com)
8. Formula 5000, Unique Motorbooks
9. Formula Car, Season Review: F-5000 1975, March 1976
10. Motor, American secret weapon, November 25, 1967
11. Autosport, October 11th, 1968 et. al.
12. Hamilton Donaldson, email, September 2003
13. Car and Driver, May 1969
14. Competition Press and Autoweek, January 1969
Additional sources used for this page include Formula 1 Register Fact Book: Formula 5000 1968-1971 and Formula 1 Register Fact Book: Formula 5000 1972-1981.