Vulcan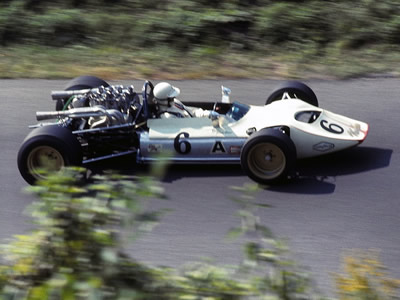 The Vulcan Formula A was designed and built by Kent Carliss (Philadelphia, PA) and financed by Steve Durst. It was of semi-monocoque construction. Although Steve Durst and George Alderman both recall that just two cars were built, a third seems to be evident in 1970.
The photographs used here were provided by Jeff Savage and were taken by his father at Lime Rock in September 1968.
If anyone has seen articles or even brief news reports on the Vulcan, or can help in any other way, please email Allen. My thanks to Wolfgang Klopfer for his help constructing these histories.
Chassis
History
Current owner

Steve Durst: US 1968 (six races: debut R2 War Bonnet 16 June, best finish 5th at R3 Elkhart Lake 27 Jul), SCCA Nationals 1968 (retired at ARRC Riverside 24 Nov); US 1969 (five races), SCCA Nationals 1969 (wins at Virginia International Raceway 27 Apr, Thompson 8 Jun and Portland 12 Oct; crashed at ARRC Daytona 29 Nov). Tom Wood (Xenia, Ohio): fitted with Plymouth V8 and apparantly raced in SCCA Nationals 1969-1970 (so the Durst car?). Only known appearances are R10 Lime Rock 7 Sep 1970 (alongside Stockton's car), a DNS at R12 Mid-Ohio 27 Sep 1970 and (with a Chev engine) retired at R5 Elkhart Lake 18 Jul 1971. Advertised in Autoweek 11 Sep 1971. Subsequent history unknown.
Unknown
Vulcan
'the Alderman car'
(1968-1969)

George Alderman US 1968: only single Pro race at R6 Lime Rock (#24) 2 Sep 1968. George Garrett SCCA Nationals 1969 (only two known races: won at Marlboro 13 April 1969 and retired at Virginia International Raceway (#10) 27 April 1969). Subsequent history unknown.
Unknown
Vulcan
'the Seeley car'
(1970 only)
Bill Seeley US 1970 (one race only: R7 Elkhart Lake 18 Jul 1970), SCCA Nationals 1970 (two known races: wins at Mid Ohio 26 Jul and 13 Sep). If only two Vulcans were built, this car must be the Alderman car. However by the same logic, the Stockton car below must also be the Alderman car so it would appear that the car passed between Seeley and Stockton in Sep 1970 with Seeley having it back briefly.
Unknown
Vulcan
'the Stockton car'
(1970-1972)

Dick Stockton (Willow Grove, PA): only two known races: won a SCCA National at Bryar Raceway 6 Sep 1970 and retired at R10 Lime Rock the next day (7 Sep 1970).

The paintwork of the car, as shown in the top picture on the right, suggests that it was the ex-Alderman car.

Advertised from Stockton Automotive Service Feb 1972 and presumably the car entered by Stockton for Jerry Truitt (#60) at Watkins Glen 18 Jun 1972. Subsequent history unknown.

Unknown
Other pictures exist on the VIR web site's revew of the April 1969 SCCA National and on the Autocourse.ca site's Mont-Tremblant 1969 photos page.
Total number built: 2 (possibly 3).