Gerhardt 1969 Indy car-by-car histories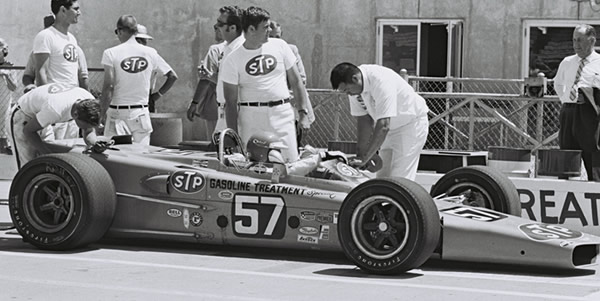 Gerhardt built four dramatically wedge-shaped cars for Grant King's STP-backed team, Gerhardt's own team, Gordon Johncock and Myron Caves' team.
This wedge design was very similar in layout and appearance to the Lotus 56, the 1968 car that was then the height of fashion and already been copied by both Granatelli and the Vel's Parnelli team, and had inspired the new Mongoose, the new Eisert and even to some extent the new Eagle. The 1969 wedge Gerhardt was narrower than the Lotus and had outboard front suspension, like the recent "1968½" Gerhardts, instead of the inboard springs of the Lotus, but otherwise followed its very square cross-section and straight wedge shape. The first two cars to be delivered were Gerhardt's own house car, and Grant King's STP-backed version. A third car appeared still disassembled for Gordon Johncock at the Indy 500 but this was returned, and Myron Caves' car was already in progress but was not completed until July. The Gerhardt house car ran with an exaggerated long pointed nose but this was tempered in later seasons.
If you can add anything to these histories, please contact Allen Brown (allen@oldracingcars.com).
Chassis
History
Current owner
Gerhardt 69
'the Gerhardt house car'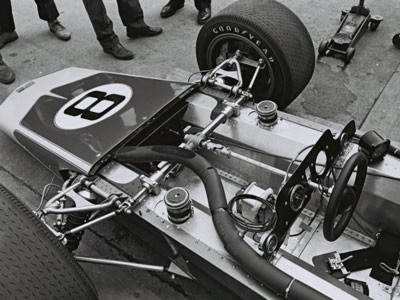 A new wedge design built for Don Gerhardt as the #8 Thermo King 'house car' for Gary Bettenhausen in 1969. It first raced at Phoenix in March, where it was one of five new cars present, and Bettenhausen qualified it for the Indy 500, but retired early. Believed to be Bettenhausen's car all season, but he may have used the older 1968 car, which was a backup at the Indy 500, at short track events or road races. The last appearance of this car appears to have been at Riverside in December 1969, where it did not start. The history of this car after 1969 is not clear but there is a good chance that it is the wedge car that Bettenhausen used in the early races of 1970, then his backup car at the 1970 Indy 500, and then his backup car thereafter. It may even be the car he used briefly in 1972 after wrecking his primary car at Milwaukee in June 1972. If so, and we're well into speculation now, it could well be the wedge Gerhardt that was converted to run in Formula A for Bob Krajcirik (Chico, CA) in 1975 or 1976. Krajcirik's car went to Phil Rendahl, and was acquired from him by Greg Lindstrom in the early 1990s. During restoration was found to have fuel bladders dated 1969, which supports the history outlined above but there could well be other options.
Driven by: Gary Bettenhausen. First race: Phoenix International Raceway (R1), 30 Mar 1969. Total of 10 recorded races.
Unknown
Gerhardt 69
'the Art Pollard/STP car'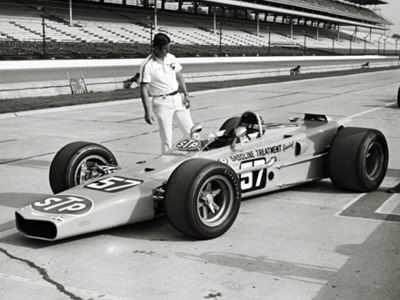 A Gerhardt wedge built for Grant King's STP-backed team for the 1969 season and raced by Art Pollard at the start of the season as the #20 STP Oil Treatment entry. Became the #57 at the Indy 500 where it was raced by Carl Williams. Won at Milwaukee in June in Pollard's hands. Fitted with a Plymouth stock block engine for road races and won again at Dover Downs in August. Retained for 1970 as part of Pollard's team and raced by Pollard as the #10 at Phoenix and by Greg Weld as the #93 at the Indy 500. Sold by Pollard later in the year to Roy 'Shorty' Emrich (Manchester, PA) who fitted a Chevrolet engine and ran it for local sprint car star Bobby Allen at Phoenix in November 1970. Emrich also ran the car a few times in 1971, and it appeared at Trenton in April 1972 for Dick Tobias, but failed to start . Later restored by Bill Smith and reunited with the Plymouth engine in the late 1980s when Smith persuaded Vince Granatelli to part with it. Was on display at the Eddie Evans Car Museum (Bedford, Indiana) around 2000. On display at the Museum of American Speed in Lincoln, NE in 2012. Still in the Museum of American Speed in September 2017.
Driven by: Art Pollard, Carl Williams, Greg Weld, Bobby Allen, Dee Jones, Dick Tobias and Jerry Karl. First race: Phoenix International Raceway (R1), 30 Mar 1969. Total of 19 recorded races.
Smith Collection Museum of American Speed (USA) 2017
Gerhardt 69
'the Gordy Johncock car'
Gordon Johncock bought one of the new wedge Gerhardts for 1969 but it arrived too late to be completed for practice at the Indy 500. It remained in pieces in Johncock's Garage 47 during practice, while Johncock focused on his two older Gerhardts in the next door garages. He commented to the Indy Star reporter Joe Hamelin on 22 May that he hadn't paid for it yet and intended to send it back. Subsequent history unknown.
Driven by: Gordon Johncock. First appearance: Indianapolis Motor Speedway (R3), 30 May 1969.
Unknown
Gerhardt 69
'the Myron Caves car'
New wedge Gerhardt for Myron Caves team for 1969. Although announced in February 1969, the Caves Buick wedge was not expected to race until the Indy 500 and the team's older car was used by Jigger Sirois in the early-1969 races. The car actually missed the Indy 500 as it was still being put together in chief mechanic Bob Higman's garage in Romney, Indiana, and it first raced by Jim McElreath as the #14 Quaker State Spl at Trenton in July 1969. It was then the #74 Gerhardt driven by McElreath, Arnie Knepper and Sam Sessions in 1970. McElreath could not qualify the car at the 500 that year, where photographs show a very exaggerated wedge shape. Caves had heart surgery in June 1970 and his team disappeared until Ontario 1971 where the car was entered as the #37 Caves Buick with Bruce Walkup in the seat. Lee Kunzman qualified this car for the 1972 Indy 500, and it was raced later in the season by McElreath, Johnny Parsons Jr and Greg Weld. The Caves Buick team was wound up at the end of 1972, and the subsequent history of their wedge Gerhardt is unknown.
Driven by: Jim McElreath, Arnie Knepper, Sammy Sessions, Bruce Walkup, Lee Kunzman, Greg Weld and Johnny Parsons Jr. First race: Trenton Speedway (R9), 20 Jul 1969. Total of 17 recorded races.
Unknown
These histories last updated on .