Lola T300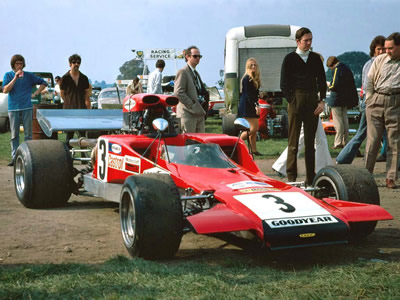 Although Lolas had been numerically dominant in F5000 since the original T140, they had not necessarily been the quickest car. The Eagles, McLarens and Surtees had dominated the early years and even the 1971, T192 was struggling to assert itself. Late in the summer of 1971, Frank Gardner decided he needed something more refined than his highly developed but hefty T192 and decided to try a Chevy V8 in the back of Lola's pretty new F2/FB T240. The combination worked well and Lola quickly dubbed it the T300. It would prove to be the first step in Lola's utter domination of F5000 through the T300-T330-T332 family.
A large number of T300s were wrecked in accidents: the prototype T242/T300, Graeme Lawrence's HU3, Neil Allen's HU4, Terry Sanger's HU9, Reg Cook's HU16 and, maybe, Eddie Miller's HU12. Thus, of the 18 built, 12 should probably remain. One of those cars has been reconstructed on a new tub so the total becomes 13.
In the UK, only the T242/T300, HU1 and HU9 were raced; two of these were wrecked and the other sold to Australia. Of the antipodean cars, the ex-UK HU1 went to the US and the other three (HU3, HU4 and HU16) were all wrecked. So all the surviving T300s ended up in the US and all known cars come from US stock. Only nine have been found so far.
So it looks like five T300s are still missing. Can you help? Do you know any of these former owners? Mike Brockman, Doug Barrow, Eddie Miller or Joseph Schultz. Are you one of them? All and any information would be gratefully received. Please email Allen if you can add anything.
Chassis
History
Current owner
Lola T242/T300
'P'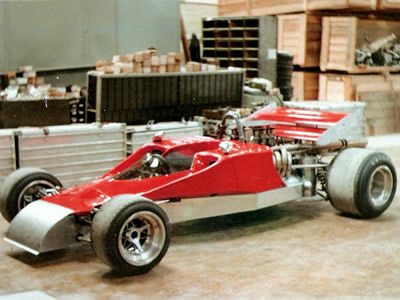 Called a T242 at first race but this confused FB T240 owners so car renamed T300 for second race. Frank Gardner: UK 1971 (debuted R10 Thruxton 1 Aug). Raced four times before wrecked at Snetterton and replaced with first production T300.
Wrecked 1971
Lola T300
HU1
Frank Gardner late UK 1971 season (won two rounds). Crashed in practice for Nov 1971 Australian GP and did not start. Won New Zealand GP at start of 1972 Tasman season but then crashed at R2 Levin; retubbed for the first three Australian rounds and Gardner finished second in each race. Sold to Gary Campbell (Liverpool, NSW) after Gardner retired from motor racing at Sandown. Driven by Campbell at Adelaide Tasman 1972; later at Calder 19 Mar and then in Australian Gold Star races at Sandown 16 Apr (crashed), Oran Park 25 Jun, Surfers 27 Aug, Adelaide 8 Oct and Warwick Farm 5 Nov. Traded to Carl Haas (Chicago, USA) for new T330 HU4, and sold on to Mike Brockman (Orlando, FL) US 1973 (five races plus 1 DNS). Not seen in 1974. Subsequent history unknown.
Unknown
Lola T300
HU2
Invoice undated (sold to 'Shepard', colour 'Red'). Sandy Shepard (Denton, TX) ordered a T300 almost before Lola had built the first one. Tested at Snetterton mid-Oct 1971. Shepard US 1972 fitted with Smokey Yunick Pontiac engine but later with Franz Weis Chevys. Rented by Brett Lunger for R4 Elkhart Lake after Lunger wrecked his own T300. Crashed badly in practice at R6 Road Atlanta 20 Aug 1972 and rebuilt on a new tub.
Advertised in Autoweek by Monk King Pontiac (Denton, TX) 25 Aug 1973 and by Shepard's mechanic Dick Corrow in Autoweek dated 13 Oct 1973. Sandy can't remember who bought it but recalls Corrow going with the buyer to Riverside for his first ride in the car. Subsequent history unknown but see the Eddy O'Brien car and the Jacqua/Duncan car.
Unknown
Lola T300
HU3
Invoice undated (sold to 'Lawrence', colour 'Red'). Graeme Lawrence (NZ) and repainted yellow before its first race. Won the NZ Gold Star race at Bay Park in December 1971, and was intended for 1972 Tasman races but crashed at the first race, at Pukekohe in January 1972, in the incident that took the life of Bryan Faloon. Lawrence was severely injured: he broke one leg, suffered multiple fractures in the other, and broke both wrists. The Lola was written off and the tub crushed at Hamilton tip.
Some surviving components of this car were acquired by Reg Cook (NZ) and sold to David Manton (NZ) late 1989. Together with some parts of HU4, and some remains of HU16, this "package" was sold to Frank Lyons (Felsted, Essex) September 2001.
Wrecked 1972
Lola T300
HU4
Invoice undated (sold to 'Allen', colour 'Green'). To Neil Allen but crashed badly when the brakes failed while testing at Surfers Paradise in late December 1971, leaving Allen with a broken ankle and burns on his back. The Lola was rebuilt on a new monocoque and sold to Bob Muir (Burwood, Australia), who raced it in the Australian Tasman races in February 1972, then in two Gold Star races, and then took it to the US for four races. It returned to Australia and was acquired by Pat Burke Racing for Warwick Brown to race in the 1973 Tasman series, but crashed in practice at Surfers Paradise and was written off.
Some parts to Reg Cook and part of the package sold to David Manton late 1989, and then to Frank Lyons (Felsted, Essex) September 2001.
Wrecked 1973
Lola T300
HU5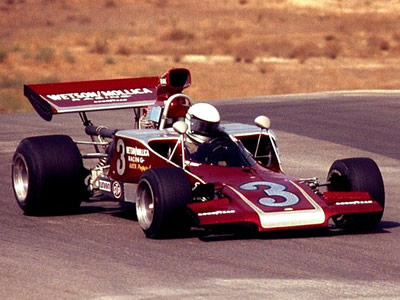 Invoice date 29 Dec 1971 (sold to 'Haas', colour 'Red'). Horst Kwech (Gurnee, IL) US 1972 ("badly damaged" (Autoweek) at the end of the second Road Atlanta heat when Motschenbacher's McLaren M18 hydroplaned into Kwech's Lola; at least retubbed or even written off and replaced with HU18). Advertised 17 Feb 1973 ("two races since new") and sold to Tuck Thomas (Edina, MN) and raced in SCCA Nationals 1973, and in the Pro race at Road America in July. To Norman Marx (Marblehead, Mass) and raced in NE Division SCCA Nationals 1975, and at the 1975 Runoffs; also raced in SCCA Nationals 1976 when he was 2nd in NEDiv with 9 pts. To Ted Wenz (Sloatsburg, NY) Fall 76 and raced in SCCA Nationals from 1976 to 1978.
To Dave Hoover (Columbus, OH/Ridgefield, CT), converted to ASR specification and raced in Can-Am 1979 (Trois Rivieres only), 1980 (Trois Rivieres only) and 1981 (2 races: Mid-Ohio and Watkins Glen). Hoover was killed in flying accident and the Lola was sold to Mike Canan (Pomeroy, Ohio) 1982, and used in ASR over the next five seasons, appearing in Can-Am in 1982 and 1985, and at the Runoffs in 1987. Sold to Mary Shank 1990 (mother of Mike Shank who restored it in 1992 from Can-Am spec). Mike Shank won at HSR Mid-Ohio Aug 1993. Sold to Michael Scott March 2002 (Exeter, UK). Swapped to Neil Glover (Ansty, West Sussex) for his Brabham BT30. Part-exchanged against the ex-Johnnie Walker Lola T330/332 of Mike Wrigley (Ashbourne, Derbyshire) but not raced.
Sold to Mike Whatley (Holmfirth, West Yorkshire) March 2011. Shipped to New Zealand for the 2011/12 Tasman Revival series and raced by Whatley at Hampton Downs Jan 2012. Raced by Whatley at Brands Hatch July 2013. Sold to ex-F1 driver Ian Ashley (Bicester, Oxfordshire) late 2013 and raced by him in HSCC Derek Bell Trophy events in 2014. Raced by Ashley in the Derek Bell Trophy race at Silverstone 18 October 2014. At Thruxton April 2015. Very badly damaged in an accident at the Oulton Park Gold Cup in August 2015.
Ian Ashley (UK) 2015
Lola T300
HU6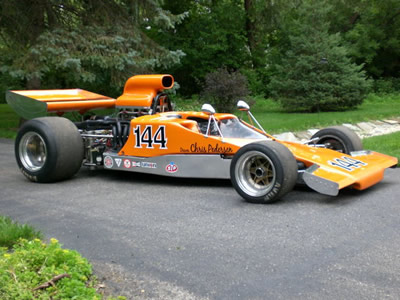 Invoice date 16 Jan 1972 (sold to 'Haas', colour 'Orange'). Owned by Eric 'Ossie' or 'Ozzie' 'Pohl and driven by Jerry Hansen (Long Lake, Minn) US 1972 (four races); SCCA Nationals 1972 (won Runoffs); used in IMCA and/or USAC sprint races at some point, probably in late 1972. A picture of this car appears on the front cover of the 1 Sep 1973 USAC sprint race at Minnesota State Fair, suggesting it raced at the equivalent event in 1972 or at a USAC event in early 1973. Entered for R1 Riverside 29 Apr 1973 but DNA. Hansen used an older T192 in 1973 Nationals.
To John McDonald (Encino, CA): SCCA Regionals and Nationals 1973 (SCCA Drivers school plus five races at Riverside and Willow Springs), SCCA Regionals and Nationals 1974 (two races; crashed at Laguna Seca in June). Rebuilt and returned to racing two years later: SCCA Regionals and Nationals 1976 (SCCA Drivers school plus two races at Riverside), 1977 (one National at Riverside plus one Regional at Willow Springs) and 1978 (one Regional at at Willow Springs and three at Riverside). McDonald crashed heavily at Riverside in November and broke his back. The car was rebuilt and raced in ASR in SCCA Regional races 1981 (two races at Holtville Aerodrome) and 1982 (three races at Holtville and one at Riverside). This is presumably the car that McDonald entered in the 1983 Sears Point Can-Am race as the "RS Mk II", qualifying last and completing only one lap, and the 1985 Mosport Can-Am (did not arrive).
To Walter J. Simmons (Joe Simmons) about 1986 (SCCA Log Book was issued 17 Jul 1987): raced in SCCA Regionals 1988. To Donald McGreevy (Mill Valley California) about 1989: raced in US vintage racing from 1990 ownwards. Retained 2005 and nearing the end of its rebuild. Was started for the first time in ten years just after Christmas 2004. Sold to Chris Pederson (Mundelein, IL) 2007. Raced by Pederson at Road America July 2011 and July 2015, and at the Monterey Pre-Reunion a month later. Sold to Jeff J Green (Peoria, IL) late 2015.
Jeff Green (USA) 2016
Lola T300
HU7
Invoice undated (sold to 'Formula Racing', colour 'White'). Eppie Wietzes US 1972 - Steve Pieper (Alexandria, VA) US 1973 - Brad Blankenship (Indianapolis, IN) late 1973 less engine; rebuilt with deformable structures and a self-built Chev V8 and raced in US 1974 (3 races: debut R1 Mid-Ohio in early June). Dropped out of series after his only engine failed at Road America. Sold to Gordy Oftedahl (Minneapolis, MN): raced by Dick Kantrud (Waterton, MN) US 1975 (one race only: R4 Elkhart Lake 27 Jul). Probably used on a rental basis by other drivers. Mark Dillon (Minneapolis, MN) recalls buying the T300 from Oftedahl but his recollection of the deal was that Oftedahl "was going to provide the engines and the transportation to the races if we provided the cars". However, the deal didn't work out and Dillon advertised HU7 on 17 Apr 1976. He can't remember who he sold it to but the "ex-Wietzes" Lola T300 was advertised by Thomas Carson (Urbana, IL) in Autoweek in November 1976 and April 1977.
The car was then acquired by Horst Kroll (Scarborough, Ontario, Canada) and used as a source of spares for his heavily-used reguar T300, HU15, which was retained as a hire car in Can-Am for much of the 1980s. HU7 was acquired from Kroll by Doug MacCorkindale and raced in US vintage racing in the mid-1990s, appearing at HSR Mid-Ohio Aug 1993, Mosport Aug 1993, VARAC Jul 1994, Mosport Jun 1995 and High Mountain Aug 1996. It was sold to Mike Silman (Los Angeles, CA), and then to Mike Stevenson (San Fernando Valley, CA), who raced it in the "Los Angeles Grand Prix" street race. Sold in 1999 to Bill Swope (Albuquerque, NM), who drove it twice. Then sold to John Obialero (Littleton, CO), also the owner of T332 HU49, and first raced by him in Sep 2002. Also raced by John's son Rick Obialero at Pueblo Motorsports Park May 2003. Appeared in identical livery at Kohler International Challenge with Brian Redman Road America 16-19 July 2009. Sold January 2012 to Marc Rauchfuss (Simi Valley, CA), also the owner of T332C HU61. Sold by Rauchfuss to ex-F5000 racer Eric Haga (Renton, WA) in March 2013. Raced by Haga at Road America July 2013, at HMSA Laguna Seca March 2015. and at Sonoma Raceway in April 2015. Raced at the Monterey Pre-Reunion in August 2015.
Eric Haga (US) 2015
Lola T300
HU8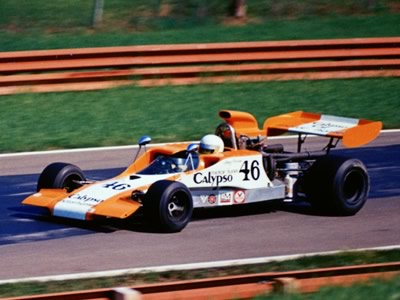 Invoice date 10 Feb 1972 (sold to 'Haas', colour 'White'). John Gunn (Miami, FL) US 1972, then sold to Doug Barrow (Riverside, CA) and raced in the US series in 1973.
Next seen in the 1980s when Jim Jaqua (Laguna Beach, CA) bought it from Bonneville landspeed racer John Helash. Jaqua sold it to Les White (Whittier, CA), who had it restored by the highly respected John Collins Automotive Fabrication (Sana Ana, CA). Advertised by White in 1986. The car was displayed at councours and raced by White in the late 1980s and early 1990s. He sold the car to Dan Verstuyft (Los Angeles) around 1994/95, and Verstuyft ran it in west coast vintage racing. Sold in 1999 to Jo Sebastian (Ramsey, Isle of Man) who raced it in FORCE F1/F5000 series in 2000 and 2001. 'Jojo' is one of the few women to have raced a F5000 car. HU8 not raced 2002 or 2003. Raced by Sebastian at Oulton Park Gold Cup August 2009 and tied for fifth overall in that year's HSCC Derek Bell Trophy. Raced by Sebastian at Oulton Park Gold Cup August 2009 and tied for fifth overall in that year's HSCC Derek Bell Trophy. Not seen since that 2009 season, but still owned by Jo in May 2016.
Jo Sebastian (Isle of Man) 2016
Lola T300
HU9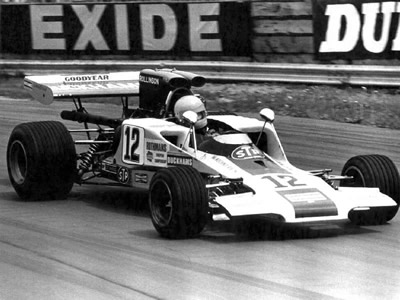 Invoice undated (sold to 'McKechnie', colour 'Yellow'). The only T300 to stay in the UK for 1972. Alan McKechnie for Alan Rollinson UK 1972 (17 races in total; including 2 DNS in Rothmans F5000 round, won at R2 Mallory Park 26 Mar 1972 and R12 Brands Hatch 24 Sep 1972; also raced in International Trophy, Rothmans 50,000 and John Player Challenge Trophy) - Research Consultants for Terry Sanger UK 1973 (debut race at R8 Misano abandoned, R9 Zandvoort cancelled then crashed in practice at R10 Mallory Park 8 Jul and very heavily damaged).
Wrecked 1973
Lola T300
HU10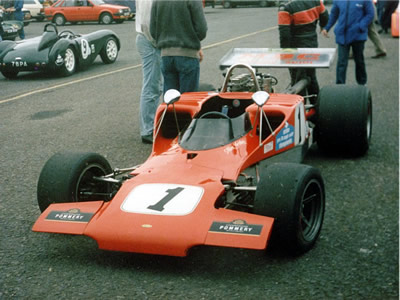 Invoice date 16 Mar 1972 (sold to 'Hogan', colour 'Blue'). Carl Hogan (St. Louis, MO) for David Hobbs US 1972. One of Hogan's two T300s advertised by Hogan 4 Jan 1975. Bought by Garth Pollard (Cobble Hill, BC, Canada) from Miller Imports in LA (possibly a David Madison according to Garth). Raced at Long Beach and Laguna Seca in 1975. Leased to Bert Kuehne (Waterloo, Ontario, Canada) for 5 races in 1976 then returned to Pollard and raced by him at Riverside in October 1976. It appeared as #73 both years but as #16 when raced by Kuehne. Pollard advertised this car in Autoweek on 29 Nov 1975 and stated that it was a T300. When he advertised it again, still in F5000 form, on 5 Mar 1977, he stated it was the ex-Hobbs T300. Pollard sold it to a local Steven Burt (who didn't race it) who in turn sold it to a broker who sent it to the UK.
Next seen when raced by Alex Seldon (Farnham, Surrey) at Oulton Park 11 May 1985 and Silverstone 12 Sep 1985 - Geoff Thomas (Farnham, UK) Aug 1986: UK HSCC historic racing from 1987 onwards (won 1987 HSCC F5000 class in Pre '71 Series) - Nick Shrigley-Feigl (Ramsey, Isle of Man) 2001: raced in FORCE F1/F5000 series. Observed at the Silverstone Classic July 2005.
Nick Shrigley-Feigl (Isle of Man) 2005
Lola T300
HU11
Invoice date 16 Mar 1972 (sold to 'Haas', colour 'Blue'). Carl Hogan (St. Louis, MO) for Brett Lunger US 1972. Wrecked at R4 Elkhart Lake where Lunger rented Sandy Shepard's T300-Pontiac for the race, but retired for the next race. Lunger won at Road Atlanta in August and Lime Rock in September in this car. One of Hogan's two T300s was advertised by Hogan 4 Jan 1975. Although HU10 is known to have raced in 1975, the fate of HU11 remains a mystery. Subsequent history unknown.
Unknown
Lola T300
HU12
Invoice date 16 Mar 1972 (sold to 'Haas', colour 'Yellow'). Gus Hutchison US 1972 (from R1) - Eddie Miller (Vail, Colorado) US 1973 (crashed at first race and replaced by a Lola T330). Marc Rauchfuss reports that Alfred Wicks (or Wix?) in Denver, Colorado, bought a T300 from Miller about 1973 and ran it in a few club events. However, the HSCC papers list the next owners after Miller as David Gardner (Long Beach Car Company, CA), Mike Ferraro (US) and Vicent Pumo (Eurospares, Halstead, Essex, UK).
Sold mid-1980s to John Beasley (Shrewsbury, Shropshire, England) and raced in yellow-and-black livery in HSCC historic racing (raced by Gary Pearson at Donington Park on 17 Jul 1988) - John Harper (Gloucestershire) 1989 or 1990: historic racing (raced by Harper at Donington Park 21 July 1990) - Dr Pierre Haverland (Belgium) and painted black - Nick Rini (Ft Lauderdale, FL) 1999: painted cream and bright green and raced in England (at Silverstone 31 Jul 1999 and 21 Jul 2000). Wrecked at Silverstone 2001 or 2002 and the tub was reskinned and rebuilt by McDonald Race Engineering; not raced thereafter. To Simon Hadfield Nov 2005. Retained 2006 and restored to Hutchison's livery. To Bruce Fullerton (London) December 2006. Raced by Fullerton at the Oulton Park Gold Cup August 2008. Last seen at HSCC Donington Park Oct 2008.
Bruce Fullerton (UK) 2008
Lola T300
HU14
Invoice date 8 Mar 1972 (sold to 'Haas', colour 'White'). New to Warren Flickinger and raced in the US series in 1972 (7 races, debut R1 Laguna Seca 7 May 1972) and in 1973. Advertised by Chuck Jones Racing (Costa Mesa, CA) in Formula Magazine (Vol 1 No 6, Mar/Apr 1974) and sold to Floyd Sable (Anaheim, CA) for SCCA National and Regional racing in 1974 and 1975. The original T300 bodywork was lost in a fire during this time, so Sable fitted T332 bodywork. Sold to Terry Hinesly (Prospect, Oregon) and raced for another two years. Then to Dana Leong (Vancouver, BC, Canada) in 1978 or 1979 who ran it at Sears Point and Riverside, wrecking an engine, and then in a SCCA Regional at Portland, where he crashed it. The car passed into the ownership of mechanic Bob Hume but, before it could be repaired, it was stolen and stripped. Bob recovered the tub and retained the engine, but little more. It due course, he sold the tub to a New Zealand mechanic/driver called Peter who worked for Pierre Phillips. Nothing more known.
Unknown
Lola T300
HU15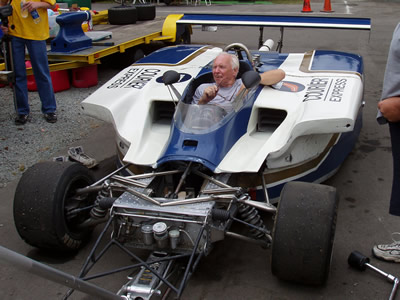 Invoice date 30 Mar 1972 (sold to 'Haas', colour 'Yellow'). Horst Kroll (Canada) US 1972-1974; driven by Bert Kuehne US 1975 (5 races); Kroll US 1976; damaged in cash at Watkins Glen but rebuilt and converted to Can-Am. Kroll Can-Am 1977; rental car thereafter: e.g. Marcel Talbot Can-Am 1978 (1 race: Trois-Rivieres - 04 Sep 1978), Can-Am 1979 (1 entry in "T300": Road Atlanta - 06 May 1979, entry list only); Mike Freberg 1981; Duff Hubbard 1982; John Macaluso 1983; Walter Lechner 1984; Joe DeMarco 1985 and 1986; John Graham 1986. Rebuilt as "Frissbee KR5" for 1986. Mike Engstrand recalls driving Kroll's T300-based Can-Am car at St Louis and Hallet in 1986; used until 1987 - Chuck Haines (St Louis, MO) 1989 - Don Jensen (US) about 1998: used extensively in vintage racing still in Can-Am specification until 2007 - Andrew Kluver (Sydney, Australia) August 2007. Raced at the Phillip Island Classic in March 2016.
Andrew Kluver (Australia) 2016
Lola T300
HU16
No invoice data available. Kevin Bartlett Australian Gold Star 1972 (from Sandown Park 16 Apr?); also Oran Park 21 May, Oran Park 25 Jun, Calder 13 Aug, Surfers 27 Aug, Adelaide 8 Oct, Calder 15 Oct, Warwick Farm 5 Nov, Calder 3 Dec; Tasman 1973 - Reg Cook (NZ) 1973. Later burnt out in a trailer fire. According to Motoring News (7 Feb 1974 p12), the trailer, with the car on it, became detached from the tow vehicle, rolled down into a gully and caught fire. 'After burning for two hours the only salvageable bits left were the engine block and the disc brakes.' Some remains later from Reg Cook to David Manton (NZ) and used in HU3-R.
Destroyed 1974
Lola T300
HU17
No invoice data available. Kevin Bartlett (Australia) US 1972 (run by Jones-Eisert: 4 races + 1 DNS; debut R2 Edmonton 4 Jun). Bartlett clearly had one car (HU16) in Australia and another (HU17) in the US series. Then entered at #74 by Jones-Eisert/KBIG for Jerry Grant (Santa Ana, CA) US 1973 (one race only: R1 Riverside). Jones-Eisert then took over running Muir's T330. Later traded by Chuck Jones to Danny Ongais in return for Ongais' ex-F1 1967 Eagle.
Raced by Danny Ongais (Carlsbad, CA) in SCCA Nationals and Regionals 1974 (first seen at a Riverside Regional 17 Mar 1974; Ongais finished 1st in Northern Pacific Division with 42 pts); US Pro series 1974 (1 race only: R5 Ontario 1 Sep); raced by Ongais in SCCA Nationals early 1975 (won Riverside National 17 Feb 1975, 3rd in Southern Pacific Division with 9 pts). When Ongais went to drive for Interscope, the T300 was sold to Ray Stephens (Costa Mesa, CA) who recalls picking up the orange Lola at Interscope Racing. Raced in SCCA Nationals 1975 (crashed in the Willow Springs National 13 Apr 1975), 1976 (2nd in Southern Pacific Division with 17 pts) and 1977 (1st in Southern Pacific Division with 15 pts); advertised by Stephens in Feb 1978.
Bought from Stephens by Bill Allen (Huntington Beach, CA) and extensively rebuilt before being used in SCCA events at Riverside, Willow Springs and Laguna Seca. As Formula A was being merged into A Sports Racing in 1979, the car then sat on display at Allen's business for over a year. Then sold to Gary Wilson (Towanda, KS) who advertised it in Autoweek in May 1981 as the ex-Ongais car. Sold by Wilson to Jay Braffett (Willow Park, TX) around 1981 or 1982. Wilson told Braffett he had not run it himself but that it had previously been raced by Ongais. Braffett raced HU17 in senior competition just once, the CAT race at Hallet on 7 Jun 1987, qualifying ninth, finishing tenth in the qualifier and then retiring after 17 laps of the main race with engine trouble. Still in Jay's garage gathering dust in April 2016.
Jay Braffett (USA) 2016
Lola T300
HU18
Invoice date 1 May 1972 (sold to 'Haas', colour 'White'). Unknown. Possibly unsold originally and later used as a replacement for Sandy Shepard's HU2 or Horst Kwech's HU5.
Unknown
The 1973 mystery cars
All the 1973 mysteries appear to be cleared up but it is still worth summarising what happened to each car in 1973. In the US, Mike Brockman acquired HU1 via Haas, Sandy Shepard's HU2 was for sale right through the regular season, Tuck Thomas bought the ex-Kwech HU5, John McDonald bought the ex-Hansen HU6, Steve Pieper bought the ex-Wietzes HU7, Doug Barrow bought the ex-Gunn HU8, Hogan retained at least one of HU10 and HU11, Eddie Miller bought the ex-Hutchison HU12, Flickinger retained HU14 and Kroll retained HU15. The Jones/Eisert/Bartlett HU17 also reappeared briefly at the start of the season. HU6 temporarily vanished as Hansen only appears to have raced an older T192 in Nationals. Other cars were wrecked or overseas: HU3, HU4 and HU16 in Australia, HU9 in the UK.
So just one of the Hogan cars has vanished although HU18 also remains a mystery.
The 1974 mystery cars
There was a mass turnover of T300s for the 1974 season, with many cars leaving the Pro circuit and heading off to SCCA Nationals. Norm Marx bought the Kwech/Thomas HU5, John McDonald retained HU6, Brad Blankenship bought Pieper's HU7, Hogan retained one of HU10 and HU11, Floyd Sable bought Flickinger's HU14, Kroll retained HU15, and Danny Ongais acquired the Jones/Eisert HU17.
So that leaves four cars that go missing after the 1973 season: Mike Brockman's HU1 from Orlando, FL, Sandy Shepard's HU2 from Denton, TX, and Doug Barrow's HU8 from Riverside, CA, plus that second Hogan car. Four new combinations appeared in 1974 to account for these, all of them in California: Eddy O'Brien, Bill Baker, John Briggs and Joseph Schultz.
Chassis
History
Current owner
Lola T300
'the Eddy O'Brien car'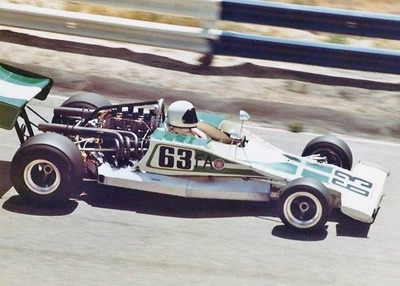 A car raced by Eddy O'Brien (San Diego, CA) in 1974. Previously thought to be the same car raced by Danny Ongais that season (see HU17) but this now seems implausible.
Raced by O'Brien in SCCA Nationals and Regionals 1974 (Riverside Regional 31 Mar 1974, Sears Point Regional 7 Apr 1974, Willow Springs National 14 Apr 1974 and presumably other races later in the season) and in the Pro race at Ontario Motor Speedway 1 Sep 1974. Advertised by Ed O'Brien (San Diego, CA) in Autoweek in 1975 as "ex-Ongais" Riverside track record holder. The question is how this green-and-white #63 car and the orange car sold to Ray Stephens (see HU17) can both be ex-Ongais. Maybe Ongais guest-drove O'Brien's car at some point in 1974 or possibly even early 1975 after he'd sold his own car to Stephens. Ongais won a National at Riverside in Feb 1975 in a T300 so that is the most likely occasion.
Shayne Windelburn asked Ed O'Brien about this car before O'Brien's death and was told that "he got it from someone out near Riverside, but couldn't remember the name; he said it had an Yunick built Chevy in it, that he blew up and replaced it with a Falconer built chevy". The unusual Yunich Chevy suggests Sandy Shepard's HU2, which he advertised in 1973 complete with a Yunich Chevy.
Subsequent history unknown.
Unknown
Lola T300
'the Bill Baker car'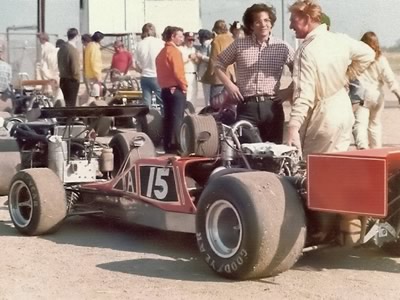 Bill Baker (Pismo Beach, CA) SCCA Nationals and Regionals 1974 (first seen Riverside Regional 26 May 1974); also US 1974 (3 races: debut R5 Ontario 1 Sep). Also raced in SCCA Nationals (1st in Southern Pacific Division with 13 pts).
Baker died in the late 1970s but his mechanic on the T300, Chuck Raggio, recalls that Baker bought the car from Chuck Jones. Advertised in Autoweek 11 Jan 1975. The car was described as red/orange when it raced at Portland in Jun 1974, hinting that it was the ex-Shepard HU2. Baker bought a T332 for 1975 and the T300 was sold; Raggio thinks it may have gone to Oklahoma. Subsequent history unknown.
Unknown
Lola T300
'the John Briggs car'
John Briggs (Woodside, CA) crashed his "ex-clean Lola T300" in practice for a San Francisco Region SCCA Regional at Sears Point 18 Aug 1974. Briggs broke bones in the accident so it may have been fatal for the Lola. Nothing more known. Briggs had a new Lola T332 in 1975.
Unknown
Lola T300
'the Joseph Schultz car'
Joseph Schultz (Buena Park, CA) US 1974 (2 races: R5 Ontario 1 Sep 1974 and R7 Riverside 27 Oct). Was entered by Larry Lee (also Buena Park, CA) as the blue #40 "Lola/Mod Chev 302" at R4 Elkhart Lake. Also raced in SCCA Nationals (7th in Southern Pacific Division with 2 pts). Note that Autoweek describe the car as a T330 at R5 Ontario. There is a picture of this blue T300 in Autoweek's Riverside report. Subsequent history unknown.
Unknown
Jim Gustafson (Bessemer, MI) is identified by Autoweek as driving a T300 at R5 Ontario Motor Speedway on 1 Sep 1974. However, at Riverside (R7 - 27 Oct 1974), Gustafson's car is identified as a T190 and as he advertises a T190/2 on 1 Feb 1975, it is assumed that the "T300" identification is in error. Also, the car raced in 1974 by Arlon Koops was identified on previous versions of this page as a T300. A photograph kindly provided by Road America historian Tom Schultz showed that was his ex-Bob Lazier Lola T330, acquired a year earlier than realised.
The later cars
From 1975 onwards, the T300s quickly fade away. In 1976, only Pollard's HU10 and Kroll's HU15 competed in the US F5000 series.
When Can-Am arrived in 1977, Kroll's car was quickly converted and ran right through to the end of Can-Am in 1986 but the only other T300 known to appear in Can-Am was HU5 in the hands of Dave Hoover and Mike Cannon/Canan. Finally, in 1987, Jay Braffett raced HU17 alongside the Kroll HU15 in the CAT series, a short-lived successor to Can-Am.
By the late 1980s, two Lola T300s were beginning to appear in historic racing in the UK: Alex Seldon and Geoff Thomas racing HU10 and John Beasley and John Harper racing HU12. Also about this time Michael Duncan bought a car that is thought to be HU2.
Chassis
History
Current owner
Lola T300
'the Jacqua/Duncan car'
An unknown Lola T300 which Michael Duncan (then San Jose, CA, later Colchester, CT) recalls buying from Jim Jaqua (Laguna Beach, CA). Paperwork currently with the car identify it as HU2 and list the owners after Sandy Shepard as Phil Conte, "Doug Melash" and Jaqua. "Doug Melash" is probably a reference to John Helash, from whom Jaqua bought T300 HU8, before selling it on to Les White.
Duncan's recollection was:
I was shopping for other parts, at Jim Jacqua's garage in the later 80's (in S.CA) when we came across the T300. It was a tub, with suspension, brakes, wheels, steering rack, pedals, fuel cells, and some orange bodywork. I almost immediately resold it to Harold Drinkwater, and helped him box it up to ship back to England.
Unfortunately, Jacqua has no recollection of selling Duncan a Lola T300. So either Duncan or Jacqua are misremembering this, making it impossible at present to be sure where this car came from.
From Drinkwater, it passed to Ian Webb and a new body and other boxes of bits were added to the package. In 1991, Webb sold it to Peter Voigt (Lindfield, Sussex) who has been able to acquire all the other parts:
I now have just about everything I need to complete the rebuild; except time. With work and other cars I think it will be at least another couple of years before it is finished unfortunately (Peter Voigt Nov 2004).
Retained November 2005.
Peter Voigt (UK) 2005
Shayne Windelburn (NZ) bought a wrecked T300 tub and other T300 parts from Ed O'Brien in July 2005. This was a tub that O'Brien had damaged racing his T300 at Phoenix and had acquired another tub to rebuild the car. Shayne plans to build up the tub into a running car. Still with Shayne in April 2016.
Shayne Windelburn (NZ) 2016
My thanks to Wolfgang Klopfer, Shayne Windelburn, Chris Townsend, Gus Hutchison, Jeremy Jackson, David Manton, Chuck Haines, Marc Rauchfuss, Evan McGreevy, Sandy Shepard, Michael Duncan, Brad Blankenship, Bill Peters, Dick Kantrud, Bob Hume, Peter Voigt, Geoff Thomas, Marcus Pye, Simon Hadfield, Bruce Fullerton, Andrew Kluver, Steve Prestek, Bryan Miller, Chris Pedersen, Tom Johnston, Mark Dillon, Chuck Raggio, Ray Stephens, Bill Allen and others for getting these histories as far forward as they are. My thanks also to Gerr Measures and Jim Thurman for explaining sprint racing; in particular the brief rear-engined invasion of that sport around 1973.
Histories last updated on 1 September, 2016 .