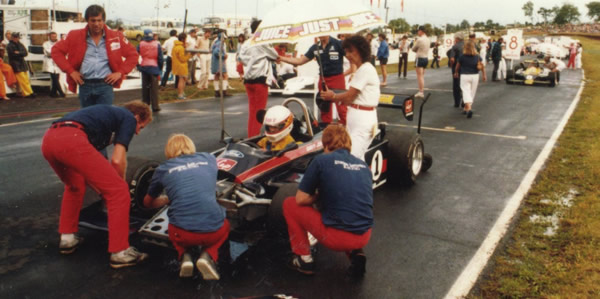 New Zealand Formula Pacific 1984
The International series was not especially International in flavour in 1984, especially at the opening race where there were seven Kiwis in the top ten qualifiers, the only visitors being American Justine Revene, Australian Graham Watson and Brit Ian Flux, fresh from having so narrowly lost the British Formula Atlantic championship to Alo Lawler. New Zealand's 21-year-old Racer to Europe winner, Paul Radisich had been racing in the Australian Gold Star over the preceding months and was immediately in the groove at Bay Park, taking pole position and led both heats from start to finish. At the New Zealand GP, two more overseas stars arrived, with Andrew Miedecke taking a surprise pole position and Davy Jones taking an impressive fifth on the grid, the 19-year-old New Yorker having won the final round of the British F3 series two months earlier. Miedecke and Jones both crashed in the preliminary, which allowed veteran Ken Smith to win from Radisich, but Jones was a revelation in the wet main race, winning by over ten seconds while Smith and Dave Oxton fought for second, Oxton emerging ahead. Due to the odd way points were allocated, Jones was adjudged to have finished third overall, with Smith allocated the overall victory.
Oxton took pole at Manfeild, with Jones alongside him, and these two battled for the lead, with the teenager winning by less than two seconds. It was easier for Jones in heat 2, winning by ten seconds. Radisich finished third overall at Manfeild, with Smith fifth, leaving Smith with a three-point lead over Radisich in the title race. Oxton again took pole at Wigram, with Jones again alongside him on the front row, and Radisich and Smith on row 2. Jones won Heat 1 after Oxton slid off while trying to keep up, but a misfire dropped him to fourth in Heat 2, allowing Oxton a deserved Heat victory. When the points were counted, Jones was adjudged winner of Round 4, from Oxton and Smith, who had finished third in each Heat. Smith's points total was sufficient to take the overall championship, despite winning only one Heat, the 20-lap preliminary before the Grand Prix. Jones had won four Heats, Radisich two and Oxton one.
The races
02 Jan 1984 > Baypark Raceway

07 Jan 1984 > New Zealand Grand Prix at Pukekohe

14 Jan 1984 > Manfeild

22 Jan 1984 > Lady Wigram Trophy

Table 'oldracingcars.watn2' doesn't exist