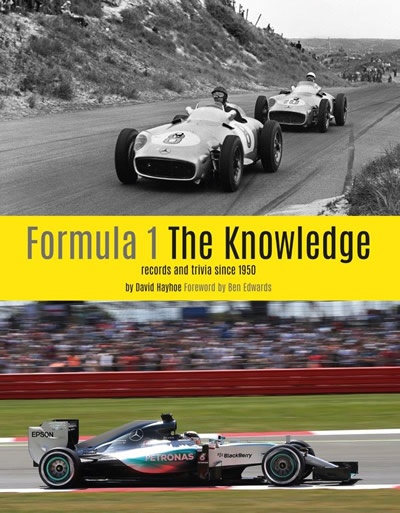 Formula 1 The Knowledge, by David Hayhoe
Publication Date: 15th March 2016
ISBN: 978-0-9935329-0-0
Retail Price: £35.00 GBP (*Approx $50.00 USD / €45.00 EUR)
Size: 275 x 210 x 37 mm
Pages: 434 (90 gram paper, photos on 150 gram paper)
Chapters: 27
Appendices: 4
Photos: 91
Cover: Matt Finish Hard Back

INTRODUCING THE MOST COMPREHENSIVE BOOK OF RECORDS AND TRIVIA FOR FORMULA 1 MOTOR RACING
First Edition 2016.
434 pages containing over 1,000 sections on drivers, the cars, the engines and the circuits
Performance records of every driver, every constructor and every engine make to have taken part
A detailed insight into the variety of qualifying procedures throughout the years
A summary of regulation changes since 1950
A quick reference guide to every grand prix result
Photographs depicting the history of Formula 1
DISCOVER ….
When cars 1, 2, 3 and 4 finished 1st, 2nd, 3rd and 4th
Which world champions had the fewest race wins in their career
When there were no world champions on the starting grid of a race
Which drivers retired from races the most times on home soil
Which drivers achieved their first win on home soil
When a driver scored no points in the season that his team-mate became world champion
When 14 different constructors finished a race in the top 14 positions
When 9 different drivers won 9 consecutive races
When 8 different constructors finished in the top 8 positions
When 7 different drivers won the first 7 races of the season
The amusing story behind a famous driver who drove two makes of car in one race
How Formula 1 qualifying procedures have evolved over the years
How Formula 1 regulations have developed throughout history
How Jackie Stewart had a special relationship with number 11
More connections to "44" for Lewis Hamilton than you realise

About the author
The author, David Hayhoe has been the statistician for Autocourse, "The World's Leading Grand Prix Annual" since 1991, has been author of four editions of the Grand Prix Data Book, and contributed to many other Formula 1 books & magazines, as well as regional newspapers over several decades.
For further information please contact:
David Hayhoe
David Hayhoe Publications
Telephone: +44 (0) 7832 313 579 (Mobile) / +44 (0) 1323 351 252 (Landline)
Email: dh@F1Knowledge.com
Website: www.F1Knowledge.com

* International retail price may vary due to exchange rate changes.