Trojan T101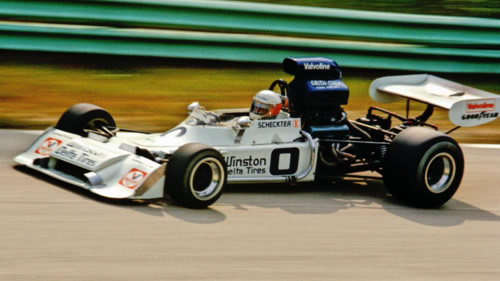 Trojan had been building McLaren's production cars since the very beginning of the McLaren marque, signing their first deal to produce the McLaren M1A in November 1964. All the McLaren Formula 5000s came from Trojan, the all-conquering M10A and M10B, the disappointing M18 and the uncompetitive M22.
With McLaren pulling out of the production market, Trojan pressed on for 1973 with an in-house F5000 design, basically joining the front end of the Formula 2 M21 designed by Ralph Bellamy to an M18/22 F5000 rear end. As McLaren were unwilling to allow this to be marketed as a McLaren, it became the Trojan T101. Ex-Brabham designer Ron Tauranac was brought in after the season had started to try to get the car to "make sense".
Five T101s were sold, with Jody Scheckter dominating the US series until a late-season swap to a Lola T330 and the four UK-based cars winning five times. Sid Taylor and Jerry Entin, who owned Scheckter's car, had assumed that Tauranac would be working to improve the T101 through the season but he became absorbed in Trojan's F1 program for 1974 and Taylor and Entin were given little help with the Formula 5000 car. Although Scheckter bought a Lola with his winnings, Entin remembers being treated very nicely by Trojan and neither he nor Taylor wanted to go back on their deal to run a car for Brett Lunger in Europe and one for Scheckter in the US.
All and any help would be gratefully received. Please e-mail Allen at allen@oldracingcars.com if you can add anything. Thanks to Marcus Pye for providing the initial histories on the cars in existence today, to Jerry Entin and Patrick Sumner for their recollections and to Simon Hadfield, Philippe Demeyer, Pete Stowe and Jeremy Jackson for other information. Thanks also to Rob Ryder, Jerry Entin, Tom Schultz and Alan Cox for the photographs.
Car
History
Current
owner
Trojan T101
101

Built for 1973 season. Ian Ward Racing for Keith Holland UK series 1973 (with two pole positions and two wins: at Mallory Park and Mondello) - Bill Wood UK 1974 (three appearances in UK series and only one start: at Monza), UK series and many Croft libre races 1975 (one UK series appearance: at Zandvoort) - John Hinley 1976 for sprints (also driven by Bob Rose at Curborough on at least one occasion) - Jim Moore (of Kincraft fame) November 1977: used in sprints and libre 1978 and 1979. This car was entered for Keith Norris's F5000 revival series in 1983. He later ran the car at the "Southampton Ocean Village Sprint" in 1987. Sold to a private collector late 2014. Maidstone Sports Cars (Headcorn, Kent) are preparing the car for 2015 when it will be raced by Adrian Hall.

Private Collector (UK) 2015
Trojan T101
102

Built for 1973 season. Sid Taylor for Brett Lunger UK 1973 (won on his debut in the car, at Snetterton, and later in the year at Mallory Park); UK 1974 for Vern Schuppan (first four races) and later Leen Verhoeven (last seven races of season) - Damien Magee UK 1975 (6 races only) - Jim Kelly: for Magee UK 1975 (last four races of season); driven by Magee in libre races in 1976; driven by Kelly libre 1976 and 1977; retained 1978 for minor racing - Robin Hamilton 1979 - Jon Bradburn about 1979/80 and then to Anthony Taylor 1982.

By this time F5000 cars had little value and components such as gearboxes, wheels and rear wings were parted out. Eventually the monocoque was sold to John Piper who had been racing 105 but evidently felt that the 102 monocoque was in better condition. It then passed with 105 via John Saphir, Tony Hildebrand, Jean-Marie Reisser and Serge Power to John Narcisi by 1994. Narcisi also owned 106 at the same time and components would have been swapped between the three cars. By 2000, 102 was just a monocoque in Narcisi's roof when 105 was bought as a rolling chassis by Simon Hadfield. Jody Scheckter then bought 106 from Narcisi leaving 102 largely forgotten for a while. It was sold later to parts trader Roger Hurst, was traded to restorer Peter Denty and finally to fellow restorer Kerry Adams. From Adams it was sold to Simon Hadfield about 2006/2007.

Hadfield is confident that it is 102 but preferred the STP livery of Bob Evans and has used that colour scheme for the restoration. Hadfield first raced the car in STP livery and wearing #11 in early 2010, winning the F5000/F2 race at the HSCC Silverstone International Trophy May 2010. Still owned by Hadfield in April 2015 and on display in the Donington Museum.

Simon Hadfield (UK) 2015
Trojan T101
103

Built for 1973 season. Jerry Entin and Sid Taylor for Jody Scheckter UK 1973 (two races) and US 1973 (three wins and one second in the first four races; crashed in practice at Watkins Glen and repaired at Trojan works; thereafter used at R6 Elkhart Lake and R9 Seattle; also for Sam Posey in the heat at R7 Road Atlanta and Steve Durst at R8 Pocono. Scheckter bought a Lola T330 with his winnings after Elkhart Lake allowing him to add a win and a third and to win the series. The Trojan was returned to UK with Syd Taylor and advertised through to August 1974.

The next part of this car's life is something of a puzzle. It is next seen with Jon Bradburn in 1981 when it would have been the spare monocoque he advertised with 102 and it would appear therefore that it had traveled with its sister car 102 via Damien Magee and Jim Kelly. With F5000 having finished and having even fallen out of fashion for sprints and hillclimbs, Bradburn was unable sell the car and it was eventually stripped and sold to Anthony Taylor. Taylor continued to part out the car and even removed the bulkheads in order to build a special. Simon Hadfield recalls seeing it about 1990/92 when it was just a cut about monocoque but still had Scheckter's Winston Tires livery on the remaining skins. It was finally sold to Othmar von Diemar (Cologne, Germany) about 1997 and slowly restored by Peter Denty. It was initially raced c2001 in dark blue livery but was put into Jody Scheckter colours over the winter for the 2002 season. Sold in late 2010 via James Hanson of Speedmaster to Mike Sidgwick (Lancashire, UK). Raced in white Winston livery at Oulton Park June 2011.

Mike Sidgwick (UK) 2011
Trojan T101
104

Built for 1973 season. Alan McKechnie for Bob Evans UK 1973 (won penultimate race, at Snetterton, but had no other result higher than fourth) - Patrick Sumner (Birdham, Sussex) UK 1974 (best position sixth at Zolder); also driven by David Purley to win 1974 Brighton Speed Trials with Sumner second; UK 1975 (two races only: engine problems at Thruxton in May and again at Snetterton in July). Sumner sold the car to a Quirin Bovy (Belgium) and used in Belgian hillcimbs in 1976. Bovy crashed the car in 1976 and had it repaired. Then to Albert Vanierschot (Belgium) 1977 and then car dealer Firmin Cosemans (Inter Autos, Hasselt, Belgium) c1978. The car was complete with engine at this point and was displayed in his showroom until 1979 or 1980. The car then passed to a Belgian car dealer and remained with him until 2008. Its history since 2008 is not known.

Belgian owner 2008
Trojan T101
105

Built for 1973 season. Hexagon of Highgate for Willie Green UK 1973 (appeared mid-season; five races and only two starts), John Watson (took third place in the final race, at Brands Hatch) and Damien Magee - Brian McGuire UK 1974 - John Kejho UK 1974. With Bobby Bell by June 1975 and used in a Silverstone libre where it was said to be ex-McGuire. Bell recalls buying this car from McGuire and selling it to Feltham Glass Works for Chris Choat and John Hardesty. Driven by Hardesty in libre at Silverstone late August 1975. For Choat UK 1976 (ran at Silverstone Mar 1976, Castle Combe Apr 1976) - Stephen Cuff (Frome, Somerset) 1978: advertised, incorrectly it would appear, as "ex-Evans" from Frome Sep 1978. Entered by Cuff (Morand Chev) at Donington BRSCC libre event 1 Oct 1978. Subsequent history unknown but Cuff recalls selling to someone who used it in sprints in the south.

This must surely be the car sprinted by Mike Hall (Rudgwick, West Sussex): British Sprint Championship 1980 (6th at Wroughton 15 Jun; 5th at Colerne 31 Aug; 5th at Weston 4 Oct) and also entered for Gurston Down hill climb in June 1980; British Sprint Championship 1981 (4th at Lydden Hill 16 Aug; 7th at Brighton 12 Sep). Advertised by Mike Hall (Guildford, Surrey) in October 1981.

Next seen with John Piper (London) at 1982 Brighton Speed Trials; entered for Keith Norris's 1983 F5000 revival races by Piper; ran it in Red/White, latterly with March 782 nose after damaging the original nose in a speed event - John Saphir (North London): still Red/White - via Tony Hildebrand to Jean-Marie Reisser (France) 1990 who used the engine and gearbox from the Trojan to restore his Attila sports car. The T101 was then sold as a rolling chassis to Serge Power (Hasselt, Belgium) 1990 and then to John Narcisi (Bromley) 1994. At this point it was still Red/White and still with a 782 nose. Sold to Simon Hadfield (Shepshed) 2000. The car was identified by brown Hexagon livery under the deformable structures (that would have been added for the 1974 season) and by a distinctive rollhoop that the car had during Choat's ownership. Restored to Hexagon tobacco brown livery. Raced by HSCC Chairman Chris Sharples at the Silverstone Classic July 2007. Raced by Hadfield to win the Silverstone Classic July 2012. Still owned by Hadfield in April 2015 and on display in the Donington Museum.

Simon Hadfield (UK) 2015
Trojan T101
106
Built for 1974 season. Sold new to Bobby

Bell

(painted Alfa Romeo Beech dark maroon) in 1974. However, in Sep 1974, Bell advertised this car as "1974 Trojan T101 ... 6 club races from new". Advertised again May 1975. Later sold via Simon

de Lautour

(France) to Switzerland. Subsequently bought from Switzerland by John

Narcisi

and raced extensively in historics. Sold to Jody

Scheckter

's collection. Retained 2010.
Jody Scheckter (UK) 2010
The unknown cars
Car
History
Current
owner
Trojan T101
'the McDowell car'
101? R. McDowell drove a Trojan T101 in a couple of libre races at Croft in 1981. He failed to finish a race on 14 Jun and had an accident in the race on 31 Aug. Nothing more known.
Unknown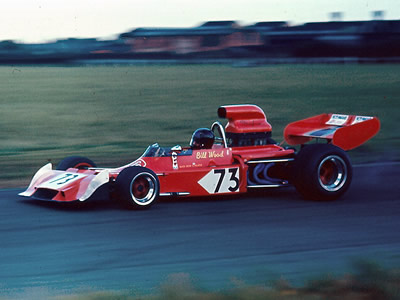 Earlier versions of this page attributed the chassis number 106 to a replacement chassis used by Jody Scheckter after his crash at Watkins Glen in 1973. Since then, categorical evidence has emerged that chassis 103 was repaired and continued in use until the end of the season. So 106, reputedly the car used by Bobbie Bell in 1974, must have been new for 1974, as Bell's adverts always implied. A subsequent version had 103 disappearing after 1973 but the existence of Winston Tires livery on the car owned by Anthony Taylor in 1982 proves where it went, if not how it got there. The Trojan T101s are not as simple as had been thought.
One unexplained advert was for a complete T101 with Morand engine from a Hertford number in Autosport 24 Jul 1980. Unlikely to Mike Hall's car (now believed to be 105) as he was from Sussex but the Morand engine matches the engine in 105 when Steve Cuff had it two years earlier.
Mick Hill's fabulous 1976 'VW Beetle' Super Saloon, which is sometimes said to have been based on a Trojan T101, was actually built from the front suspension and the whole rear end of a T102 but not using the chassis itself.
These histories last updated on 21 May, 2016 .