Tyrrell 002-004 car-by-car histories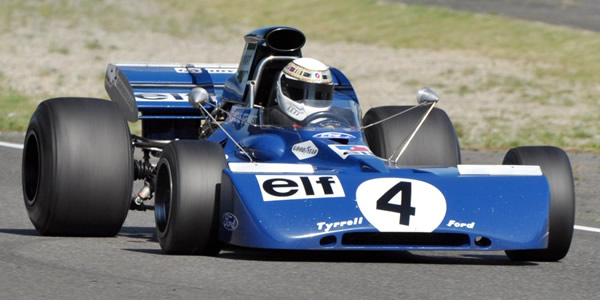 This model is eligible for the Grand Prix de Monaco Historique 2018, in Race E: Formula 1, 1970 to 1972, Cosworth DFV engine.
Two new Tyrrells, 002 and 003, were built for 1971, with a third car being built later in the season. Jackie Stewart dominated the 1971 World Championship in Tyrrell 003.
Tyrrell designer Derek Gardner made a number of detail changes for the two new Tyrrells being built for the 1971 season. The 002 chassis was four inches longer, to accommodate No 2 driver François Cevert, but the wheelbase was only increased by 1½ inches. The side skins were 16-gauge NS4 aluminium, instead of the thinner 18-gauge on 001, the front bulkhead structure was simplified, and the rollover hoop was a stronger item with forward bracing into the cockpit, instead of the rearward brace onto the engine. This latter change was to allow the engine to break away from the chassis in an accident without compromising the driver's protection, and would become standard practice in all categories over the next four or five years. Tyrrell 003 for Jackie Stewart followed the same design, the cars having adjustable foot pedals to allow for the different height of the drivers. Tyrrell 004 was completed in October 1971 as a spare car, and did not race until 1972.
The first three races of 1971 were the South African GP and two non-championship races in England and California. Stewart started each race from pole position in Tyrrell 001, and finished second in each. He then moved over to 003, and won each of his first two GPs in the car, in Spain and Monte Carlo, also breaking the lap record in the principality. Brake problems put him out of contention in the Dutch GP, but he then won in France, Britain and German to put the World Championship beyond doubt. He also won the Canadian GP in September, before Cevert won the US GP two weeks later.
Stewart and Cevert started 1972 with the same pair of cars, but were no longer as dominant, and Stewart won only in Argentina and in France. The new 005-006 generation of cars were ready by August, and the older cars could be retired. Tyrrell 002 was sold to Emerson Fittipaldi for his car collection in Brazil; 003 was retained as a show car and put on display in the new Donington Museum; and 004 was sold to Alex Blignaut for the South African national championship. At the time of writing, 003 has recently completed a six-year stay on display in Hawthornden Court as part of Scotland's 'Homecoming Scotland 2009'; and 002 and 004 are still regularly used in historic racing.
Please contact Allen Brown (allen@oldracingcars.com) if you can add anything to our understanding of these cars.