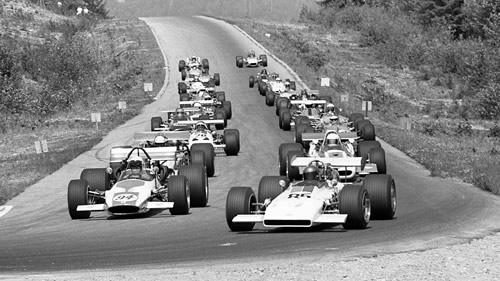 1970 Canadian Formula A/Formula B
Eppie Wietzes retained his title with some ease, winning five of the seven races. His closest rival was once again the consistent Horst Kroll who won at Harewood Acres in August and took three other second place finishes.
The Formula B class was won by Craig Hill with three class wins from Peter Broeker who had led the rankings until missing the last two races. Brian Robertson won FB at two of the last three races in a Fred Opert Racing Brabham BT29 to finish sixth overall.
Only three competitive Formula A cars had appeared regularly so it was no great surprise that CASC decided to focus on Formula B for 1971.
The races
10 May 1970 > Harewood Acres

31 May 1970 > Westwood

14 Jun 1970 > Edmonton

01 Jul 1970 > Rockcliffe Airfield

09 Aug 1970 > Harewood Acres

06 Sep 1970 > Grand Prix de Trois-Rivières

11 Oct 1970 > Mosport Park

Table 'oldracingcars.watn2' doesn't exist