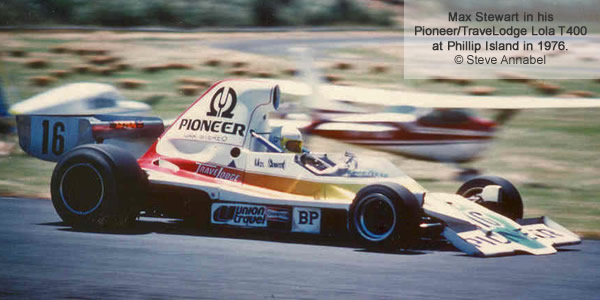 1976 New Zealand Peter Stuyvesant F5000
After 12 seasons of the Tasman Cup, New Zealand and Australia went their separate ways in 1976 and ran separate championships, but still for F5000 and still in their traditional dates. Once the pre-series hype had died down, the Peter Stuyvesant series only attracted one non-Australasian name, the US F5000 champion Brian Redman, but after RAM Racing pulled out their planned entries, Redman found himself driving a F2 Chevron B29 entered by Fred Opert.
A large Australian contingent was promised but only five arrived, led by Max Stewart and Kevin Bartlett in Lola T400s and Bruce Allison in an older T330/T332. The locals were consistently quickest, Graeme Lawrence (T332) and Ken Smith (T330) dominating practice and leading all four races. Redman was spectacular and led at Pukekohe but his horsepower disadvantage was too great.
The races
04 Jan 1976 > New Zealand Grand Prix at Pukekohe

11 Jan 1976 > Manfeild International

18 Jan 1976 > Lady Wigram Trophy

25 Jan 1976 > Teretonga International at Teretonga Park

Table 'oldracingcars.watn2' doesn't exist