Authentication services: history dossiers
As part of OldRacingCars.com's authentication services we can compile a dossier on any specific car covered by the site. The key ingredients of the dossier are a full race history, ownership history and a statement on the authenticity of the car.
When applying for papers allowing a car to race or applying for entries at high-profile events such The Historic Grand Prix of Monaco or Le Mans Classic, an objective, independently-produced history is of significant value.
Dossiers completed recently or in progress include examples of Williams FW08, Arrows A3, Ferrari 312B, Mirage M6, March 741, Porsche 908/3, March 761, Chevron B19, Tyrrell 009, Brabham BT23C, BRM P160, Lancia LC2, De Tomaso 505, Jaguar XJR-14, Brabham BT2, Lola T280, Surtees TS9B, Spice SE90, March 722, Chevron B8, Shadow DN2, McLaren M19C, Brabham BT21, March 731, Frissbee GR2, Hesketh 308C, Shadow DN9B, Tyrrell 010 and Lotus 59.
Dossier contents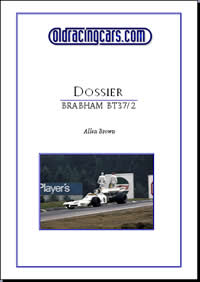 Sample dossier available on request.
A standard dossier is a 12-page A4 booklet containing the following sections:
summary
drivers: brief biography of the main drivers of this car
context: details of the category, formula or championship
context: history of this constructor
details of this model
specific history of this car
photographs: around four period photographs of this car depending on availabilty
race history
ownership history
sources
a statement on the car's authenticity
Dossiers will naturally vary according to the information available and will be constructed from the information in OldRacingCars.com's files, in the author's own files, details provided by the owner, and through up to three days of specific additional research.
The research library owned and held on site by OldRacingCars.com includes around 7,400 magazines, all major annuals and yearbooks, virtually all the Formula 1 Register publications and innumerable books. Research is conducted in the National Motor Museum Library at Beaulieu and at the British Museum at St Pancras as required.
Please note that we will not accept commissions for dossiers where we do not believe there to be sufficient information to provide a satisfactory level of authentification.
Pricing (January 2018)
| | |
| --- | --- |
| Formula 1 | £1,900 |
| Formula 2 | £1,500 |
| Formula 3 | £1,200 |
| Formula 5000 | £1,500 |
| Indy/USAC/CART (rear-engined) | £1,500 |
| Indy/USAC/AAA (front-engined) | POA |
| Tasman/Intercontinental | £1,500 |
| Can-Am (1977-1987)* | £1,200 |
| Formula Atlantic/Pacific/B | £1,200 |
| Other junior formulae† | £1,200 |
| Sports racing (2-litre 1970s) | £2,100 |
| Sports racing (other) | POA |
Authors
A team of authors write dossiers, each bringing their particular expertise and experience. Research on car ownership histories and race histories will be conducted by the principal contributors to OldRacingCars.com, Allen Brown and Chris Townsend. Allen will focus on F1, F5000, Tasman, Indy/USAC and sports racing cars; Chris will lead on the 1600cc formulae: Atlantic, Pacific, FB and FSV; as well as F3 and FC. Both will work on F2.
Starting in October 1978, Allen Brown has kept close track of every one of 3-litre Formula 1 cars built in the 1966-1985 period plus most Tasman cars and many of the cars built for the 1½-litre Formula 1 of the early 1960s. Allen's extensive unpublished files include continuous ownership histories for the majority of these cars. Since 1999, he has extended his research to cover F5000, Can-Am and Indy/USAC.
Chris Townsend joined OldRacingCars.com in 2002, initially contributing F5000 results and histories and later opening up a new front of research with the Formula Atlantic section in 2003. Chris's interests have expanded to cover Formula 3, Formula Super Vee and Formula C.
Michael Ferner has made a very detailed study of American oval track racing, especially the Indianapolis Junk Formula cars of the late 1920s and 1930. He is Historical Advisor for The Miller/Offenhauser Historical Society and his Indy Car A-Z of the interwar period is published on OldRacingcars.info.
Adam Ferrington covers post war cars. Adam's specialist expertise lies in the cars of the immediate post-war period, notably the Maseratis of that period. Working with the late David McKinney, Adam was a principal contributor to OldRacingCars.com's history of Formula 1 from 1946 to 1953.
Contact Allen to discuss your requirements.