Alfa Romeo 179C car-by-car histories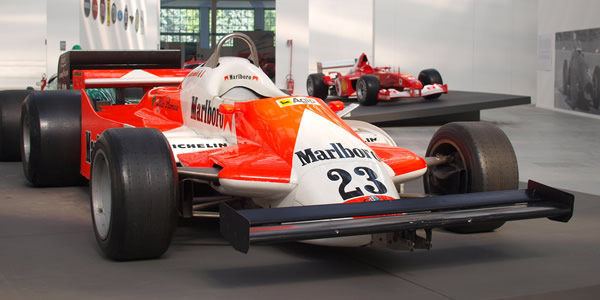 This model is eligible for the Grand Prix de Monaco Historique 2018, in Race G: Formula 1, 1977 to 1980, with ground-effects, non-Cosworth DFV engine.
Autodelta built new cars for 1981 to a similar pattern to the Tipo 179s that had first raced in late 1979. With the 1980s cars being regarded as 179Bs, these new cars were called 179Cs. They were a backwards step for Alfa Romeo, and were replaced by the old 179Bs mid-season, until a revised 179D specification could be developed.
When first seen, the 179Cs appeared to be no different to the 179s, but the new car's monocoque was fabricated using honeycomb panels, instead of the sheet aluminium used on the 179s. Bruno Giacomelli was retained on the driving force for 1981, and was joined by the hugely experienced Mario Andretti, who had lost confidence in the Lotus operation. Although Andretti took fourth place on his debut at Long Beach, the 179Cs had huge problems with their ground effects on faster circuits. The 179Bs had worked very well in 1980 with sliding skirts, but since those had been banned, Autodelta struggled to find a solution that worked well. Such were the team's problems, that the 179Cs were dropped after the Spanish GP, and the team used updated 179Bs until a new 179D design could be produced. When Gérard Ducarouge was sacked by Ligier, he joined Alfa Romeo and quickly fitted Ligier-like sidepods to the 179Cs and 179Ds. At that point, the 179Cs stated to re-enter service, and the team saw out the season with Andretti in the 179D and Giacomelli in a 179C, with another of the 179Cs acting as team spare. Ducarouge masterminded a new carbon-fibre 182 design for 1982, but the older cars were used in South Africa, the opening race of the 1982 season.
Autodelta did not have the same attitude to individual car identities as the other F1 teams, and the histories used here are based on Grand Prix International's 'Cockpits' section at each race. The usually reliable Autocourse gave up completely on Alfa Romeos in 1981, commenting that "the same three identification plate were used at random throughout the season". Denis Jenkinson in Motor Sport, also gave up, commenting of the individual cars that "they have lost their identity and are merely Alfa Romeos powered by the V12 cylinder engines", and adding of the team's lack of organisation that "if they ever win a race it will be more by luck than judgement". Sport Auto and Autosport have also been consulted, but the differences between the numbers quoted by the different publications are impossible to reconcile. One plausible interpretation is that six 179Cs were built, and that the 179Ds were actually just the fifth and sixth of that line. However, GPI's approach is preferred here, and the 179D is regarded as a separate model.
Even if by a mixture of assiduous research and impeccable judgement, these histories are completely correct, it is simply not possible to say how they might relate to the 179, 179B and 179C entities that have been sold by Autodelta to private owners. If a car now exists with a chassis number that matches an identity given on these web pages, it is tempting to regard it as the same car. That would, however, be a complete leap of faith.
Please contact Allen Brown (allen@oldracingcars.com) if you can add anything to our understanding of these cars.
These histories last updated on .