Arrows A1 car-by-car histories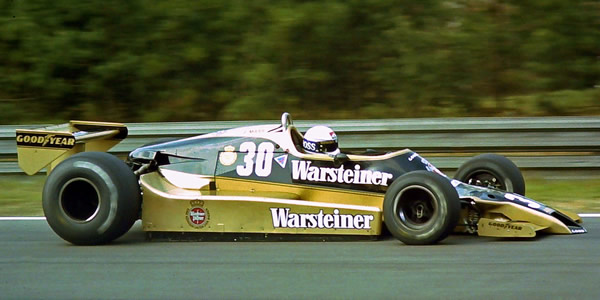 Designed and built in just 60 days after the FA1 was banned, the Arrows A1 kept Arrows going, but did not match the results of the earlier car. In 1979 and 1980, Rupert Keegan and Guy Edwards won rounds of the British F1 series in Charles Clowes' A1s.
After such a rush to ensure that Arrows could continue racing after the FA1 was banned, the team had no time to test the A1 before the Austrian GP, and results were disappointing. For 1979, a tidied and strengthened version of the A1 was produced to bide the team over until the A2 was introduced. Although the other teams had cars copying Lotus venturi ground effect, Riccardo Patrese was still able to qualify the "wing-car" A1 tenth at Long Beach, and new teammate Jochen Mass was eighth on the grid at Monaco. When the Arrows A2 was ready, three A1s were sold to Charles Clowes' team for the Aurora AFX British F1 Championship, where there were hardly any ground-effect cars available. Lead driver Rupert Keegan generally either won or crashed, and narrowly won the championship. Ricardo Zunino also won one race in Clowes' second car, and Guy Edwards won two British F1 races when he took over Keegan's car for 1980. Six car were built, all of which survive today.
The histories of the A1s are very confused, mainly because the team used three chassis plates, '78 1A', '78 2A' and '78 3A' which were swapped between the cars as required to match customs carnets. For that reason, it is proving necessary to examine rivet patterns on all six cars to establish the exact racing record of each. At the Brazilian GP in 1979, Patrese drove a car described as A1/05 rebuilt on the monocoque from A1/04. That car was shown on a previous version of this page as being A1/05, but as A1/05 was rebuilt on its original monocoque for the next race, it is more consistent to follow the monocoque, and regard the Brazilian GP car as A1/04.
Please contact Allen Brown (allen@oldracingcars.com) if you can add anything to our understanding of these cars.
These histories last updated on .