Kingfish 1970/71 Indy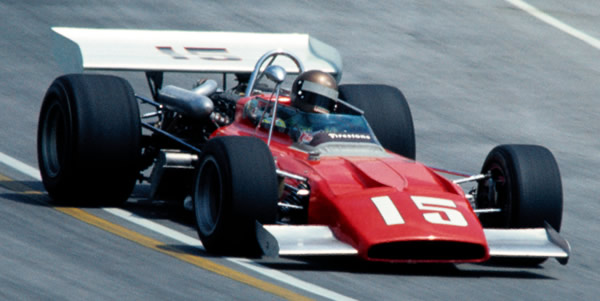 Grant King constructed around 250 sprint and midget cars over a long career but his first Indy car was built in 1970 along the lines of the successful Brabham-based Mongoose design. It was driven by Art Pollard and Greg Weld in 1970.
For 1971, Grant King expanded to running two Indycars, his 1970 car being joined by a new but very similar 1971 car. He started the season with Roger McCluskey driving the 1970 car to a couple of very strong finishes, but by the time of the Indy 500, Larry Dickson had joined the team to drive a new #45 car while George Follmer took over the 1970 #41 car. After both cars qualified for the Indy 500, STP's Andy Granatelli bought into the team and the Kingfish cars became the #20 and #40 STP entries, replacing the McNamaras that had proved such a disappointment. This relationship lasted to the end of the 1971 season, at which point King built a pair of McLaren M16 copies and the older 70/71 cars were retired. Crockey Peterson bought one or both of these cars, and took them to the 1973 Indy 500 with Dr Pepper sponsorship but did not appear on track. His car reappeared in 2016, apparently untouched since its last track appearance.
If you can add anything to our understanding of these cars, please contact Allen Brown (allen@oldracingcars.com).
Chassis
History
Current owner
Kingfish 70/71
'the 1970 car'
Built by Grant King for 1970 and raced by Art Pollard in the early races of the season as his #10 Pollard Car Wash entry. Pollard and King separated after Milwaukee in June, and the car was next seen at Ontario where it was the #41 Grant King entry for Greg Weld. Weld then crashed it in practice at Trenton in October. It returned in 1971, still as the #41 entry, and was driven by Roger McCluskey at Rafaela. George Follmer put it in the race at Indianapolis and it then became the #40 STP entry for Larry Dickson and others later that season. Unknown after 1971. It could be the car retained by King for short tracks in 1972, but that is more likely to have been the newer sister car. Subsequent history unknown.
Driven by: Art Pollard, Greg Weld, Roger McCluskey, George Follmer, Larry Dickson, Denny Zimmerman and George Snider. First race: Trenton International Speedway (R3), 26 Apr 1970. Total of 13 recorded races.
Unknown
Kingfish 70/71
'the 1971 car'
Built new by Grant King for 1971 but to the same basic design as the 1970 Kingfish. First appeared at the 1971 Indy 500 as the #45 Spirit of Indianapolis entry for Larry Dickson, who qualified. The team was then taken over by Andy Granatelli and the 1971 car became the #20 entry for Granatelli's regular driver Steve Krisiloff for the rest of the season. One of these cars was retained for 1972 as a backup and short track car and although it is likely to have been the newer 1971 car, that has not yet been confirmed.
Driven by: Larry Dickson and Steve Krisiloff. First race: Indianapolis Motor Speedway (R5), 29 May 1971. Total of 8 recorded races.
Unknown
The Crockey Peterson car
After King built his new McLaren copies for 1972, the two 1970/71 cars could be retired. One of them was brought back out again later, but we cannot currently identify which one that was. This is presumably the car that was then bought by Crockey Peterson for 1973.
Chassis
History
Current owner
Kingfish 70/71
'the 1972 car'
After the destruction of one of the 1972 Kingfish cars in Merle Bettenhausen's crash at Michigan, Grant King brought out an older Kingfish for Greg Weld to drive at Pocono as the #35 entry. It was used by Steve Krisiloff as a short track car later in the year and is presumably the same car that was then sold to Crockey Peterson (Flat River, MO) for 1973. Peterson had a second entry at the Indy 500 so may have had both the 1970 and 1971 cars. Peterson raced the car at Trenton in early 1973 as the #38 Dr Pepper entry but was not allowed to take his rookie test at the Indy 500. He raced at Milwaukee a week later, but that was his final appearance with the car. Peterson retained the car and in later years it was on display at his restaurant in Branson, MO. After some time in storage, it emerged again in 2015, still in exactly the livery it last appeared on track in 1973. The car was due to be cosmetically restored and displayed in Mark Pieloch's American Muscle Car Museum, being built in Melbourne, FL in 2016.
Driven by: Greg Weld, Steve Krisiloff and Crockey Peterson. First race: Pocono International Raceway (R6), 29 Jul 1972. Total of 6 recorded races.
Crockey Peterson (USA) 2016
These histories last updated on .