Kingfish 1970/71 Indy car-by-car histories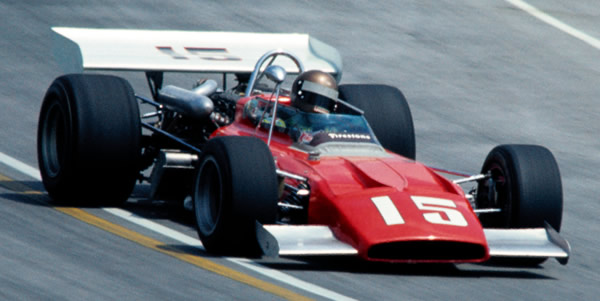 Grant King constructed around 250 sprint and midget cars over a long career but his first Indy car was built in 1970 along the lines of the successful Brabham-based Mongoose design. It was driven by Art Pollard and Greg Weld in 1970.
As entries were being prepared for the 1970 Indy 500, Grant King was said to have two cars, one "semi-monocoque" that he had constructed himself, and a second "full monocoque" built for him by Eddie Kuzma. The first car was never raced, and was used as a show car by King. The Kuzma-built car was intended for a new Race Go Corp team put together by John Newcomer, driver Art Pollard and chief mechanic King, and Pollard initially raced King's 1969 wedge Gerhardt as the #10 Pollard Car Wash entry. Pollard, King and the Gerhardt had been backed by Andy Granatelli's STP operation in 1969, but had been dropped for 1970. The new Kingfish first raced at Trenton in April, and Pollard was very quick in it at the Indy 500, qualifying sixth, only for the engine to blow early in the race. However, the team's promised sponsorship money never came through, and the operation was disbanded after the Milwaukee race in June. King was left $75,000 in debt, and was only able to make a couple more races later in the year, now with Greg Weld in the driving seat. Grant King Racers survived over the winter producing King's highly successful sprint cars, and several of those customers formed part of King's Indy racing crew, organised by Grant's dedicated wife Doris. In early 1971 Roger McCluskey achieving a couple of very strong finishes in the Kingfish at Autodromo de Rafaela, where the car was bizarrely sponsored by Canada's largest daffodil grower, and told King that the car was one of the best he had driven.
For the 1971 Indy 500, Grant's 1970 car was joined by a new but very similar 1971 car. Larry Dickson joined the unsponsored team to drive the new #45 car while George Follmer took over the 1970 #41 car. After both cars qualified for the Indy 500, STP's Andy Granatelli bought back into the team, and the Kingfish cars became the #20 and #40 STP entries, replacing the McNamaras that had proved such a disappointment. This relationship lasted to the end of the 1971 season, at which point King built a pair of McLaren M16 copies and the older 70/71 cars were retired. They have both survived to the present day in very original condition.
At Indy in 1972, the Two Jacks team appeared at Indy with a third car built to this same Brabham design. After it flopped badly, it was acquired by Crockey Peterson who took it to the 1973 Indy 500 with Dr Pepper sponsorship but was not allowed on track. His car reappeared in 2016, untouched since its last track appearance.
If you can add anything to our understanding of these cars, please contact Allen Brown (allen@oldracingcars.com).
Chassis
History
Current owner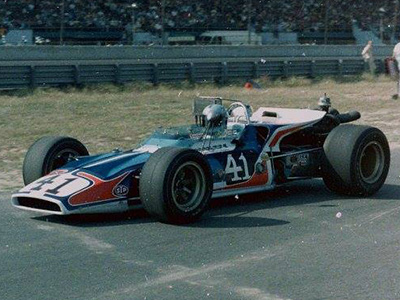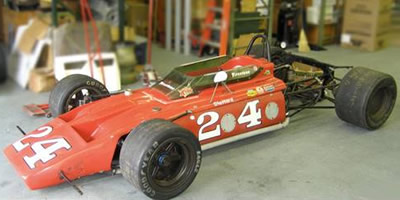 Built by Grant King for 1970 and raced by Art Pollard in the early races of the season as his #10 Pollard Car Wash entry. Pollard and King separated after Milwaukee in June, and the car was next seen at Ontario where it was the #41 Grant King entry for Greg Weld. Weld then crashed it in practice at Trenton in October. It returned in 1971, still as the #41 entry, and was driven by Roger McCluskey at Rafaela. George Follmer put it in the race at Indianapolis and it then became the #40 STP entry for Larry Dickson and others later that season, including George Snider. As far as can be determined, this car was Snider's #35 car at the opening race of the 1972 season, and then used by Steve Krisiloff as the #15 at two short track raced later that season. It was then Krisiloff's #24 entry at the opening race of the 1973 season before finally being retired. Subsequent history unknown, but this car is believed to have been owned by Kenny Schrader at some time. It was later bought from Can-Am Cars Ltd by Ray Evernham. The car is in Evernham's collection in the US in 2018, still in unrestored condition.
Driven by: Art Pollard, Greg Weld, Roger McCluskey, George Follmer, Larry Dickson, Denny Zimmerman, George Snider and Steve Krisiloff. First race: Trenton International Speedway (R3), 26 Apr 1970. Total of 15 recorded races.
Ray Evernham (USA) 2018
Built new by Grant King for 1971 but to the same basic design as the 1970 Kingfish. First appeared at the 1971 Indy 500 as the #45 Spirit of Indianapolis entry for Larry Dickson, who qualified. The team was then taken over by Andy Granatelli and the 1971 car became the #20 entry for Granatelli's regular driver Steve Krisiloff for the rest of the season. This may have been Krisiloff's #15 entry at Trenton in April 1972, and was then brought out of retirement for Greg Weld to drive as the #35 at Pocono, after one of the team's 1972 cars had been destroyed. The car then remained at King's workshop until his death in a road accident in December 1999. Shortly after this, the car was sold to Bruce Weatherston (Chicago, IL). It remains in his collection, still in unrestored original condition.
Driven by: Larry Dickson, Steve Krisiloff and Greg Weld. First race: Indianapolis Motor Speedway (R5), 29 May 1971. Total of 9 recorded races.
Bruce Weatherston (USA) 2018
The 1972 "Millican-Offy"
As well as the two 1970/71 cars King is known to have built, there were reports in 1971 that he was building a third "semi-monocoque" car for sale. By semi-monocoque, King appears to have meant that the monocoque did not enclose the engine, in the style of the Lotus 38 and its many Eagle, Coyote and Gerhardt derivatives, but enclosed it in a space frame similar to the Brabhams of the period. King said that this saved weight, and was also easier to repair. Just such a third car was sold to the Two Jacks team for the 1972 season, where chief mechanic Howard Millican was unable to get it sorted out for driver Rick Muther at the 1972 Indy 500. That proved to be the final appearance of the team, and the "Millican-Offy" was sold to Crockey Peterson.
Chassis
History
Current owner
In 1972, Jack Adams' 'Two Jacks' Indy car team had a #38 entry at the Indy 500 for driver Rick Muther. The car was described as being a new car, a "'72 Brabham copy" built by chief mechanic Howard Millican, but later reports say that it was built by Grant King. Whether it had previously been used by the King team is unclear, but photographs of the incomplete car in Millican's workshop in February 1972 suggests not. The car never ran properly, and Muther made no attempt to qualify. The car was later sold to Crockey Peterson (Flat River, MO), and made its first appearance at Phoenix in late 1972, sponsored by Sidney Salomon Jr and his successful St Louis Blues ice hockey franchise, but failed to start. Peterson was a Pepsi-Cola/Dr Pepper bottler and distributor, and acquired backing from the Doctor Pepper Company for 1973, racing his "1972 Brabham" at Trenton in early 1973 as the #38 Dr Pepper entry. Mechanics for this effort were John Mueller and Ron Finley. He entered for the 1973 Indy 500 but was not allowed to take his rookie test, and his final race appearance was at Milwaukee a week later. Peterson retained the car, and in later years it was on display at his restaurant in Branson, MO. After some time in storage, it emerged again in 2015, still in exactly the livery it last appeared on track in 1973. The car was due to be cosmetically restored and displayed in Mark Pieloch's American Muscle Car Museum, being built in Melbourne, FL in 2016. The beautifully original car was on display in the museum by August 2017. In January 2019, it was visited by Peterson together with Gordon Johncock. Still in the museum in September 2021.
Driven by: Rick Muther and Crockey Peterson. First race: Trenton International Speedway (R2), 15 Apr 1973. Total of 3 recorded races.
Crockey Peterson (USA) 2021
Acknowledgements
Little has been written about Grant King's cars, and these histories have had to be constructed from period newspaper reports and from the close study of photographs. Thanks to Simmo Iskül, Michael Ferner and others who wish to remain anonymous for their diligent work on this subject. Thanks also to current owner Bruce Weatherston and to Michael McKinney for his help finding where the cars are today.
These histories last updated on .