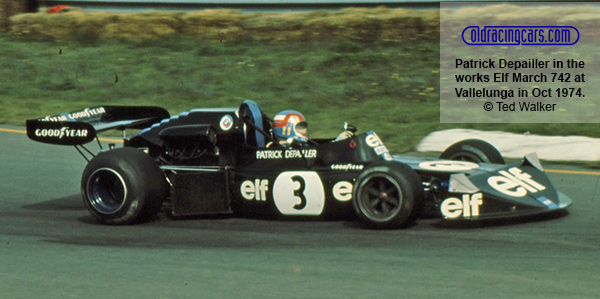 Formula 2 1974
The combination of the fuel crisis and the dominance of the 1973 season by the March-BMW combination led to a major turnover of teams and constructors in 1974.
March sold 18 of the new March 742s and ran another two in a works team of Patrick Depailler and Hans Stuck. However, the gap between the specification of the 742s used works team and that made available to customers caused friction. The most effective of the March customers was Jacques Laffite, whose car was engineered by Tico Martini. The closest competitors to March were the Alpine A367 (known as the Elf 2) from France, and the Chevron B27 and Surtees TS15A from Britain, both of which were only minor upgrades to the previous season's cars. Rondel, Brabham, Lotus, Pygmée and Royale all dropped out of F2. Although GRD produced a car, it turned out to be a one-off and the customer was left largely to his own devices in terms of development.
All the March 742s came equipped with exclusive works BMW engines but Schnitzer also had very effective BMW powerplans, and these were used by Alpine, Ron Dennis's Ecuador Marlboro Team Surtees TS15As, Team Baty in a works-assisted Chevron B27, and Team Pierre Robert in an old GRD 273. Team Harper transplanted the works BMW engines from their March 742s into Chevron B27s, and the works Surtees team also acquired a supply of works BMWs. The alloy Hart engine was in full retreat, the only notable users being Surtees at the start of the season, Bertil Roos in a Chevron B27 owned by Fred Opert, and the GRD 274.
The races
24 Mar 1974 > Gran Premio de Barcelona at Montjuich Park
07 Apr 1974 > Jim Clark Memorial Trophäe at Hockenheim
05 May 1974 > Grand Prix de Pau
02 Jun 1974 > Preis von Salzburg at Salzburgring
09 Jun 1974 > Rhein-Pokalrennen at Hockenheim
30 Jun 1974 > Grand Prix de Rouen at Rouen-les-Essarts
14 Jul 1974 > Gran Premio di Mugello
11 Aug 1974 > Kanonloppet at Karlskoga
25 Aug 1974 > Gran Premio del Mediterraneo at Enna-Pergusa
22 Sep 1974 > Grand Prix de Nogaro
29 Sep 1974 > Preis von Baden-Wurttemberg at Hockenheim
13 Oct 1974 > Gran Premio di Roma at Vallelunga
European F2 Championship events shown in bold
1974 European F2 Championship table
.