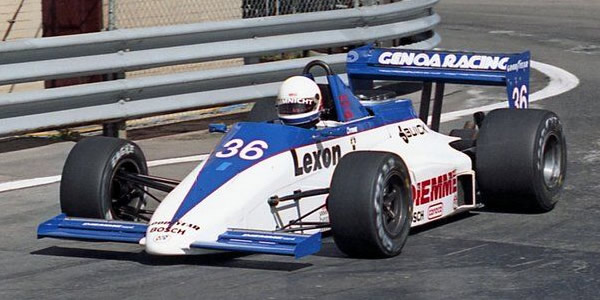 American Racing Series (ARS)
CART was booming in the mid-1980s but two of the championships that had acted as ladder series, Formula Atlantic and Can-Am, were in complete disarray. The third, Formula Super Vee, was still flourishing but was no longer generating the same talent it had earlier in the 1980s. Part of the problem for CART was the gulf in performance between Indycars and the 1600cc cars that were supposed to produce the next generation of talent, and there was frequent discussion of the need for something else. In 1985, March boss Robin Herd and CART co-founder Pat Patrick put together plans for a new series with "spec" racing cars intended to showcase driver talent. General Motors backed the plan and provided 4.2-litre V6 Buick engines and March were contracted to build a series of cars based on their 1985 Formula 3000 car to be named Wildcats. Instead of selling the cars to individual teams, Patrick bought the entire fleet and leased them out to teams with the remaining cars being available as "house cars" for one off drives as required. The SCCA, despite having a miserable reputation for being able to develop single-seater series, sanctioned the championship and put on the races.
The seasons
Spec series, where only a single manufacturer and engine is allowed, are not typically covered on OldRacingCars.com but this series and its successor Indy Lights, are an inescapable part of the late-1980s US road racing scene and need to be discussed alongside Formula Atlantic and Formula Super Vee.
Another interesting spec series started in the US at the same time as ARS but further down the ladder. Skip Barber, the former SCCA FB and FC champion who then ran a highly successful racing school across the US, commissioned Mondiale Cars in Northern Ireland to build 30 single-seater spaceframe chassis based heavily on a FF2000 design but to be fitted with Saab's turbocharged 2-litre 16-valve, twin-cam, fuel injected B202 engine, similar to the unit developed by John Nicholson for Formula 3 in 1985. The engine generated between 200 and 210 bhp, a bit less than Formula Atlantic, and was paired with a Hewland FT200 gearbox. The Barber Saab Pro Series ran from 1986 to 1994 and then became the Barber Dodge Pro Series with the engine being swapped for a 3.2-litre Dodge V6. The Mondiales were finally retired in 1998 and replaced with a Reynard design. The Pro Series ended in 2003 but the cars ran on at a lower level as The Skip Barber National until 2011.
A couple of years earlier than Barber Saab, a similar concept was launched by the Jim Russell School of Motor Racing. Originally called the Jim Russell/Mazda Pro series, the series used spaceframe cars built by Hayashi powered by Mazda 13B engines and using Hewland transmission. It was conceived by school boss Jaques Couture.