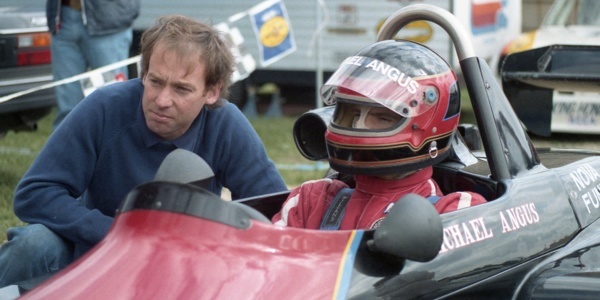 ECAR Formula Atlantic 1985
In the first season of ECAR, only two drivers competed the full season: Michael Angus, whose wife Holly had first had the idea of an east coast equivalent to WCAR; and Florida Ferrari dealer Steve Shelton, whose wife took the opposite approach of never talking to Steve's brother Tom after he introduced his younger sibling to motor racing. Shelton beat Angus in a 1-2 finish at Summit Point in July only for Angus to reverse the order at Brainerd two weeks later. Shelton's season was then disrupted by a crash at Lime Rock in August and he then damaged his brand new Ralt RT4/85 in a practice accident at Trois-Rivi?res. As Angus continued with podium finishes at all six races, a run of three retirements left Shelton far behind him.
Apart from a couple of rarely seen Tigas, the only non-Ralts that were anything other than antique were Peter Heckmann's rare Lola T860, a F/Atlantic derivative of the F2 Toleman TG280, and Louis Baldwin's March 81A. A couple of cars took part that dated all the way back to the dawn of Formula Atlantic in 1974. Of the Ralts, four new 1985 cars appeared at some point during the season but Mike Greenfield's was the only regular. One of only two 1984 Ralts in the country also appeared but these newer cars were outnumbered by 1982 and 1983 Ralts. Both Angus and Shelton started the season in 1983 models and visiting westerners Dan Marvin and Riley Hopkins both won races in their 1982 cars.
The races
07 Jul 1985 > Summit Point
21 Jul 1985 > Brainerd
28 Jul 1985 > Granby
10 Aug 1985 > Lime Rock
01 Sep 1985 > Trois-Rivières
13 Oct 1985 > St Louis International Raceway
03 Nov 1985 > St Petersburg
ECAR Formula Atlantic Championship events shown in bold
1985 ECAR Formula Atlantic Championship table
1
Michael Angus
Ralt RT4/83 - Ford BDD Jennings
102 pts
2 wins
2
Steve Shelton
Ralt RT4/83 - Ford BDD
48 pts
1 win
3
James Oppermann
Ralt RT4/83 - Ford BDD
42 pts
4
Michael Greenfield
Ralt RT4/85 - Ford BDD
41 pts
1 win
5
James King
Ralt RT4/82 - Ford BDD
38 pts
6
John Lloyd
Ralt RT4/82 - Ford BDD
36 pts
7
Gene Griesel
Ralt RT4/81 - Ford BDD
Ralt RT4/83 - Ford BDD
34 pts
8
Paul Poore
March 79B - Ford BDD
29 pts
9
John Timken
Ralt RT4/84 - Ford BDD
24 pts
10=
Dan Marvin
Ralt RT4/82 - Ford BDD Hasselgren
22 pts
1 win
10=
John Christian
Ralt RT4/81 - Ford BDD Hasselgren
22 pts
10=
Peter Heckmann
Lola T860 - Ford BDD Jennings
22 pts