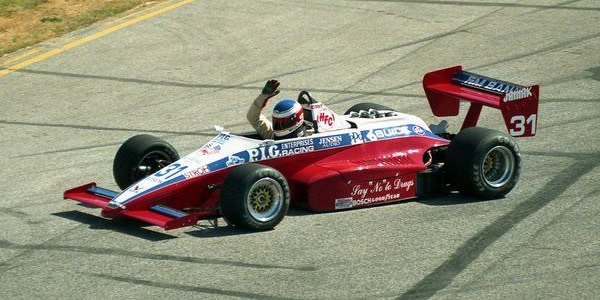 American Racing Series (ARS) 1988
Champion Didier Theys had not found a drive for 1988 but still did not return to ARS. Tommy Byrne was back for a third season of ARS in an increasingly forlorn attempt to restart his racing career, and he would be joined by fellow ARS veteran Jeff Andretti. Andretti qualified for the first race on pole but crashed and thereafter was well off the pace, scoring a mere five points all season. 19-year-old rising star Paul Tracy won that opening race but he was also off the pace for the rest of the season, usually qualifying outside the top ten.
When the season started to settle down, it was Dave Simpson and Jon Beekhuis who started to pull ahead of the pack. Dave Simpson, son of ex-Indy driver Bill Simpson, had raced in British F3 in 1986, winning one race, and had moved into ARS at the end of that season. He won one race in 1987 and won the second round in 1988 but it was his reliable top-seven finishes that gave him a lead of just two points with two races to go, only for him to drop out of the series. Swiss driver Beekhuis had moved to ARS after an unspiring season of WCAR Formula Atlantic and had only won twice in 1988 but his regular fourth and fifth place finishes also suited the SCCA points system. Byrne won the penultimate race to equal the points score of the absent Simpson but despite the Irishman having led four races during the year, he was still a full 14 points behind Beekhuis. Byrne did all he could in the final race at Miami, winning his third victory of the season, but Beekhuis took fifth position and the championship. Almost any other points system would have given Byrne the title.
Also deserving a mention were Calvin Fish, the 1987 ECAR Formula Atlantic champion who won two races and led four in his Shierson Racing car, and another ARS veteran Juan Manuel Fangio II, who took qualified in the top two seven times in the eight races he competed, led four and won two. Had the points system rewarded winners instead of steady finishers, these two may have been able to mount more of a challenge.
The races
09 Apr 1988 > Phoenix International Raceway
04 Jun 1988 > Milwaukee Mile
19 Jun 1988 > Portland International Raceways
03 Jul 1988 > Cleveland
17 Jul 1988 > Toronto
24 Jul 1988 > Meadowlands Sports Complex
20 Aug 1988 > Pocono International Raceway
04 Sep 1988 > Mid-Ohio
11 Sep 1988 > Road America
25 Sep 1988 > Pennsylvania International Raceway
16 Oct 1988 > Laguna Seca
06 Nov 1988 > Tamiami Park
1988 HFC American Racing Series table