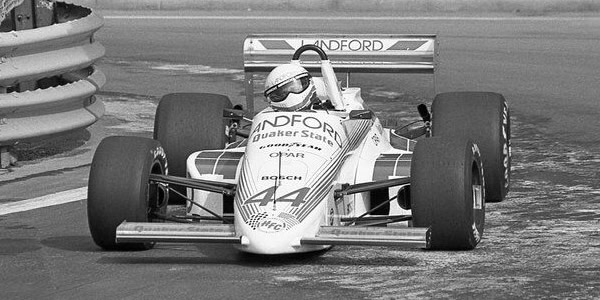 American Racing Series (ARS) 1989
In 1982, Tommy Byrne had been British F3 driver and had made five GP starts and what looked like the beginning of a brilliant career. Now, seven years later, he was stuck in the 'Groundhog Day' of ARS, where he could win more races than anyone else but could never quite win the title. He was back for a fourth season of this agony and this time had six pole positions, led seven races, won four and was leading the fifth and decisive race until a back marker spun right in front of him. Once again, Byrne was not the champion. This time the victor was Mike Groff, whose career had seemed to be on the wane since coming close to both the FSV and ARS titles in 1986, but was back full time in 1989 and matched Byrne's total of four wins and two second places but picked up a number of minor placings as he only failed to finish in the top seven twice. And it was that reliablity that was the Irishman's weakness as he failed to score points at four races and ended the season ten points adrift of Gross's total.
Behind these two, future CART champion Paul Tracy led more laps than anyone else, and PJ Jones, Ted Prappas, Johnny O'Connell and Gary Rubio also won races.
The races
08 Apr 1989 > Phoenix International Raceway
16 Apr 1989 > Long Beach
04 Jun 1989 > Milwaukee Mile
18 Jun 1989 > Detroit
25 Jun 1989 > Portland International Raceways
16 Jul 1989 > Meadowlands Sports Complex
23 Jul 1989 > Toronto
19 Aug 1989 > Pocono International Raceway
03 Sep 1989 > Mid-Ohio
10 Sep 1989 > Road America
24 Sep 1989 > Pennsylvania International Raceway
15 Oct 1989 > Laguna Seca
1989 HFC American Racing Series table