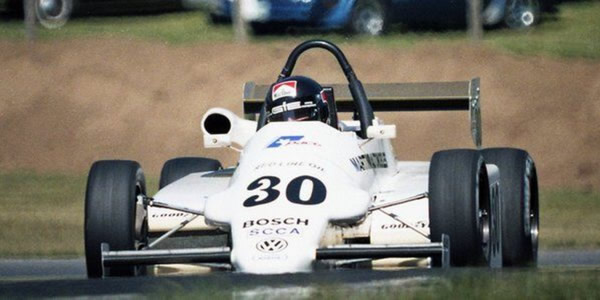 US Formula Super Vee 1986
After years of domination of FSV, the interruption to Ralt hegemony came at Indianapolis Raceway Park in May 1986 with the arrival of Didier Theys' new Martini MK50. Theys had been on the pace with the MK47 in 1985 but the new car was even better and he won first time out. To add to Ralt's alarm, Johnny O'Connell's Anson SA6 was second and only one Ralt even finished on the same lap. And all four cars were equipped with Bertils engine, not the usual John Judd Brabham units. Theys rubbed it in with pole positions at each of the next three races and never qualified lower than third for the rest of the season.
But as Ken Johnson had shown in 1985, there was more to winning a SCCA championship than simply winning races. The SCCA's preferred points system was now the 20-16-14-12 system with points down to 15th position which hugely penalised a retirement. Despite Theys apparent dominance, Mike Groff led the championship table by eight points going into the last race and all he had to do was finish second to Theys to clinch the title. Theys duly won but Groff was beaten down into fourth by none other than Johnson himself, the 1985 champion returning to the series for the last three races in the same RT5/84 that he and Arie Luyendyk had won the previous two championships. So Theys was a very deserving champion and Groff suffered the double disappointment of losing both the FSV title and the ARS title.
The races
12 Apr 1986 > Long Beach
24 May 1986 > Indianapolis Raceway Park
07 Jun 1986 > Milwaukee Mile
22 Jun 1986 > Detroit
28 Jun 1986 > Meadowlands Sports Complex
06 Jul 1986 > Cleveland
27 Jul 1986 > Road America
31 Aug 1986 > Mid-Ohio
21 Sep 1986 > Road America
12 Oct 1986 > Laguna Seca
19 Oct 1986 > Phoenix International Raceway
09 Nov 1986 > Tamiami Park
16 Nov 1986 > St Petersburg
1986 Robert Bosch/VW Super Vee Championship table
1
Didier Theys
Martini MK47 - VW Bertils
Martini MK50 - VW Bertils
155 pts
5 wins
2
Mike Groff
Ralt RT5/85 - VW Bertils
153 pts
2 wins
3
Steve Bren
Ralt RT5/85 - VW Brabham
Ralt RT5/86 - VW Brabham
Ralt RT5/87 - VW Brabham
132 pts
3 wins
4
Scott Atchison
Ralt RT5/85 - VW Brabham RPM
Ralt RT5/85 - VW RPM
122 pts
1 win
5
Cary Bren
Ralt RT5/85/86 - VW Brabham
93 pts
6
David Kudrave
Ralt RT5/85 - VW Bertils
87 pts
7
Gary Rubio
Ralt RT5/86 - VW Bertils
86 pts
8
Thomas Knapp
Ralt RT5/85 - VW Brabham
80 pts
2 wins
9
Dennis Vitolo
Ralt RT5/83 - VW Brabham
Ralt RT5/86 - VW Brabham
77 pts
10
Johnny O'Connell
Anson SA6 - VW Bertils
68 pts
Previous: the 1985 US FSV season
This points table is from On Track 22 Dec 1986 p69. See also Gordon Kirby's review of ARS and FSV in Autosport 1 Jan 1987 pp30-31.
Despite Theys' performances with the F3-derived Martini MK47 and the new purpose-built Martini MK50, winning five races, qualifying on pole six times and leading 36% of the races laps, only a handful of other Martinis appeared. Ralt's 1986-spec RT5 featured revised front and rear suspension but most runners preferred to use their 1985-spec cars. The Anson SA6 was sophisticated but not especially quick and Jim Griffith's GR-06 only had a handful of outings. Some variety of engine was also seen, with Bertil Sollenskog's engines powering Theys and Mike Groff, and Bob Morris's RPM motors in the back of Scott Atchison's car. For once, neither Ralt nor John Judd's Brabham-branded engines won the FSV title.
Fields remained very large, the average number of starters increasing from just under 27 to more than 28. Of those starters, 83% were in Ralts, 8% in Ansons and 5% in Martinis with the remaining 4% spread between an Argo JM12, Griffith, a six-year-old March, Ed Jones' Shannon AJ82V and a Venture GR06. A growing pressure on FSV and categories like it was that the number of companies capable of producing a competitive racing car was shrinking away and several of these were increasingly dependant on their domination of one or two categories. A successful new player could quickly put one of the existing giants out of business.