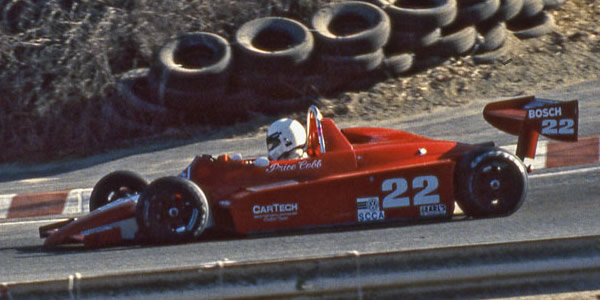 US Formula Super Vee 1983
After a strong challenge in 1982, Ed Pimm stayed in the Super Vee series for 1983 with Jim Trueman's Red Roof Inns team. Trueman joined Pimm in a second car for 1983, making the FSV operation effectively the junior arm of the Truesports CART team. Trueman and Pimm started the season in a pair of Anson SA4s, the latest verson of the car in which Peter Moodie had taken a surprise win at Road America the previous year. Pimm won in Milwaukee in the Anson but the car was clearly not as quick as Price Cobb's Ralt RT5/83, so in August Pimm moved into a pair of new Ralts. His move coincided with misfortune for championship leader Cobb, the Texan who had returned to full-time racing after two years on the sidelines. He lost his sponsor mid-season and was forced to sell his backup car and complete the season on a shoestring. Pimm won four races in succession in his Ralt through August and September and when Cobb retired at Riverside, the championship was virtually over. Cobb won at Laguna Seca, when the engine in Pimm's Ralt wouldn't start and he had to race Trueman's Anson, but the points gap was still too great for Cobb to overhaul in the final race and Pimm was crowned champion.
The races
26 Mar 1983 > Long Beach
05 Jun 1983 > Mosport Park
12 Jun 1983 > Milwaukee Mile
03 Jul 1983 > Cleveland
30 Jul 1983 > Road America
13 Aug 1983 > Pocono International Raceway
11 Sep 1983 > Mid-Ohio
18 Sep 1983 > Michigan International Speedway
25 Sep 1983 > Riverside
23 Oct 1983 > Laguna Seca
30 Oct 1983 > Phoenix International Raceway
1983 Robert Bosch/VW Super Vee Championship table
1
Ed Pimm
Ralt RT5/83 - VW Brabham
Anson SA4 - VW Brabham
151 pts
5 wins
2
Price Cobb
Ralt RT5/83 - VW Brabham
Ralt RT5/83 - VW Schrick
143 pts
4 wins
3
Roger 'Kip' Penske Jr
Ralt RT5/83 - VW Brabham
126 pts
4
Chip Robinson
Ralt RT5/82 - VW Schrick
Ralt RT5/83 - VW Schrick
123 pts
5
Ludwig Heimrath Jr.
Ralt RT5/83 - VW Brabham
115 pts
1 win
6
Don Roberts
Ralt RT5/82 - VW Brabham
Ralt RT5/83 - VW Brabham
71 pts
7
Ted Prappas
Ralt RT5/81 - VW Brabham
Ralt RT5/83 - VW Brabham
62 pts
8
Mike Rosen
Ralt RT5/82 - VW Brabham
60 pts
9
Stan Fox
Ralt RT5/82 - VW Brabham
58 pts
10
Ben Gustafson
Ralt RT5 - VW Brabham
49 pts
Previous: the 1982 US FSV season
Other drivers to enhance their reputations Roger Penske Jr who took over the seat in the Frank Arciero team from 1982 champion Michael Andretti and Chip Robinson in the Bill Scott Racing entry. Englishman Eddie Jones was badly injured in a crash while driving for Anson importer Bertil Skollenskog at Pocono.
Of the 11 races in 1983, eight were supporting races for the booming CART Indycar series and with the demise of the long-standing CASC Formula Atlantic series and the exodus of most of Can-Am's talent straight into CART, FSV was now the main ladder series below CART. Of the 1983 cohort, only Pimm moved straight into CART, securing a drive in Jet Engineering's March 83C.
For more on this season, see Gordon Kirby's seasonal survey in Autosport 15 Dec 1983 p42.