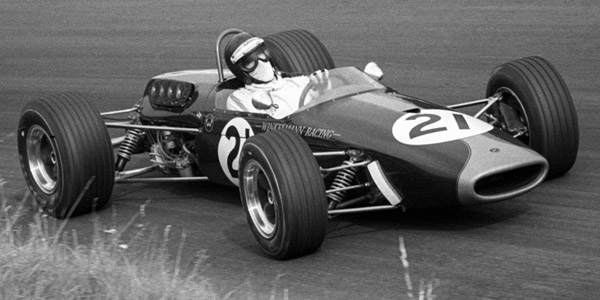 Formula 2 1967
There were two main changes to Formula 2 for 1967: the change to a 1600cc Formula, which would result in the dominance of Cosworth's Ford-based four-valve FVA engine, and the introduction of a European Formula 2 Championship for non-graded drivers. Easily fastest in Formula 2 that season was Jochen Rindt who won five of the ten championship rounds in his Roy Winkelmann Racing Brabham BT23, and other race winners included Jim Clark in the works Lotus 48 and Jackie Stewart in Ken Tyrrell's Matra MS5s and MS7. Other stars included Jack Brabham in a works Brabham, John Surtees in a works Lola T100, Bruce McLaren his own works McLaren M4A, and Graham Hill in a second Lotus 48. The two Matra teams, the French works team and Ken Tyrrell's pairing of Stewart and Jacky Ickx, started the season with Matra MS5s, but introduced the new MS7 in mid-season. Ickx raced Tyrrell's single MS7 when Stewart was absent, and he won two races, at Zandvoort in his MS5 and at Vallelunga in the MS7 to take the title.
The French race organisers did not like the idea of the European championship only being open to non-graded drivers so withdrew their races and created a separate championship. Races were to be held at Pau, Rouen, Reims, Montlhéry (later cancelled) and Albi, and entries were to be accepted from the "works" teams of Lotus, Brabham, Matra and Lola, plus the main private teams of Tyrrell and Winkelmann.
The races
24 Mar 1967 > Guards 100 at Snetterton
27 Mar 1967 > BARC 200 at Silverstone
02 Apr 1967 > Grand Prix de Pau
09 Apr 1967 > Gran Premio de Barcelona at Montjuich Park
23 Apr 1967 > Eifelrennen at Nürburgring
14 May 1967 > Guards International Trophy at Mallory Park
21 May 1967 > Grote Prijs van Limburg at Zolder
29 May 1967 > London Trophy at Crystal Palace
11 Jun 1967 > Rhein-Pokalrennen at Hockenheim
25 Jun 1967 > Grand Prix de Reims
09 Jul 1967 > Grand Prix de Rouen at Rouen-les-Essarts
09 Jul 1967 > Deutschland Trophae at Hockenheim
16 Jul 1967 > Flugplatzrennen at Tulln-Langenlebarn
23 Jul 1967 > Gran Premio de Madrid at Jarama
30 Jul 1967 > Grote Prijs van Zandvoort
06 Aug 1967 > Grosser Preis F2 von Deutschland at Nürburgring
13 Aug 1967 > Kanonloppet at Karlskoga
20 Aug 1967 > Gran Premio del Mediterraneo at Enna-Pergusa
28 Aug 1967 > Guards Trophy at Brands Hatch
03 Sep 1967 > Suomen Grand Prix at Keimola
05 Sep 1967 > Hameenlinnan Ajot
16 Sep 1967 > Gold Cup at Oulton Park
24 Sep 1967 > Grand Prix d'Albi
08 Oct 1967 > Gran Premio di Roma at Vallelunga
European F2 Championship events shown in bold
1967 European F2 Championship table
The new Cosworth FVA engine was available in relatively limited numbers at the start of the season, and at the first race they were in the works and Winkelmann Brabham BT23s, John Surtees' Lola T100, the works Lotus 48s, the works and Ken Tyrrell Matra MS5s, the works and John Coombs McLaren M4As and Bob Gerard's two Coopers. The only privateer with a FVA at that race was Alan McKechnie, who had modified a BT21 to BT23 specification for driver Chris Lambert. Other privateers had to make do with the 1600cc Ford twin cam engine. Ron Harris's Protos and Reg Parnell's Lotus-based 'Parnell' F2 car were similarly equipped later, as was Jackie Oliver's Lotus Components Lotus 41B, and Robin Widdows' private Brabham BT23. A couple of 1500cc versions of Cosworth's 1-litre F2 engine was also built, and these SCA or SCB units were used in David Bridges Brabham BT16, raced by Brian Redman, and in Brian Myers' Cooper T83.
The main opposition to Cosworth came from BMW's Apfelbeck radial valve engine, as used in the BMW Motorsport Lola T100s. John Surtees finished second at the Nürburgring in this car, but apart from that BMW had a poor season. Jonathan Williams made a single appearance in the Ferrari 166, and Nanni Galli raced a Brabham BT23 fitted with Autodelta's Alfa Romeo GTA engine, but neither fared well.
Brabham continued to use spaceframe construction for the new Brabham BT23, as did Cooper for the new Cooper T84. The Lotus 48 was a monocoque, as were the Matra MS5 and MS7, the new Lola T100 and the new Mclaren M4A. Protos ploughed a lonely furrow with a bonded plywood monocoque with metal bulkheads, which was hugely overweight.