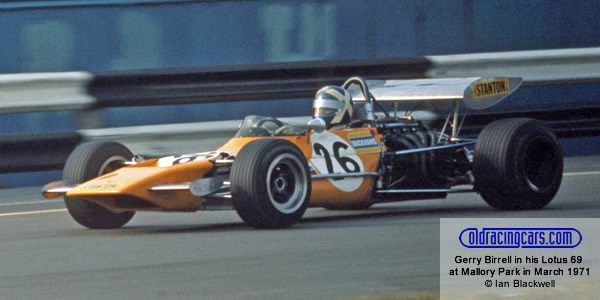 Formula 2 1971
This was the season that the monocoques took over F2. March swapped to monocoque construction for their all-conquering 712M, joining Lotus, who continued their 69 design, and Pygmeé. Chevron, Lola and De Tomaso built new monocoque designs during the 1971 season leaving just Brabham and Tecno who preferred their successful spaceframe designs. The monocoque designs won 17 races; the spaceframes 8. In a remarkable turnaround from 1970, more Marchs started F2 races in 1971 than Brabhams. Lotus and Tecno were the next most numerous.
The championship was won by Ronnie Peterson in a March 712M but Emerson Fittipaldi was almost as quick in his Lotus 69. François Cévert had speed but not enough reliability from his works Tecno and, to complete the variety, Carlos Reutemann finished second in the championship in his Brabham BT30 and BT36 and would have won a title based on all 25 races.
The races
07 Feb 1971 > Colombia Grand Prix at Bogotá
14 Feb 1971 > Bogotá Grand Prix
14 Mar 1971 > Mallory Park
04 Apr 1971 > Jim-Clark-Gedächtnis-Rennen at Hockenheim
12 Apr 1971 > Jochen Rindt Memorial Trophy at Thruxton
25 Apr 1971 > Grand Prix de Pau
02 May 1971 > ADAC Eifelrennen at Nürburgring
16 May 1971 > Gran Premio de Madrid at Jarama
31 May 1971 > Hilton Transport Trophy at Crystal Palace
13 Jun 1971 > Vallelunga
20 Jun 1971 > Gran Premio della Lotteria at Monza
27 Jun 1971 > Grand Prix de Rouen at Rouen-les-Essarts
25 Jul 1971 > Imola
08 Aug 1971 > Mantorp Park Grand Prix
22 Aug 1971 > Swedish Gold Cup at Kinnekullering
30 Aug 1971 > BRSCC Rothmans Trophy at Brands Hatch
12 Sep 1971 > Flugplatzrennen Tulln-Langenlebarn
26 Sep 1971 > Prix du Président de la Republique Française at Circuit d'Albi
03 Oct 1971 > Hockenheim
10 Oct 1971 > Gran Premio di Roma at Vallelunga
17 Oct 1971 > Gran Premio Madunina at Vallelunga
European Trophy for F2 Drivers events shown in bold
1971 European Trophy for F2 Drivers table
All the main runners used Cosworth FVA engines except Quester who had a factory BMW engine, and the works Tecnos which used BDA engines.
Of the other five championship races, three were won by Emerson Fittipaldi and one by Graham Hill, both being graded drivers and thus ineligible for points. Maximum points in those races were awarded to Peterson, Quester, Schenken and Reuteman but these are not included in the win totals above.
Torneio Internacional de Formula 2 do Brasil
A four-race series was held in Brazil in October and November.
The races
31 Oct 1971 > Interlagos
07 Nov 1971 > Interlagos
14 Nov 1971 > Autódromo de Tarumã, Porte Allegre
21 Nov 1971 > Autódromo Oscar Cabalén, Cordoba