Chevron B18 car-by-car histories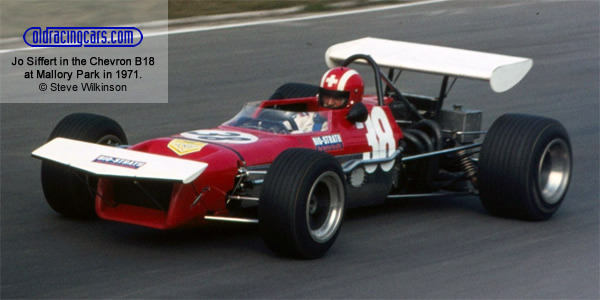 The 1971 Chevron B18 was a multi-purpose car built for F2, F3, Formula Atlantic and Formula B, although the FB version is treated here as a separate model. Proving that beauty and effectiveness are not always linked, the B18 won in F2, and came close to winning the British Formula Atlantic championship.
The first B18 was a development car built in August 1970 for testing purposes, but it was given a race by Reine Wisell at Mantorp Park where it performed very well. Billed as the first Chevron to use monocoque construction, it was really just a development of the panelled spaceframe method used in Chevron's single-seaters since the B9B. In the B18, 18-gauge aluminium panels were built around ¾-inch square tubes, allowing the centre bulkhead to be omitted. Although the prototype had tubes running to the back of the car, the intention on production models was to have a separate subframe bolted to the back of the 'monocoque'. The most distinctive feature was the wing mounted on top of the nose, the main cause of the B18's reputation for ugliness. Another change from the B17 was the use of rocker arm front suspension with inboard springs and dampers, an idea which had fallen out of fashion in junior formula cars and which would not be carried over into the 1972 B20.
After the prototype was wrecked in a testing accident, four further B18s were built for F2, plus one for Formula Atlantic and one for Formula 3. Jo Siffert bought two F2 B18s for his own team and won first time out in his own car at Bogotá. Siffert was also instrumental in the sale of the only private customer F2 car, to Frenchman Hervé Bayard. The Formula Atlantic car went to Graham Eden, who entered it for the experienced Cyd Williams. Williams won seven of his 18 Formula Atlantic races in the car but was just pipped to the title by the more reliable Palliser of Vern Schuppan. Williams won three of the first six races of 1972 before swapping to a March 722. The F3 car fared less well, the talented Barrie Maskell ending the season with no wins and just a second place at Snetterton to show for his works-supported season. The Formula B B18s are treated here as a separate model.
Of these six cars, two went to North America for Formula B, two headed into national racing in France and Switzerland, and one spent many years hillclimbing in England, leaving just one that vanished prematurely. The biggest problem is knowing where these cars are today. Three have passed through the hands of dealers in recent years, but no current owners' names are known.
Thanks to Tim Colman of Chevron Heritage for his help constructing these histories. All and any help would be gratefully received. Please e-mail Allen at allen@oldracingcars.com if you can add anything.
Chassis
History
Current owner
Mystery Chevron B18s from 1973 onwards
Previous versions of this page have not listed any mystery B18s, but it is clear that the car raced by Rémy Gillis and other in French hillclimbs from 1973 onwards cannot be confidently identified. Geography would suggest that this was the car previously raced in French hillclimbs by Hervé Bayard, but there is some evidence that Bayard's car went to England, where a B18 rolling chassis "used only in hillclimbs" was advertised in September 1972 by D.A. Shells. The other possibility is that Gillis had Georges Schäfer's car, and here the dates fit very well, as Schäfer last appeared with it in April 1973, just seven weeks before Gillis's first known appearance. The engine in Schäfer's car, an 1800cc Cosworth BDE, is a good match for the reported engine used by Gillis.
Chassis
History
Current owner
Rémy Gillis (Arques, northern France) raced a Chevron B18 in French hillclimbs in 1973. Gillis' car is probably then the Chevron "B25" used by Bernard-Etienne Grobot (Ban-de-Laveline in north-eastern France) in late 1973 and 1974, as photographs show that it had a B18 nose. Then probably the car raced by Lucien Guitteny in 1975. This French B18 was later acquired from Marc Regal by Marcel Alquier, at which point it had a later full-width nose. Alquier is reported to have painted it black. According to Autodiva Editor Gérard Gamand, Maurice Slotine had a black Chevron B18 in the Trophée d'Europe F2 Historique in 1990s which may have been this car.
Driven by: Rémi Gillis, Bernard-Etienne Grobot and Lucien Guitteny. First race: Neufchâtel-en-Bray, 31 May 1973. Total of 24 recorded races.
Unknown
Chevron Heritage
Chevron Heritage supplies genuine Chevron parts for pre-2008 cars, using the original Chevron drawings, jigs, body moulds and patterns which have been owned by the company since 1983.
Chevron Heritage is licenced to manufacture Chevron B8, Chevron B16 and Chevron B19 continuation cars by Chevron Cars Limited which owns these trademarks.
Contact Chevron Heritage Limited on +44 (0)1256 345 582 or email tim@chevronracingcars.com.
Acknowledgements
Thanks to Chris Townsend, Steve Wilkinson, David McKinney, Philippe Demeyer, Bryan Miller, Tim Colman, Michael Oliver, Simon Hadfield, Peter Morley, Richard Page and Dan Rear for their help in getting to this point. Thanks also to Ted Walker and Steve Wilkinson for the use of their photographs.
These histories last updated on .