Chevron B18 car-by-car histories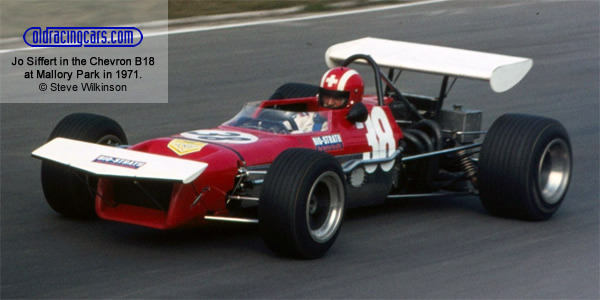 The 1971 Chevron B18 was a multi-purpose car built for F2, F3, Formula Atlantic and Formula B, although the FB version is treated here as a separate model. Proving that beauty and effectiveness are not always linked, the B18 won in F2, and came close to winning the British Formula Atlantic championship.
The first B18 was a development car built in August 1970 for testing purposes, but it was given a race by Reine Wisell at Mantorp Park where it performed very well. Billed as the first Chevron to use monocoque construction, it was really just a development of the panelled spaceframe method used in Chevron's single-seaters since the B9B. In the B18, 18-gauge aluminium panels were built around ¾-inch square tubes, allowing the centre bulkhead to be omitted. Although the prototype had tubes running to the back of the car, the intention on production models was to have a separate subframe bolted to the back of the 'monocoque'. The most distinctive feature was the wing mounted on top of the nose, the main cause of the B18's reputation for ugliness. Another change from the B17 was the use of rocker arm front suspension with inboard springs and dampers, an idea which had fallen out of fashion in junior formula cars and which would not be carried over into the 1972 B20.
After the prototype was wrecked in a testing accident, four further B18s were built for F2, plus one for Formula Atlantic and one for Formula 3. Jo Siffert bought two F2 B18s for his own team and won first time out in his own car at Bogotá. Siffert was also instrumental in the sale of the only private customer F2 car, to Frenchman Hervé Bayard. The Formula Atlantic car went to Graham Eden, who entered it for the experienced Cyd Williams. Williams won seven of his 18 Formula Atlantic races in the car but was just pipped to the title by the more reliable Palliser of Vern Schuppan. Williams won three of the first six races of 1972 before swapping to a March 722. The F3 car fared less well, the talented Barrie Maskell ending the season with no wins and just a second place at Snetterton to show for his works-supported season. The Formula B B18s are treated here as a separate model.
Of these six cars, two went to North America for Formula B, two headed into national racing in France and Switzerland, and one spent many years hillclimbing in England, leaving just one that vanished prematurely. The biggest problem is knowing where these cars are today. Three have passed through the hands of dealers in recent years, but no current owners' names are known.
Thanks to Tim Colman of Chevron Heritage for his help constructing these histories. All and any help would be gratefully received. Please e-mail Allen at allen@oldracingcars.com if you can add anything.
Chassis
History
Current owner
Chevron B18
18.70.1
The prototype B18 was intended to be used as a test-bed but was raced by Reine Wisell at Mantorp Park at the end of August 1970, instead of his usual B17c. He qualified seventh and was on his way to an encouraging fourth place finish when the gear linkage broke. Chevron could not get the B18 ready in time for the next F2 race so Wisell took up an invitation to race in F5000. He won three races in succession and never looked back. The abandoned B18 was then gifted to Brian Redman, who had announced his retirement from motorsport to be a BMW dealer in South Africa. He was to race the car in South African events "for fun" but he wrecked it during testing in South Africa at the end of November. A new car was built for Redman to race in the South African Internationals.
Driven by: Reine Wisell. First race: Mantorp Park, 30 Aug 1970. Only one recorded race.
Wrecked 1970
Chevron B18
18.71.1
A new car built for Brian Redman after he wrecked the development B18 while testing in South Africa. Fitted with a 1.8-litre Cosworth FVC engine and raced by Redman in two races in South Africa in January 1971. This car returned to Bolton and became the works entry in F2 for Chris Craft during the 1971 F2 season. It was then sold to Canadian John Powell and rebuilt to Formula B specification. Powell raced it in the Brands Hatch Boxing Day meeting at the end of 1971 and then loaned it to Brian Robertson to race in the two Bogotá FB races in February and March 1972. Raced by Powell (Ottawa, Ontario) in the Canadian FB series in 1972, Sold to Paul Wheatley (Montréal, Quebec) and raced in the Canadian series in 1973. Wheatley appeared on a couple of early-1974 entry lists but the car was not seen again until he advertised it in April 1975.
Driven by: Brian Redman, Chris Craft, John Powell, Brian Robertson and Paul Wheatley. First race: Killarney (R1), 9 Jan 1971. Total of 25 recorded races.
Unknown
Chevron B18
18.71.2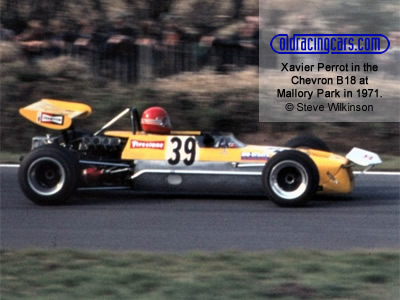 New to Chevron's European agent Jo Siffert and entered by Siffert Racing in the F2 races at Bogotá in February 1971 for Xavier Perrot to drive. Perrot drove it one more time, at the European season opener at Mallory Park in March, but then acquired a March 712M instead. The Chevron went to Midland Racing Team in for Bruno Frey (Horw, Switzerland) to drive, but after failing to qualify for the Hockenheim round of the championship in April, he limited his appearances to non-championship and national events. For 1972, the car went to fellow Swiss Georges Schäfer and was fitted with a 1.8-litre Cosworth BDE for French hillclimbs, domestic events, and a few failures to qualify for F2 races. He returned for another DNQ at the start of 1973, after which the car disappears. This could be the car later used by Rémi Gillis, Bernard-Etienne Grobot and Lucien Guitteny in French hillclimbs, but that could also have been the ex-Hervé Bayard car. In July 1976, Michel Wyler (Geneva, Switzerland) had a B18 at Ayent Anzere which is likely to be this car. In 1995, Fredy Kumschick (Lucerne/Luzern, Switzerland), applied for FIA papers for a Chevron B18 with chassis number 71-2. The history given had a gap after Frey until Walter Bollier (Zürich, Switzerland) in 1991 and then Kumschick in 1994, who ran it for Peter Stoboski. Sold to dealer Christophe Pund of Le Galerie des Damiers (Cassel, France) in 2004 and then to an unknown owner and advertised on his behalf by Lutziger Classic Cars from 2012 to 2015, at which time it was yellow. Subsequent history unknown.
Driven by: Xavier Perrot, Bruno Frey and Georges Schäfer. First race: Bogotá, 7 Feb 1971. Total of 10 recorded races.
Customer of Lutziger Classic Cars (Switzerland) 2012
Chevron B18
18.71.3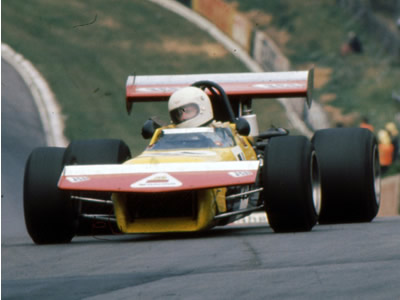 New to Chevron's European agent Jo Siffert and raced by him in the F2 races at Bogotá in February 1971. Driven by Siffert in some European F2 races later in 1971, but more usually by François Mazet, who finished fourth at Pau but otherwise had a difficult season. Raced by José Dolhem at the final race of the year. It appears the Chevron was returned to Bolton after 1971 and found its way into the hands of Roger Hire, who was also running a Chevron B21 with Peter Hanson. The car was then leased to Willie Green and fitted with a 1.9 Alan Smith Cosworth FVC for the Rothmans 50,000 libre race in August 1972. Then unknown until July 1982, when "chassis no. 3 ex Siffert" was advertised from Manton in Leicestershire. Later sold by John Harper to Robert Campbell (Dukinfield, Cheshire), who registered his fully restored red "ex-Jo Siffert F2 Chevron B18-71/3" with the HSCC in May 1989. Raced by Campbell from 1988 to 1991, then sold in 1993 to Sheila and Tim Hassel, who did not race it. To Denis Welch in 1999, but again not raced. Sold to a Swiss owner in 2003. Next seen in 2014, when a red B18 was advertised by Lutziger Classic Cars, showing the 1990 HSCC papers and a "71/3" chassis plate. In December 2019, the car was offered at auction by Oldtimer Galerie Toffen.
Driven by: Jo Siffert, François Mazet, José Dolhem and Willie Green. First race: Bogotá, 7 Feb 1971. Total of 12 recorded races.
Oldtimer Galerie Toffen (Switzerland) 2019
Chevron B18
18.71.4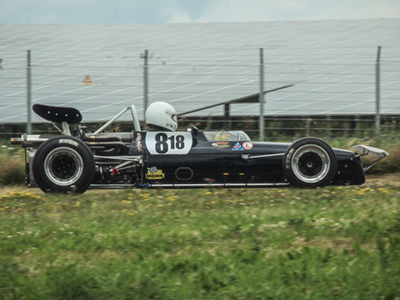 Hervé Bayard, from Roye in northern France, had hillclimbed an ex-F2 Tecno in 1970 and continued to use that car at the start of 1971, but also entered the Thruxton F2 race with a Chevron B18. His car eventually appeared in time for Crystal Palace at the end of May but Bayard failed to qualify, and at Rouen two weeks later he did not even pre-qualify. He then used the Chevron for French hillclimbs, firstly with F1 driver Jean-Pierre Beltoise taking it to second place at Poilly-sur-Serein in July, then Bayard repeating that result with it at Tancarville a few days later. Bayard then acquired an Astra sports car, followed by a F5000 Surtees, and the Chevron was forgotten. Bayard advertised the car in February 1972 and sold the engine to Pierre Desnos, but exactly what happened to the chassis next remains unresolved. It could be the "ex-F2" B18 rolling chassis "used for hillclimbs only" that was advertised by D.A. Shells (Stratford, London E15) in September 1972. A dark blue Chevron B18 with a chassis plate bearing "71/4" and a history in French hillclimbs was auctioned by Bonhams in September 2014. The vendor had acquired the car from Veit Dennert (Schlüsselfeld, Germany) in 1999; Dennert having acquired it in 1994. It did not sell, and within a couple of years a dark blue Chevron B18 was being raced by Dr Veit Dennert (Bischberg, Germany) in historic events. At the ADAC Salzburgring Classic in August 2016 and the "Freddy Kottulinsky Revival" at Schleizer Dreieck in July 2017.
Driven by: Hervé Bayard and Jean-Pierre Beltoise. First race: Poilly-sur-Serein, 11 Jul 1971. Total of 2 recorded races.
Veit Dennert (Germany) 2017
Chevron B18
18.F3.71.1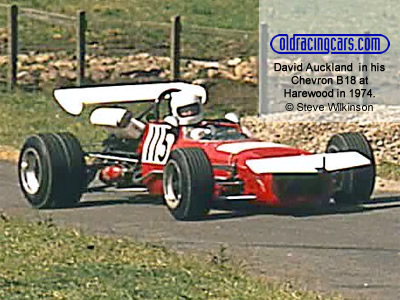 A works F3 entry in 1971, run by Sports Motors (Manchester) and raced by Barrie Maskell (Leeds, West Yorkshire), using the latest Holbay R71 version of the Ford twin cam engine. Very probably the "ex-works" B18 then acquired by Mike Mather (St Helens, Lancashire) and used in Formula Atlantic in 1972 with a Ford twin cam engine. Sold to David Auckland (also St Helens) for 1973 and raced by him in libre and in hillclimbs over the next three or four seasons, Also raced by Kim Mather (St Helens, Lancashire), Mike's brother, in libre and shared by Don Robinson (Ellesmere Port, Cheshire) in hillclimbs during this time. Last seen when run by Robinson at Harewood in August 1976. Advertised from a St Helens number in September 1976, still with its FVA engine. Presumably the car acquired by Bob Speak of Barrowford Garage (Nelson, Lancashire) and debuted at the Longton DMC's Isle of Man hillclimb a few weeks later. Advertised by Speak in January and March 1977. Next seen a year later, when it was driven by Norman Greenhalgh (Bolton, Greater Manchester) in Monoposto racing. Subsequent history unknown.
Driven by: Barrie Maskell, Mike Mather, David Auckland, Don Robinson, Kim Mather, Bob Speak and Norman Greenhalgh. First race: Silverstone, 8 May 1971. Total of 37 recorded races.
Unknown
Chevron B18
18.A.71.1
New to Graham Eden and delivered just in time for the Oulton Park Formula Atlantic race on 21 March 1971, the second round of the British series. Eden retired from driving shortly after and recruited Cyd Williams to drive the car. Williams won seven championship rounds and finished second in the 1971 championship. Eden ordered Ensigns for 1972 but cancelled the order and bought March 722s instead. Williams continued to drive the Chevron until his 722 arrived and won three of the first six rounds of the 1972 series. The car was later displayed at the London Racing Car show, where it was bought by Canadian Bob Armstrong (Winnipeg, Manitoba) for the Canadian Formula B series in 1973. Armstrong appeared in the early rounds of the series but made little impact and wasn't seen after June. Subsequent history unknown. Acquired in Winnipeg by Hugh Hanson (WInnipeg, Manitoba) c2014. He has the front part of the chassis, all suspension arms, uprights and brakes, and a few other components.
Driven by: Graham Eden, Cyd Williams, Bev Bond and Bob Armstrong. First race: Oulton Park (R2), 21 Mar 1971. Total of 33 recorded races.
Hugh Hanson (Canada) 2017
Mystery Chevron B18s from 1973 onwards
Previous versions of this page have not listed any mystery B18s, but it is clear that the car raced by Rémy Gillis and other in French hillclimbs from 1973 onwards cannot be confidently identified. Geography would suggest that this was the car previously raced in French hillclimbs by Hervé Bayard, but there is some evidence that Bayard's car went to England, where a B18 rolling chassis "used only in hillclimbs" was advertised in September 1972 by D.A. Shells. The other possibility is that Gillis had Georges Schäfer's car, and here the dates fit very well, as Schäfer last appeared with it in April 1973, just seven weeks before Gillis's first known appearance. The engine in Schäfer's car, an 1800cc Cosworth BDE, is a good match for the reported engine used by Gillis.
Chassis
History
Current owner
Chevron B18
'the Rémy Gillis car'
Rémy Gillis (Arques, northern France) raced a Chevron B18 in French hillclimbs in 1973. Gillis' car is probably then the Chevron "B25" used by Bernard-Etienne Grobot (Ban-de-Laveline in north-eastern France) in late 1973 and 1974, as photographs show that it had a B18 nose. Then probably the car raced by Lucien Guitteny in 1975. This French B18 was later acquired from Marc Regal by Marcel Alquier, at which point it had a later full-width nose. Alquier is reported to have painted it black. According to Autodiva Editor Gérard Gamand, Maurice Slotine had a black Chevron B18 in the Trophée d'Europe F2 Historique in 1990s which may have been this car.
Driven by: Rémi Gillis, Bernard-Etienne Grobot and Lucien Guitteny. First race: Neufchâtel-en-Bray, 31 May 1973. Total of 24 recorded races.
Unknown
Chevron Heritage
Chevron Heritage supplies genuine Chevron parts for pre-2008 cars, using the original Chevron drawings, jigs, body moulds and patterns which have been owned by the company since 1983.
Chevron Heritage is licenced to manufacture Chevron B8, Chevron B16 and Chevron B19 continuation cars by Chevron Cars Limited which owns these trademarks.
Contact Chevron Heritage Limited on +44 (0)1256 345 582 or email tim@chevronracingcars.com.
Acknowledgements
Thanks to Chris Townsend, Steve Wilkinson, David McKinney, Philippe Demeyer, Bryan Miller, Tim Colman, Michael Oliver, Simon Hadfield, Peter Morley, Richard Page and Dan Rear for their help in getting to this point. Thanks also to Ted Walker and Steve Wilkinson for the use of their photographs.
These histories last updated on .