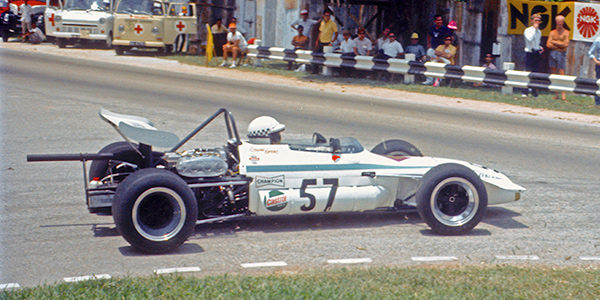 Southeast Asian racing
Races in Malaysia, Singapore and at Macau developed through the late 1960s from libre racing towards a 1600cc formula. This was formalised in 1971 allowing 1600cc 2-valve engines, the same as Australian Formula 2 and SCCA Formula B, but by omitting 4-valve engines such as the Ford BDA, it differed from the new British Formula Atlantic. In 1975, the Macau Grand Prix tried to move to Formula Atlantic, but a lack of entries forced it to run as Formule Libre.
For 1976, all the major races in the region agreed on a 1600cc 4-valve formula, closer to Formula Atlantic but still allowing the old Cosworth FVA to be used alongside newer Cosworth BDMs. Crucially this Southeast Asian formula allowed fuel injection, which was not allowed in Formula Atlantic. Exactly what rules Macau was running to in 1976 and 1977 remains unclear.
After two successful seasons of this 4-valve formula, the southeast Asian races finally aligned with both Japan and New Zealand to use Formula Pacific from 1978 onwards, although the rules for Malaysia's National Formula mentioned neither Atlantic or Pacific. The series faded away quite abruptly after 1982, when the FIA replaced Formula Atlantic and Formula Pacific with Formula Mondial, the Macau Grand Prix moved to Formula 3 rules, and Japan's Formula Pacific series was cancelled.
These races were usually mentioned in British, Australian and New Zealand magazines, but full results were rarely published. If you can help us complete these records, please email Allen at allen@oldracingcars.com.