South-East Asian racing 1976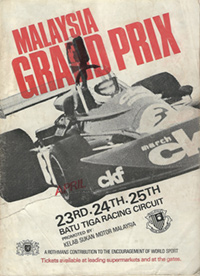 In April 1975, it was announced that for 1976, all countries in Southeast Asia would adopt Formula Atlantic rules, with the single change that fuel injection would be allowed on the Cosworth BDA. Cosworth produced the Cosworth BDM, a large valve fuel-injected version version of the engine, in 1975. However, when the Rothmans International Grand Prix Trophy was announced in February 1976, the promoters said that "race organisers are looking for cars of 1600cc 4 cylinders, 4 valves per cylinder, unsupercharged/free". John MacDonald was quoted calling it "Super Formula Atlantic/Libre" and saying that any "Atlantic, Cosworth, FVA or BDM" engines would be competitive. In November 1976, leading contender Graeme Lawrence noted a further difference, in that the Southeast Asian series allowed larger BDA valves, but New Zealand's new Formula Pacific, which debuted at Manfeild on 31 October 1976, required smaller ones.
The opening race, the Malaysian GP at Batu Tiga in late April, was called off after a heavy downpour flooded the circuit. Only minutes before the rain, an overcrowded gradstand had collapsed, injuring four people. Lawrence won the Penang GP a week later in his new March 76B, which was supplied with a fuel-injected Hart engine, but he swapped to a Cosworth FVA for the second race. John MacDonald had a Ralt RT1, and won the second race; he also tried out a FVA during 1976. Also buying new equipment were Albert Poon, who had a Chevron B34, and Grant Swartz who acquired a Lola T460, both powered by BDA derivatives. Sonny Rajah also updated his March with a BDA. The Macau Grand Prix drew more cars, including a Ralt RT1 and an older March 722 from Theodore Racing for Vern Schuppan and Alan Jones, Rupert Keegan in an ex-Fred Opert Chevron B35, and David Purley in a Team Harper Modus M3. Schuppan won in Macau, but Lawrence then won the Metro Manila Grand Prix to take the title, with MacDonald runner up.
Rothmans International Trophy races
25 Apr 1976 > Malaysia Grand Prix (cancelled) at Batu Tiga
02 May 1976 > Penang Grand Prix
15 Aug 1976 > Selangor Grand Prix at Batu Tiga
24 Oct 1976 > Indonesia Grand Prix at Jakarta-Ancol Jaya
14 Nov 1976 > Macau Grand Prix
19 Dec 1976 > Metro Manila Grand Prix at Manila-Greenhills
Rothmans International Trophy Championship events shown in bold
1976 Rothmans International Trophy Championship table
An interesting addition to the calendar was the Indonesia Grand Prix at the Jaya Antjol (Ancol Jaya) Circuit in Jakarta. This 4470 metre (2.68-mile) circuit used roads along the beachfront in Jakarta Bay. Preparations were interrupted by a huge scrub fire in the paddock leading to a franctic evacuation of cars and equipment before it was brought under control. The event was not held again.