South-East Asian racing 1977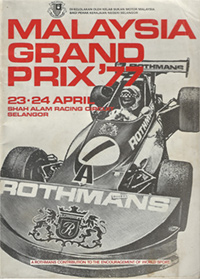 Graeme Lawrence still had his March 76B and Steve Millen had acquired the Chevron B35 that Rupert Keegan raced at Macau in 1976, but it was the old Theodore Racing March 722 that won the opening race of the Rothmans series, the Malaysian GP at Batu Tiga, in the hands of Teddy Yip's new F1 driver, Patrick Tambay. Millen was second, but Lawrence had fuel pump problems in that race.
Lawrence then won the second round at Penang, but the next two races were cancelled after the tragedy that occured at the Malaysian GP in April. During a support race, Harvey Yap's Ford Escort spun and hit a fence, tearing a stretch of it away. Five children were killed, and 23 others injured. The track was closed for some time, and the Selangor GP, due to take place there in September, was cancelled.
The Rothmans season ended with the Macau Grand Prix, won by Riccardo Patrese in Chevron's development B40/42. Millen took second place again, and when Lawrence retired, Millen took the Rothmans title.
Rothmans International Trophy races
24 Apr 1977 > Malaysia Grand Prix at Shah Alam
01 May 1977 > Penang Grand Prix
25 Sep 1977 > Selangor Grand Prix (cancelled) at Shah Alam
20 Nov 1977 > Macau Grand Prix
1977 Rothmans International Grand Prix Trophy table
The Malaysian Grand Prix was run with three classes in 1977:
Class A: all foreign competitors plus regional competitors using engines with four valves per cylinder and fuel injection (typically the Cosworth BDM).
Class B: competitors residing in the region using engines with two valves per cylinder (typically the Ford twin cam).
Class C: competitors residing in the region using cars complying with Formula Atlantic regulations (typically with Ford BDA engines).
Formula Atlantic was included as it was due to be taking over as the National Formula for Malaysia in 1978, and had already been adopted by the Philippines.