South-East Asian racing 1971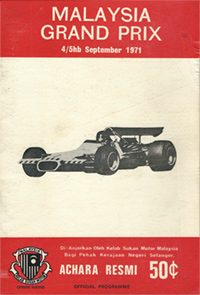 After several seasons of running to Formule Libre rules, the Southeast Asian races settled on a 1600cc 2-valve formula for 1971, matching the SCCA's and Canada's Formula B, but also the same as the rules being introduced for Australia's 'Formula 2' (ANF2) in 1972. In effect, this meant Ford's ubiquitous twin cam engine, and excluded both the 4-valve Ford BDA, which the British Formula Atlantic series had decided to allow for 1971, and Cosworth's older Formula 2 FVA engine, which had previously been raced in Malaysia and Macau by John MacDonald of Hong Kong and Hengkie Iriawan.
MacDonald fitted a Vegantune twin cam to his Brabham BT10 and took pole at the first event, the Singapore GP, but the race was won by Kiwi Graeme Lawrence in his ex-Formula B Brabham BT29, from Australian Johnnie Walker in his Elfin 600B. Lawrence won again a week later at the Selangor Grand Prix, then another Kiwi, Ken Smith, won the Penang Grand Prix after his cloest rival Sonny Rajah retired. MacDonald won the Malaysian Grand Prix later in the year before Malaysia's Jan Bussell scored a rather fortuitous victory at Macau in his McLaren after four cars ahead of him retired.
The races
11 Apr 1971 > Singapore Grand Prix for Cars
18 Apr 1971 > Selangor Grand Prix at Batu Tiga
25 Apr 1971 > Penang Grand Prix
05 Sep 1971 > Malaysia Grand Prix at Batu Tiga
21 Nov 1971 > Macau Grand Prix
Entry lists are still needed for all but the Malaysia Grand Prix, and full results are still needed for the 1971 Selangor, Penang, Malaysia and Macau Grands Prix. Can you help?
Please email Allen (allen@oldracingcars.com) if you have any additions, corrections or comments.