South-East Asian racing 1975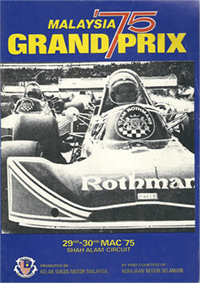 The Southeast Asian season opened with the Malaysian Grand Prix at Batu Tiga at the end of March, and Albert Poon had just managed to get his brand new Chevron B29 shipped out in time for the race. The rest of the field were now at least two seasons old: the most competitive being John MacDonald's Brabham BT40, Graeme Lawrence's Surtees TS15, and the Rothmans-backed March 732s driven here by Harvey Yap and Jan Bussell.
MacDonald won the Malaysia GP in his twin cam Brabham BT40, and then splashed out on a brand new Ralt RT1 which he used to win the Penang and Selangor GPs in September. When the Macau organisers decided to allow Formula Atlantic cars, MacDonald fitted the Ralt with a four-valve Cosworth BDA engine. Having dominated the race in 1974, David Purley and Vern Schuppan returned to Macau, Purley entered by Bob Harper in a Modus M3 and Schuppan in Teddy Yip's Ralt RT1. Purley was delayed by a puncture and Schuppan was forced to move to Yip's older March 722 for the race, only to retire when leading by over a minute. That left MacDonald to win easily from Kevin Bartlett in Albert Poon's older two-valve Brabham BT40.
The races
30 Mar 1975 > Malaysia Grand Prix at Batu Tiga
01 Sep 1975 > Penang Grand Prix
07 Sep 1975 > Selangor Grand Prix at Batu Tiga
16 Nov 1975 > Macau Grand Prix
Full race result details are needed for the 1975 Malaysia, Penang and Selangor Grands Prix. Can you help?
Please email Allen (allen@oldracingcars.com) if you have any additions, corrections or comments.