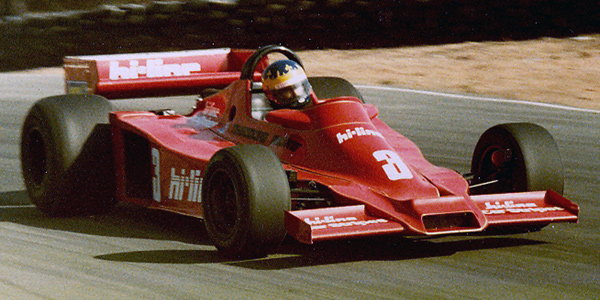 Aurora AFX British Formula 1 Championship (1978-1980)
The new British Formula 1 championship replaced the Shellsport Group 8 series for the 1978 season, and was sponsored by Aurora AFX with a total prize fund of £113,500. The F5000 and Formula Atlantic cars that had been filling out Shellsport grids were evicted, and the expectation was that teams that had struggled to qualify in World Championship F1 would move to the British championship. Race distances were increased, to the longer of 50 laps or 100 miles.
The first few races in 1978 were deeply disappointing, with few top drivers and fewer fully professional teams, but the fourth race, a thriller at Mallory Park, dramatically changed the tone and the series went on to be a huge success. Tony Trimmer won the first year, continuing his success from the Shellsport series in 1977 but now with Melchester Racing's McLaren M23. Of his 1977 rivals, Emilio de Villota continued with his pair of McLaren M23s but Guy Edwards commissioned March to build all-new March 781s based on the company successful F2 car and run for him by RAM Racing. 1974 F5000 champion Bob Evans also reemerged as a contender in one of John Cooper's nearly-new Hesketh 308Es.
The second year saw Aurora's peak, as Theodore Racing and Team Surtees joined the series, as well as Rupert Keegan in Charles Clowes' Arrows A1. 30 different Formula 1 cars appeared during the season, with most races having between 12 and 14 F1 starters, plus a good range of F2 cars. Keegan defeated David Kennedy and de Villota in a dramatic final race at Silverstone.
RAM Racing acquired a pair of Williams FW07 for 1980, raced by Emilio de Villota and Eliseo Salazar, and these proved too much for Edwards in the Clowes Arrows and Theodore Racing's increasingly aged Wolfs. Only 20 F1 cars appeared that season, and although there 11 F1 starters at some races, other races had as few as five. Not enough competitors could find the budgets to run the latest ground effect cars, and the series was dropped after its third season. It was wonderful while it lasted.
The seasons
The 1978 season: Oulton Park, Brands Hatch, Snetterton, Mallory Park, Zandvoort, Donington Park, Thruxton, Oulton Park, Mallory Park, Brands Hatch, Thruxton, Snetterton.
The 1979 season: Zolder, Oulton Park, Mallory Park, Snetterton, Thruxton, Zandvoort, Donington Park, Oulton Park, Nogaro, Mallory Park, Brands Hatch, Thruxton, Snetterton, Silverstone.
The 1980 season: Oulton Park, Brands Hatch, Silverstone, Mallory Park, Thruxton, Monza, Mallory Park, Snetterton, Brands Hatch, Thruxton, Oulton Park, Silverstone.
Please contact Allen if you can help.
What was Aurora AFX?
The company behind the Aurora AFX sponsorship was British toy maker Berwick Timpo, chaired at the time by Torquil Norman. Through its subsidiary Peter Pan Playthings, it was the UK distributor for the American Aurora AFX range of slot racing model cars and, early in 1977, had acquired Aurora's UK subsidiary from Nabisco, together with a three-year licencing deal, allowing it to take on the British Scalextric slot racing kits. To confuse this landscape significantly, Nabisco then sold the rest of the loss-making Aurora business to ambitious British toy conglomerate Dunbee-Combex-Marx (DCM), where the Aurora AFX kits joined Hornby model trains, Scalextric slot cars, Plasticine, Triang and even Sindy dolls in what was now Europe's largest toy maker. DCM's attempt to break into the US market was badly timed, as the new British government's economic policies increased interest rates and drove up the value of the pound. Heavy losses at the Marx and Aurora subsidiaries dragged DCM into receivership in February 1980. It was not alone in that fate in the British toy industry as model aircraft makers and Meccano owner Airfix collapsed in 1981, Lesney Products, makers of Matchbox models, in 1982, and Mettoy, makers of Corgi Toys, in 1983. A Canadian firm quickly acquired Aurora's US assets, and the model motor racing systems continued to be distributed in the UK by Peter Pan Playthings, which Berwick Timpo had acquired in 1973 and whose MD Peter Craig represented Aurora to MCD by the end of the three-year-agreement. Hornby, Corgi and Scalextric were also all rescued, but in much-reduced form as their target market was now more interested in electronic games. Norman had meanwhile been forced out of Berwick Timpo after a boardroom battle in 1979, after which the decline of Berwick Timpo through 1980 and 1981 was precipitous, ending with the company calling in the receivers in February 1983.