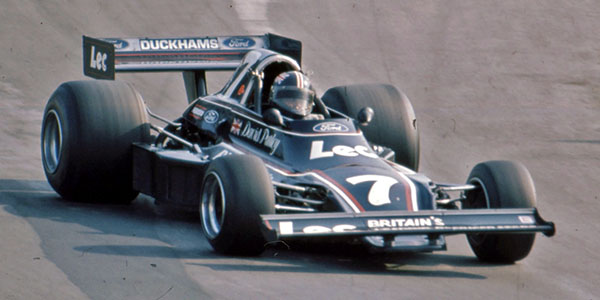 ShellSport Group 8 1976
The first season of the Group 8 series was given the title of ShellSport 5000 European Championship, positioning it as a continuation of the F5000 series, but now with Formula 1, Formula 2 and Formula Atlantic cars added to the mix. Only a handful of the 5000cc beasts appeared, and one of these - a 1973 Lola T330 - won at Brands Hatch on Easter Monday in the very capable hands of Alan Jones. F5000 veteran Keith Holland also won a race in Len Gibbs' Lola T400, and former champion Bob Evans made a brief appearance in the almost-forgotten McLaren M25. The first F1 cars to appear were Divina Galica's Surtees TS16 - the combative former Olympic skier silencing many of her critics with a fabulous drive in the rain at Thruxton - and Spaniard Emilio de Villota in the Lyncar 006, but they were soon joined by Brian McGuire's more up-to-date Williams FW04 and he scored the first F1 win for the Williams marque at Thruxton in September. Mike Wilds in a Shadow DN3, Guy Edwards in an Ensign N174 and Damien Magee in a Penske PC3 improved the quality of the field substantially, and Edwards won at Oulton Park in September in the spare car from RAM Racing's GP team, a Brabham BT42/44B.
However, the cars that were most successful were both powered by Cosworth's 3.4-litre Ford GAA engines: David Purley's Chevron B30 which had been developed by Mike Pilbeam for the LEC team over the winter, and Damien Magee's Hexagon-owned ex-RAM Racing March 75A, although he swapped this for Hexagon's Penske later in the season.
The races
21 Mar 1976 > Mallory Park
28 Mar 1976 > Snetterton
16 Apr 1976 > Oulton Park
19 Apr 1976 > Brands Hatch
31 May 1976 > Thruxton
20 Jun 1976 > Brands Hatch
27 Jun 1976 > Mallory Park
01 Aug 1976 > Snetterton
30 Aug 1976 > Brands Hatch
12 Sep 1976 > Thruxton
18 Sep 1976 > Oulton Park
24 Oct 1976 > Brands Hatch
07 Nov 1976 > Brands Hatch
1976 ShellSPORT 5000 European Championship table
1
David Purley
3.4-litre Chevron B30 - Ford GAA V6
172 pts
6 wins
2
Damien Magee
3.4-litre March 75A - Ford GAA V6
(F1) Penske PC3 - Cosworth DFV
107 pts
2 wins
3
Keith Holland
5-litre Lola T400 - Chevrolet V8
95 pts
1 win
4
Divina Galica
(F1) Surtees TS16-4 - Cosworth DFV
57 pts
5
Mike Wilds
(F1) Shadow DN3B - Cosworth DFV
(F1) Ensign N174 - Cosworth DFV
51 pts
6
Val Musetti
(F2) March 742/752 - Swindon BDX
3.4-litre March 752 - Ford GAA V6
43 pts
7
Richard Scott
(F/Atl) Modus M3 - Ford BDA Nicholson
(F1) Shadow DN1 - Cosworth DFV
(F2) Modus M3 - Swindon BDX
42 pts
8
Brian McGuire
(F1) Williams FW04 - Cosworth DFV
32 pts
1 win
9
Richard Robarts
(F2) March 752 - Ford BDG Richardson
(F2) March 762 - Hart 420R
30 pts
10
Guy Edwards
(F1) Ensign N174 - Cosworth DFV
(F1) Brabham BT42/BT44B - Cosworth DFV
28 pts
1 win
11=
Brian Henton
(F/Atl) Boxer PR276 - Ford BDA Swindon
(F2) Boxer PR276 - Swindon BDX
27 pts
11=
Bill Gubelmann
(F2) March 732/752 - Ford BDG
(F2) March 732/742 - Ford BDG Hart
27 pts
13=
Ray Mallock
(F2) Lola T450 - Swindon BDX
(F2) March 75B - Swindon BDX
26 pts
1 win
13=
Emilio de Villota
(F1) Lyncar 006 - Cosworth DFV
26 pts
15
Derek Bell
(F1) Penske PC3 [02] - Cosworth DFV
25 pts
Previous: the 1975 F5000 season
Points table from Autocourse 1976/77 p246.
Although the series was often referred to as a Group 8 championship, the 1976 RAC Motor Sport Year Book listed it as Group 9, and said that "The series is open to single seaters complying with Appendix 'J' Group 9 up to 5 litres". This means that cars running with a 1600cc engine were not obliged to meet Formula Atlantic rules and cars running with 2-litre engines were not necessarily to Formula 2 specification
MCD Open Single Seater Championship 1976
Motor Circuit Developments ran a championship in 1976 open to "all types of single seater racing cars, without a capacity limit". It was to be held on MCD's four circuits, Oulton Park, Brands Hatch, Mallory Park and Snetterton, but no Snetterton round took place. As well as attracting some of the F1, F5000, F2 and Formula Atlantic runners from the main Group 8 series, it also attracted F3, Formula Super Vee, Monoposto and FF2000 cars as well as a handful of 1600cc cars usually seen in speed events.
The races
06 Mar 1976 > Oulton Park
04 Apr 1976 > Mallory Park
01 May 1976 > Oulton Park
13 Jun 1976 > Brands Hatch
25 Jul 1976 > Mallory Park
15 Aug 1976 > Brands Hatch
19 Sep 1976 > Brands Hatch
02 Oct 1976 > Oulton Park
1976 MCD Open Single Seater Championship table
| | | | | |
| --- | --- | --- | --- | --- |
| 1 | Val Musetti | (F2) 2-litre March 742/752 - Swindon BDX | 45 pts | 3 wins |
| 2 | John Wingfield | (F2) 2-litre Ralt RT1 - Ford BDG Somers | 25 pts | 1 win |
| 3 | Keith Holland | (F5000) Lola T400 - Chevrolet V8 | 22 pts | 2 wins |
| 4 | Ken Bailey | (F/Atlantic) Chevron B29 - Ford BDA Nicholson | 15 pts | 1 win |
| 5 | Alan Clennell | (F/Atlantic) GRD B73 - Ford BDA Swindon | 12 pts | |
| 6= | Nick Whiting | (F1) Surtees TS16-4 - Cosworth DFV V8 | 10 pts | |
| 6= | Philip Guerola | 1.9-litre Brabham BT30 - Cosworth FVC | 10 pts | |