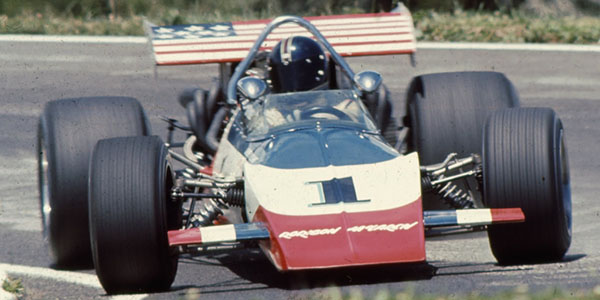 Tasman Cup Formula 5000 1970
As the 1970 season began, it immediately became apparent that the traditional 2.5-litre cars were still a match for the heavy and unreliable F5000s. Leading this group was Graeme Lawrence in his ex-Chris Amon Ferrari Dino 246T, who took pole at the opening event at Levin and ran away with the race. Fellow Kiwi Bryan Faloon was driving the Rorstan, Feo Stanton's Australian produced copy of a Brabham BT23 fitted with an 11-year-old Coventry Climax FPF, which went particularly well in New Zealand. The leading Australians were Max Stewart and Kevin Bartlett in the Mildren team's pair of 2-litre Waggott-powered cars. Also in this group was Derek Bell, who arrived for the New Zealand races with Tom Wheatcroft's 2.5-litre Brabham BT26, and John Harvey who did two Australian races in Bob Jane's Brabham BT23E-Repco, leading for a while at Warwick Farm.
Of the F5000 drivers, the top locals were Frank Matich and Graham McRae, both with McLaren M10As, and Niel Allen with a newer McLaren M10B. Backing them up were Dennis Marwood in the Eisert that had been left in New Zealand the year before, and a couple of rather slow Beggs. The International F5000 contingent was something of a disappointment. From the US came Ron Grable (Sceptre-modified McLaren M10A), Mike Goth (Surtees TS5), Bill Simpson (Eagle) and Mike Campbell (Forsgrini-Ford); and from Europe came Ulf Norinder (Lola T190) and Derrick Williams (Lola T142). Grable was a former SCCA amateur champion, but the rest were unknowns.
Frank Matich won the second race, the NZ Grand Prix, from Bell, and then won Wigram from Grable, before McRae got his first win at Teretonga with Grable and Goth in the minor placings. The circus then transferred to Australia, where McRae took his second win at Surfers Paradise after Matich was forced to stop for fuel when leading comfortably. The main title contenders, Matich and Lawrence, lined up on the front row at Warwick Farm, with the Kiwi on pole. Matich shot into the lead as Lawrence fluffed his start, but the McLaren driver spun down to 12th place on the first lap, leaving Bartlett at the front. Matich stormed back to second but them spun again, so the Mildren team bagged a 1-2 for Bartlett and Stewart, with Lawrence third. That left Matich and Lawrence in a showdown for the title at Sandown Park's final round. The Aussie took pole but engine problems dropped him out of contention. Niel Allen took the win with Lawrence's second place in the reliable Ferrari giving him the title.
The races
28 Dec 1969 > Bay Park International at Baypark Raceway
03 Jan 1970 > Levin International
10 Jan 1970 > New Zealand Grand Prix at Pukekohe
17 Jan 1970 > Lady Wigram Trophy
24 Jan 1970 > Teretonga International at Teretonga Park
08 Feb 1970 > Surfers Paradise '100'
15 Feb 1970 > Warwick Farm "100"
22 Feb 1970 > Sandown Park Cup
Tasman Cup events shown in bold
1970 Tasman Cup table
1
Graeme Lawrence
2.4-litre Ferrari Dino 246T/69 - Ferrari V6
30 pts
1 win
2
Frank Matich
5-litre McLaren M10A - Chevrolet V8
25 pts
2 wins
3=
Kevin Bartlett
2-litre Mildren - Waggott TC4V 4
19 pts
1 win
3=
Max Stewart
1.9-litre Mildren - Waggott TC4V 4
2-litre Mildren - Waggott TC4V 4
19 pts
5
Graham McRae
5-litre McLaren M10A - Chevrolet V8
18 pts
2 wins
6
Ron Grable
5-litre McLaren M10A - Chevrolet V8
17 pts
7
Niel Allen
5-litre McLaren M10B - Chevrolet V8
12 pts
1 win
8
Mike Goth
5-litre Surtees TS5 - Chevrolet V8
10 pts
9
Ulf Norinder
5-litre Lola T190 - Chevrolet V8
7 pts
10
Derek Bell
2.5-litre Brabham BT26A - Cosworth DFW V8
6 pts
11
Bill Simpson
5-litre Eagle Mk 5 - Chevrolet V8
3 pts
12
Dennis Marwood
5-litre Eisert JE67 - Chevrolet V8
2 pts
13=
John Harvey
2.5-litre Brabham BT23E - Repco V8
2 pts
13=
Alfredo Costanzo
1.6-litre McLaren M4A - Cosworth FVA
2 pts
15=
Mike Campbell
5-litre Forsgrini Mk 14 - Chevrolet V8
1 pt
15=
Derrick Williams
5-litre Lola T142 - Chevrolet V8
1 pt
15=
Tony Stewart
1.6-litre Elfin 600B - Ford twin cam
1 pt
Prize money was awarded for practice positions and race results, with Lawrence endeing the season with $11,000 and Matich on $9,500. The overseas drivers must have made substantial losses, which will hardly have encouraged participation in 1971. In the future, most overseas participation in the Tasman series would be with at least one eye on advertising the potential of a new customer car.