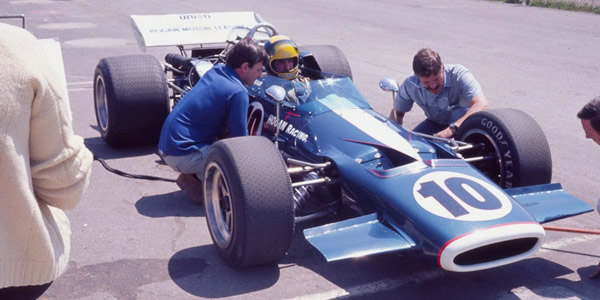 SCCA L&M Formula 5000 1971
David Hobbs had been one of the quickest drivers in US Formula 5000 in 1969 and 1970, but had only done two half-seasons for Surtees. In 1971, he was poached by Roger Penske to drive Penske's Goodyear-shod sports car and Indy car teams, and that necessitated a move from Surtees' Firestone team for F5000. Penske convinced Carl Hogan to employ Hobbs in place of 1970 champion John Cannon, and Hobbs would drive the same McLaren M10B that had taken Cannon to the 1970 title. Trojan had a new car, the McLaren M18, but this turned out to be no improvement on the M10B. Surtees brought out the Surtees TS8, and Sam Posey led their US efforts. As usual, Lola had outsold everyone and seven Lola T192s were on hand at the opening race of the season.
Hobbs was on pole for the opening race but his clutch failed on the pace lap, and Australian visitor Frank Matich took a surprise victory in his McLaren M10B with Repco Holden mill. Hobbs dominated the next two races, taking pole and leading every lap, but Posey then won at Mid-Ohio after a great scrap with the Englishman. Posey was the quicker in qualifying at the next two races as well, but Hobbs won the races to tie up the title with two events still to go. Brett Lunger then gave Lola their first win of the season at Donnybrooke after Hobbs' engine failed, and the final race of the season ended with a fitting Hobbs-Posey 1-2 finish.
With the ban on tobacco advertising on American TV coming into force at the start of 1971, there was a scramble by the major tobacco companies to use major sporting events as a way to promote cigarette use. RJ Reynolds attached their Winston brand to NASCAR's main championship, Marlboro sponsored the USAC championship, and L&M picked up the SCCA's Formula 5000. As safety became a major concern in motor racing through the 1970s, the irony of the major championships' role in promoting one of the main killers of men in America was lost on many commentators.
The races
25 Apr 1971 > Riverside Grand Prix
02 May 1971 > Monterey Grand Prix at Laguna Seca
23 May 1971 > Seattle Grand Prix
05 Jul 1971 > Mid-Ohio Grand Prix
18 Jul 1971 > Road America Grand Prix
01 Aug 1971 > Lucerne 200 at Edmonton
07 Aug 1971 > Seafair "200" Race 1 at Seattle
07 Aug 1971 > Seafair "200" Race 2 at Seattle
15 Aug 1971 > Minnesota Grand Prix at Brainerd
06 Sep 1971 > Lime Rock Grand Prix
L&M Continental 5000 Championship events shown in bold
1971 L&M Continental 5000 Championship table
1
David Hobbs
McLaren M10B - Chev V8
115 pts
5 wins
2
Sam Posey
Surtees TS8 - Chev V8
70 pts
1 win
3
Brett Lunger
Lola T192 - Chev V8
64 pts
1 win
4
Eppie Wietzes
McLaren M18 - Chev V8
59 pts
5
Jim Dittemore
Lola T192 - Chev V8
41 pts
6
Frank Matich
McLaren M10B - Repco-Holden
35 pts
1 win
7
Ron Grable
ASD American Mk 1 - Chev V8
30 pts
8
Gregg Young
Surtees TS7 - Cosworth DFV
28 pts
9
Lothar Motschenbacher
McLaren M18 - Chev V8
26 pts
10
Bill Brack
Lotus 70 - Chev V8
23 pts
11
Gerard Raney
Eagle Mk 5 - Chev V8
21 pts
12
John Gunn
Eagle Mk 5 - Chev V8
20 pts
13
Skip Barber
March 701 - Cosworth DFV
March 711 - Cosworth DFV
18 pts
14
Jerry Hansen
Lola T192 - Chev V8
17 pts
15
Evan Noyes
McLaren M18 - Chev V8
10 pts
16=
Jack Eiteljorg
Lola T192 - Chev V8
9 pts
16=
Horst Kroll
Lola T142 - Chev V8
9 pts
18=
Merle Brennan
McLaren M10A - Chev V8
8 pts
18=
Monte Shelton
Eagle Mk 5 - Chev V8
8 pts
20
Pete Lovely
Lotus 49B - Cosworth DFV
6 pts
The points table is derived from Wolfgang Klopfer's excellent Formula A and Formula 5000 in America p50.
USAC Road Racing Championship
For 1971, USAC divided its main championship into three divisions, the most important of the three being held only on paved ovals, and the road races being placed into a separate division. Although USAC championship races had been held at Sears Point, Continental Divide and Indianapolis Raceway Park in 1970, there was little interest in a series held only on road courses, and the only race to take place was at Seattle. A schedule was announced for 1972 including races at Continental Divide, Brainerd, Bridgehampton, Mosport Park and Road Atlanta, but in November 1971 USAC admitted sponsorship could not be found and the series was dropped.