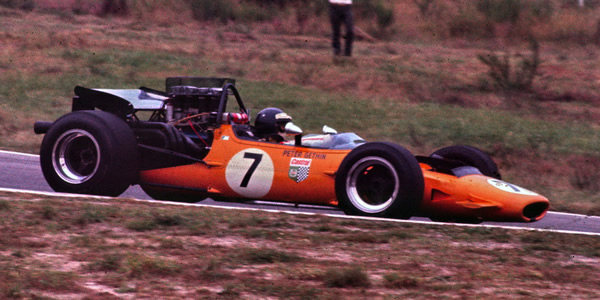 British Formula 5000 1969
Plenty of cars, lots of variety and some good racing rewarded John Webb's decision to import Formula A into Britain as Formula 5000. McLaren (through Trojan) and Lola had built production F5000 cars and they were quickly joined by the TS5, a collaboration between designer Len Terry, US TV star and team owner James Garner, and John Surtees, whose name the car would eventually carry. The McLaren and TS5 followed F1 design principles, in contrast to the cheaper and higher-selling Lola which was a spaceframe chassis using components from Lola's T70 sports car project.
The works McLaren M10A was prepared by Church Farm Racing, with team manager Mike Earle, for Peter Gethin to drive in the UK and he won the first four races to storm into such a championship lead that he took his car to the US to mop up some prize money over there as well. The Surtees team also changed their focus to the US series leaving Trevor Taylor to run a works assisted car in the UK. Taylor matched Gethin's four wins and the McLaren driver returned to protect a slim championship lead going into the last round. Taylor led Gethin in the race until the pair tripped over errant backmarker Chris Warwick-Drake, and were both eliminated. Mike Hailwood, driving the works-supported Lola T142, took the race and Gethin the title.
The races
04 Apr 1969 > Oulton Park
07 Apr 1969 > Brands Hatch
11 May 1969 > Brands Hatch
26 May 1969 > Mallory Park
15 Jun 1969 > Silverstone
13 Jul 1969 > Mondello Park
03 Aug 1969 > Trofee der Noordzee at Koksijde
10 Aug 1969 > Zandvoort
01 Sep 1969 > Snetterton
14 Sep 1969 > Hockenheim
20 Sep 1969 > Oulton Park
28 Sep 1969 > Brands Hatch
1969 Guards Formula 5000 Championship table
1
Peter Gethin
McLaren M10A - Chevrolet V8
2365 pts
4 wins
2
Trevor Taylor
Surtees TS5 - Chevrolet V8
2170 pts
4 wins
3
Mike Hailwood
Lola T142 - Chevrolet V8
2045 pts
1 win
4
Keith Holland
Lola T142 - Chevrolet V8
2000 pts
5
Alan Rollinson
(F2) Brabham BT30 - Cosworth FVA
Lola T142 - Chevrolet V8
1920 pts
6
Mike Walker
Lola T142 - Chevrolet V8
1845 pts
2 wins
This series ran over 12 rounds and used a highly unusual points system of one point for each Pound of prize money: 500-350-250-200-150-125-100-90-80-75 then dropping in £5 steps to £50 for 15th place then staying at £50 through to 20th place. The best eight scores counted. Points tables from Anthony Pritchard's Motor Racing Year p195.
The other round of the series was won by David Hobbs (works Surtees TS5) at Mondello Park 13 Jul 1969.
All cars used 5-litre Chevrolet engines unless noted. For further details, see Wolfgang Klopfer's excellent Formula 5000 in Europe: Race by Race p9.
The BRSCC announced in August that fuel injected would be banned in F5000 from 1 December 1969. The only cars to have used it to that point were the Church Farm McLaren M10A of Gethin and one of the TS5s.