Lola T142 car-by-car histories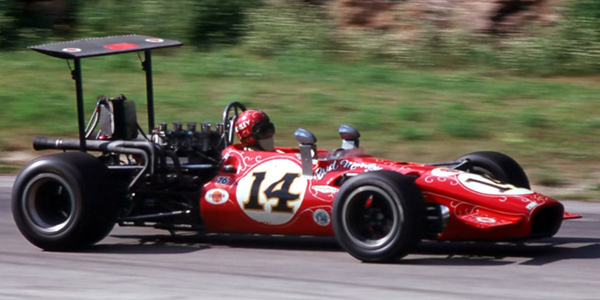 Lola's first Formula A model, the T140, had been a great success in sales and although the Eagle had proved faster in the US, its price advantage ensured good sales for an improved model, the T142, in 1969.
In the US market, several of Lola's Can-Am customers decided to try the new Formula A and the T142 also sold well in the UK, where Formula 5000 was having its first season. With 28 vehicles produced in the space of just ten months, the T142 would prove to be the most successful production F5000 ever, at least in terms of units sold. Even the later Lola T332 couldn't manage that in a single year. A better indication of "market share" is by appearances, either in the race or even on an entry list, and Lola's market share was a massive 42% in 1969.
Tracing the history of old racing cars is never easy but the Lola T142 sometimes looks like it was deliberately posed as an exercise in automotive encryption. The cryptanalysis has a page of its own: take a look at the Lola T142 hunt page before you go much further on this page. If you know of a Lola T142 not listed here, please email Allen.
All and any help would be gratefully received. Please email Allen at allen@oldracingcars.com if you can add anything.
Chassis
History
Current owner
The 1969 mystery cars
All the mysteries between 1969 and 1972 are in the US. In 1969, these can be split between the cars probably delivered new and the later ones that were probably second hand.
New T142s up to May 1969
Haas bought 16 T142s during 1969 and another two were sold direct to Canada (Wietzes and Kroll). At least 10, probably 11, of the Haas cars were invoiced in time for the first race at Riverside on 20 April with one more in early May and the last four in July and August. At that first race were seven T142s: George Wintersteen, Bud Morley (T142/28), Chuck Dietrich (142/21), Rich Galloway, Dick Simon, Bill Moore and Ron Courtney. John Gunn also joined the series at Laguna Seca on 4 May and Sherwood Johnston appeared in a SCCA Regional a week later so that makes nine known T142s against the 11 invoiced cars. In June, Richard Negley joined the series, bringing the total to ten, which still leaves at least one unexplained car. As will be seen below, Wes Wilson, Eno de Pasquale, Keith Saunders, Len Guneau, Russ Murray and Lew Florence later have cars that may be new and may therefore explain the missing cars. Also Don Finlayson (Lombaro, IL) entered a T142 entered a T142 for the Brainerd F5000 race in August but did not appear.
Note that Brian O'Neill/ARM advertised a Lola in early 1969 but this seems to be a reference to his late-season T140.
The July/August cars
Haas bought four T142s well after the start of the season, in July and August, and three of these appear to have been supplied without gearboxes, suggesting they could have been sold on as kits. One of these was Lew Florence's car but no other new T142 appeared in the Pro series after Negley's car in June. The following references may help explain the other three cars.
Cliff Phillips (Palos Park, IL - a Chicago suburb SW of the city and therefore only 40 miles or so from Haas) advertised a brand new unraced red T142 on 23 Aug 1969.
Wes Wilson (Akron, Ohio) drove a T142 in a National on 7 Sep 1969 - too early to be a second-hand car - and advertised it the following April as "bought new last fall".
Eno de Pasquale (Mamaroneck, NY) advertised a "new" T142 AW 15 Nov 1969 and again (Mt Vernon, NY) "brand new, never driven" 1 Jul 1972. See SL142/39 above.
Keith G. Saunders (Albuquerque, NM) bought a BRG T142 as a kit from Carl Haas and completed it late 1969 or during 1970.
Len Guneau (Hermosa Beach, CA) raced a T142, first appearing at a Laguna Seca Regional on 12 October 1969. It could (just) be a second-hand T142, but is more likely to have been new.
Russ Murray (Darval, Quebec) also entered a Lola T142 in August and September 1969 but has no definite race appearance until 1970. It's distinctly possible he didn't take delivery until some time after those entries so the car could be second-hand.
Second-hand T142s
The first of these cars to vanish were Ron Courtney's (wrecked at Riverside on 20 April), Rich Galloway's and George Wintersteen's (both crashed heavily at St Jovite 7 Sep and assumed written off), Dick Simon's (last seen at Thompson 21 Sep and then to Mel Andrus), John Gunn's (last seen at a VIR National on 28 Sep and then sold to either Dave Heinz or Randy Blessing), Eppie Weitzes (last seen at Mosport on 14 Oct and then to Tony Simms), Richard Negley's (last seen at Thompson 21 Sep but advertised 29 Nov) and Chuck Dietrich's (last seen at the ARRC on 29 Nov).
Bud Morley's T142/28 and Sherwood Johnstone's car both continued through to Sebring in December. Horst Kroll's did three seasons.
Meanwhile, Wes Wilson and Len Guneau also raced T142s in SCCA events in September and October. Wilson's appears the same day as St Jovite confirming that it must be new but Guneau's could possibly be second-hand. Russ Murray's only appears on entry lists in 1969 and first races in 1970 but is believed to have been new.
The 1969 early-season cars
If 12 T142s were in the US by early May, these would be SL142/18, SL142/19 (both sold in late 1968), SL142/21 (sold to Carl Hogan), SL142/24, SL142/26, SL142/27, SL142/28 (sold to Bud Morley), SL142/30, SL142/32, SL142/33, SL142/34 and SL142/39 (probably sold to Eno de Pasquale). The Hogan car above plus the nine cars below account for ten of those, leaving two more that are not yet understood. If Eno de Pasquale did have SL142/39, the last of the pre-July cars, that reduces the unknowns to just one.
To make the research more difficult, five of these nine cars are believed to have been destroyed.
Chassis
History
Current owner
The 1969 late-season cars
Chassis
History
Current owner
The 1970 mystery cars
Of the cars seen in the US in 1969, Hogan had retained SL142/21, Len Guneau was still running his car, Bud Morley advertised his SL14/28 as late as August 1970, Mel Andrus had the ex-Dick Simon car, Wes Wilson advertised his unseen car in April, Keith Saunders almost certainly still had his car, and both Florence and Murray would finally debut their cars. Ron Courtney's car was burnt out early in 1969 and another two, Rich Galloway's and George Wintersteen's, had been crashed heavily at St Jovite. The two Canadian cars, by now with Simms and Kroll, can also be accounted for, as can the late-season car for Ross Murray. The puzzle is John Gunn's car: a period newspaper report says it went to Dave Heinz, but Randy Blessing recalls that his car was the ex-Gunn car.
Three other T142s cannot be tracked into 1970: Richard Negley's car in Texas, last seen when advertised in late November; Bill Moore's in Arizona, also advertised in November 1969; and Sherwood Johnston's car which is unknown in 1970 but appears to have stayed in Arizona as well.
Appearing for the first time late 1969 or during 1970 were two other new T142 drivers: John Saucier's SL142/30 in Oklahoma, a car unknown in 1969 and first seen in May 1970; and Gerald Geishart's red car in Wisconsin, seen in June 1970. It is likely that Geishart had acquired Wes Wilson's late season car, and Saucier's could be Richard Negley's or Bill Moore's cars. The third of these presumably went to Heinz or Blessing.
Chassis
History
Current owner
The 1971-1972 mystery cars
Of the five known and identified US-based T142s, SL142/21 was still with Hogan, Bud Morley's SL14/28 went to Dan Harper, SL142/29 was last seen with Craig Fisher in 1970, SL142/38 had been crashed by Kroll, and Lew Florence still had SL142/41. Of the 10 known but unidentified cars, Galloway's and Wintersteen's had been wrecked in 1969 and not seen since, Ron Courtney's had been destroyed, Mel Andrus's ex-Dick Simon car had been destroyed, Sherwood Johnston's was with Ed Luke, Keith Saunders still had his car, Richard Negley's and Bill Moore's had been missing since the end of 1969, and Wes Wilson's had been last seen in April 1970.
Of the two claimants to be the ex-John Gunn car, Randy Blessing retained his car and Dave Heinz' car went to Don Inferrera.
That still leaves two unaccounted for: the cars of Len Guneau, which he kept for 1971, and Ross Murray's which goes missing after 1970. Of the mystery 1970 cars, John Saucier and Gerald Geishart both kept their cars.
So that means the cars of Richard Negley (San Antonio, TX) since 1969, Bill Moore (Scottsdale, AZ) since 1969, Wes Wilson (Akron, Ohio) since an advert in April 1970, and Ross Murray (Canada) since October 1970 are all missing in 1971.
Amongst the new drivers of T142s in North America in 1971 and 1972 were Randy Johnston (Suitland, MD), possibly in the ex-Pete Sherman T140/142, Terry Matheny (Newton, Iowa) and Tim Duke (Lewisville, Texas). The T142s of Kendall Noah (Kansas City, MO) and Jim Stevens (Dearborn, MI) are both covered on the Lola T140 page. Also a T142 was entered by a Theodore Lebsack (Denver, CO) at Riverside in 1971. This might be Ted Lebsack, who raced in the 1980s.
Chassis
History
Current owner
Randolph P Johnston, aka Randy Johnston (Suitland, MD): raced at Lime Rock 6 Sep 1971 and Watkins Glen 18 Jun 1972. Johnston later drove the ex-Pete Sherman Lola T192 and as both drivers were from Maryland and as no other T142 appeared in Maryland, it is likely that Johnston drove the ex-Sherman 'T142' (actually the ex-Mike Hiss Lola T140). Subsequent history unknown.
Driven by: Randy Johnston. First race: Lime Rock (US R8), 6 Sep 1971. Only one recorded race.
Unknown
Terry Matheny (Newton, Iowa): won the Formula A class at an SCCA National at Mid-America Raceway on 19 Sep 1971. Matheny was then 29 years old and owned Continental Imports, a foreign car dealership in Newton, Iowa. After this one season in Formula A, he built his own car for the cheaper D Sports racing. Nothing more known.
Driven by: Terry Matheny. First race: Mid-America Raceway, 19 Sep 1971. Only one recorded race.
Unknown
Tim Duke (Lewisville, Texas) bought a red Lola T142 from someone in Canada in November 1971. The only Canadian T142s were the early-season cars of Horst Kroll and Eppie Wietzes, both of which stayed in Canada until the 1980s; and the late-season car of Ross Murray, which is unknown after 1970. It would appear that Duke had bought the Murray car.
The car was financed by Bill Browning, owner of Precision Motors in Dallas, TX, a foreign car dealer, where Duke and his crew chief John (Bob) Foster both worked. The Lola was raced by Duke in SCCA Nationals, starting at Dallas in February 1972. He won his class at Ponca City in July and Lake Afton in August to win the Formula A class in Southwest Division. The front suspension of the car had been damaged during the season so Duke then sold it about September 1972 to finance a newer Lotus 70 to take to the Run-Offs. Tim's recollection is that the Lola went to Colorado. Subsequent history unknown.
Driven by: Tim Duke. First race: Dallas International Motor Speedway, 27 Feb 1972. Total of 3 recorded races.
Unknown
Known Lola T142s to race in North America during 1972 include Roger Bighouse (in SL142/21), Dan Harper (in SL142/28), John Saucier (in SL142/30), Ron Elliott (in the ex-Sherwood Johnston car), Len Guneau (in his late-1969 car), Don Inferrera (in the ex-Dave Heinz car), Randy Johnston (in the car he had raced in 1971), and newcomer Tim Duke.
Lola T142s in 1973
Four T142s raced in Formula A in 1973: Roger Bighouse (in SL142/21), Dan Harper (in SL142/28), Don Inferrera (in the ex-Dave Heinz car again), and Dave Eshelman who raced a mystery T142 in a SCCA Regional at Riverside.
The supermodified conversions
There is evidence of three Lola T142s being converted to run in the Super Modified class of short track racing in the early 1970s. One of these, Dick St John's T142/30 in 1975, is covered above, but the other two cars are of unknown origin. The first to be built was probably the car Jerry Malloy sold to Jim Brackett, but its racing career is unknown. The third car was that of Pan Am airline pilot Earl Kelley, who raced a #78 maroon Supermodified at San Jose Speedway in September 1973 that was reported to be a "Lola Formula A". However, apart from a story that four-time local champion Bill Scott drove Kelley's car once in April 1974, nothing more is known of that project.
Chassis
History
Current owner
At some point in the early 1970s, probably in late 1971, Jim Brackett (Arvada, CO) bought a Lola T142 from Jim Malloy in Salt Lake City, Utah. The car had been set up as a circle track car with a full roll cage, and was painted blue. Jim and his brother Jerry Malloy built short track "modifieds", "roadsters" and "wedges", and are thought to have bought the car to run as a supermodified, although no evidence has yet been found that they raced it. The brothers were from Denver, CO, but Jerry Malloy moved to Salt Lake City to work for Dick Simon in 1971, which would explain Brackett's recollection of buying the Lola there. Jerry Malloy's company, Chassis Research, built rear-engined supermodifieds in 1972 and 1973.
In July 1975, Brackett entered what was described as a former Formula 5000 Lola for the Pikes Peak hillclimb. Running as #30, he crashed the car heavily in practice on the Monday before the event. Bracket returned in 1976 with a #43 Lola 305 but failed to qualify. Brackett also had a T140 but this did not have a rollcage so it is likely he used the T142 both years.
In 1979, Lee Huls (Englewood, CO), bought the T142 from Brackett, still with the rollcage he had used at Pikes Peak in 1975. Huls raced the car in MidWest Division Formula A for a couple of seasons, and then traded it to Ken Petrie (Denver, CO) in 1981 or 1982. From Petrie, it was sold to Garry Tapp (Denver, CO) in 1988. The car's New Zealand papers say that it was raced in SCCA between April 1980 and September 1983, and then in Rocky Mountain Vintage Racing events from May 1985 to May 2001. That last date would be Tapp's appearance at Pueblo Motorsports Park 5-6 May 2001.
In 2003, it was acquired by Larry Detrich who had addresses in Denver, CO and Christchurch, New Zealand. Sold by Detrich to David Harvey (Upper Moutere, NZ) of Cult Sports Cars 2005, and then to Steve Ross (Dunedin, NZ) in 2007. Competed in HSCC events in the UK in 2008, and in New Zealand in early 2009. Ross bought a McRae GM1 for the 2009/10 season and the Lola T142 has not been seen in the Revival Series since then. Raced by Ross at a Southland Sports Car Club event at Teretonga in September 2012. Sold to Gary Lovie (Christchurch, NZ) in early 2016. Gary has done a lot of research into the car, and believes it may be Horst Kroll's first car, the one he wrecked at Seattle in June 1970.
This car has frame tag 42 but no chassis plate.
Driven by: Jim Brackett. First appearance: Pikes Peak, 4 Jul 1975.
Gary Lovie (New Zealand) 2017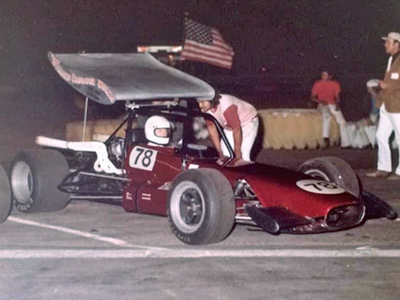 In September 1973, Earl Kelley (San Jose, CA), a Pan Am airline pilot, appeared at a San Jose Speedway race with a "Formula A Lola complete with roll cage and wing". He drove this #78 car in the Super Modified class in 1973, but it is unclear how many times it ran, as rear-engined Supermodifieds were soon banned, and Kelley was racing a "normal" car in 1974. Photographs of this car are rare, but if it was a Lola, it can only have been either a Lola T140 or T142. Note that Kelley's name often appears in newspaper reports as Earl Kelly. It is also worth noting that the rollcage Kelley had added looks quite different to the rollcage on Jim Brackett's car at Pikes Peak two years later. Kelley continued to race in Open Competition events at San Jose Speedway and Madera Speedway in the 1970s and early 1980s. It is believed he was still racing this car when he crashed at Madera Speedway in July 1982. Kelley was badly injured, and the local fire department had to pry apart the car to get him out.
Unknown
Later mystery cars
The mystery car previously shown here, the car raced by Willy Riley at Shelsley Walsh in 1974, is now known to be SL142/22. This car went to Robin Darlington, Ian Stronach and then Derek Robinson, so may well be the one advertised by Chris Cuff in late 1975 and early 1976, and then may well be the car raced by Basil Stainer and David Burton in 1976 and 1977. By this stage, only three of the eight UK-based T142s had remained intact: SL142/22, Peter Kirkby's SL142/35, and Bob de la Haye's SL142/36. De la Haye's SL142/36 is unknown in 1976 and 1977 so is the other possibility to be the Stainer/Burton car.
Chassis
History
Current owner
Basil Stainer (Sherborne, Dorset) and David Burton (Sherborne, Dorset) shared a 5000cc Lola T142 in sprints, Formule Libre and hillclimbs in 1976 and 1977. Stainer entered the car for a libre race at Thruxton in early March 1976, and both drivers appear in the results at Wroughton in July 1976 and August 1976. Stainer also won his class at Gurston Down 30 Aug 1976.
Driven by: Basil Stainer and David Burton. First race: Wroughton (R6), 1 Aug 1976. Total of 5 recorded races.
Unknown
Mystery cars today
Chassis
History
Current owner
Sources
Fred Scatley kindly gave permission to use a number of the images he took at Brands Hatch in 1969 prior to his death on 27 Dec 2002. His photograph collection passed to Ted Walker who then held the copyright on these images until his Ferret Fotographic changed hands in 2020. Thanks also to Marcus Pye, Bryan Miller, David McLaughlin, Ian Webb, Evan McGreevy, Roger Stones, David Wood, Tom Quatsoe, Mike Rowe, Kerry Anderson, Lawrence Sufryn, Roger Townshend, Anthony Brazzo, Ryan Hodges, Andrew Reeser, David Hutson, Duane Smith, David Gathercole, Steve Wilkinson, Reto Kuprecht, Gerald Swan, Mead Korwin, Scott Bader, Don Infererra, Murray Bryden, Randy Blessing, Mike Matune, Rob Uhl, Dave Prescott, Tim Horn, Ron Lair, Gary Lovie, Thomas Heinz, James Riley and Clyde Walters for the information they have provided. Thanks also to Dan Harper and Chris Korntved who told Mike Matune the story of the Lola T142 they owned, and for their photographs.
These histories last updated on .