Lola T140 car-by-car histories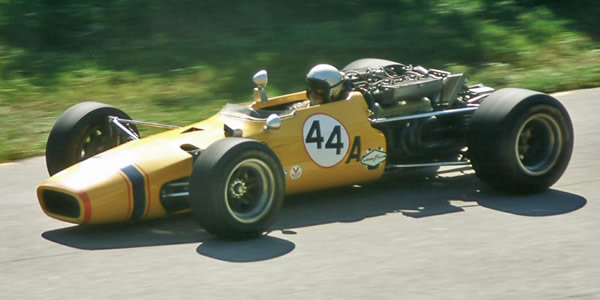 The Lola T140 was the first Formula A car built in the UK, and the first one to be mass-produced. Although T140s only won one US championship race, the dozen car in the US gave the new formula the strength in depth it needed to flourish.
Attempts had been made during much of the 1960s to get a large-capacity stock-block racing formula going and the final trigger may have been the enthusiasm of Lola Cars to create such a car. Lola had been hit by a late change to the Group 6 regulations for GT cars and were left with a significant stock of components for their cancelled T70 GT. Lola boss Eric Broadley soon announced plans for a Formula A car - a "simple rugged spaceframe" - which would use T70 suspension and 5-litre American production V8 engines.
An unclothed first car was displayed at Slough in November 1967 and, before the car had even raced, John Webb of MCD was suggesting Formula A may come to the UK. A run of 15 cars was initially laid down by Lola but 17 were eventually produced plus one built out of a Lola T70 in South Africa. Although the car was said to be available for European libre racing as well as US Formula A, only five avoided a trip to the US: two going to South Africa, one being sold somewhat curiously to Arch Motors and two being sold to Brazilian Carlos Avallone for UK Formula 5000 in 1969.
The 12 cars that did go to the US have proved difficult to sort out as all but one have simply "Haas" in Lola records. Carl A Haas was Lola's new US dealer and virtually all the US-bound F5000 Lolas went through Haas Automobile Imports Inc of 1732 First St, Highland Park, IL, about 25 miles north of Chicago. Lola records also fail to give the colour of the cars, another usual clue. Eleven Lola T140 drivers are known from 1968 race reports and the identities of eight of their cars have been determined so far. Eleven cars are known today: Earl Zwickey's SL140/5, Richard Summers' SL140/7, John Bryant's SL140/8, Donald McGreevy's SL140/9, Bill Blake and Bruce Sevier's SL140/10, Rod Carroll's SL140/13, David Thompson's SL140/17, Marcos Sacoman's SL140/16 and "SL142/1" and the mystery cars now owned by David Pozzi (ex-Candler) and John Preisig (ex-Bloeman).
Thanks are due to many people for help on this page, notably Marius Matthee for working through magazine reports and Michael Oliver for scanning his set of Lucky Strike Racing. Much is still unknown. Please email Allen if you can add anything.
Chassis
History
Current owner
Lola T140
SL140/1
Invoice date 10 Apr 1970 (sold to 'Avallone'). This car presumably stayed as a test car and, according to a letter from Lola Cars, was used by Mike Hailwood during the 1969 campaign. It therefore appears to have become the T142 prototype and was the "T142/1" sold to Carlos Avallone in 1970. The car has remained in Brazil still in F5000 specification. Carlos Avallone died in January 2002 and his remaining cars were acquired by Marcos Sacoman (São Paulo, Brazil). Retained 2008 although opinions differ over the exact status of the car.
Marcos Sacoman (Brazil) 2008
Lola T140
SL140/2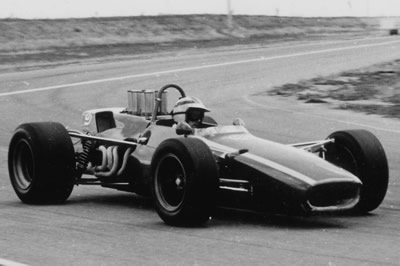 Invoice date 13 May 1968 (sold to 'Haas'). Unused during 1968. Purchased as a new red rolling chassis from Haas via Charlie Hayes by Don Dierking (California) Easter weekend April 1969 and fitted with a 5-litre Chev by Roy Campbell. Raced at P.I.R. in Arizona and at Laguna Seca. Dierking was running in the novice class at first so was a brave man to have chosen a T140. The car was sold to a SCCA staff officer in Scottsdale, AZ in 1972. Subsequent history unknown.
Driven by: Don Dierking. First race: Phoenix International Raceway, 6 Dec 1970. Total of 2 recorded races.
Unknown
Lola T140
SL140/3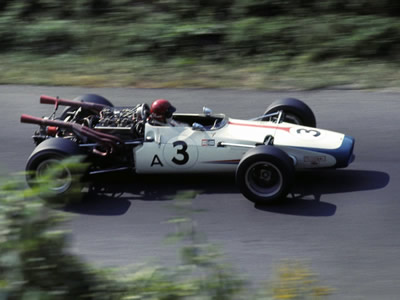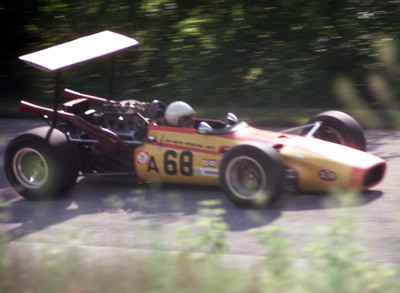 Invoice date 5 Jan 1968 (sold to 'Brown'). Bob Brown (Long Island, NY). Advertised by Brown 30 Nov 1968. To John Manyon for Al Pease: Canadian Championship 1969 (also driven by Brack at Harewood Acres in 1969). For 1970, the T140 was bought by stock car racer Serge Tesolin (Windsor, Ontario) and converted it to a supermodified to race at Delaware Speedway (London, Ontario). Then known as "The 81", it was sold by Tesolin to Canadian Ken Smith for Barrie Brush (Amherstburg, Ontario) to race at Delaware Speedway and at Oswego Speedway in upstate New York.
This car was bought from Tesolin by Jack Boxstrom in the mid-1980s. Restored and sold as a show car to a customer believed to be in the Montreal area. Subsequent history unknown.
Driven by: Bobby Brown, Al Pease and Bill Brack. First race: War Bonnet (US R2), 16 Jun 1968. Total of 16 recorded races.
Unknown
Lola T140
SL140/4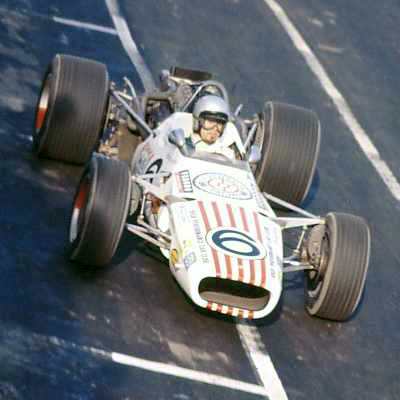 Invoice date 26 Jan 1968 (sold to 'Serrurier'). Driven by Jackie Pretorius SA 1968 (Gurney Ford engine: 10 races, 1 win), SA 1969 (1 race); Paddy Driver SA 1969 (Gurney Ford engine: 10 races), 1970 (2 races), Pretorius again SA 1970 (1 race) and Basil van Rooyen SA 1970 (1 race). Sold to Leo Dave SA 1970 (5 races). Dave rolled this in practice Natal Winter Trophy 5 Jul 1970. F1R show it returning with Dave at Highveld "100" (R2 Kyalami 30 Jan 1971). To the Domingo team but exact usage unknown. May have been kept as a rent-a-drivecar. This is the car sold to Bryan Meano early 1972 so it is presumably the "T142" he drove in 1971. Meano SA 1972 (1 race only). Subsequent history unknown.
Driven by: Jackie Pretorius, Paddy Driver, Basil van Rooyen, Leo Dave and Bryan Meano. First race: Kyalami (R2), 30 Mar 1968. Total of 31 recorded races.
Unknown
Lola T140
SL140/5
Invoice date 20 Mar 1968 (sold to 'Haas'). Unknown until bought from someone in Michigan in 1971 by John and Jane Stinsmen (Allentown, PA). Stinsmen added wings to the car and entered it as a T142 in Pennsylvania Hillclimb Association (PHA) events from 1972 to 1974. In 1972, Stinsmen won at Duryea, Rose Valley, Tuscarora and Camp Shand to take the PHA 'Formula 1' title. The following year he "swept the season", according to PHA historian Ron Mann, setting a new record at the Pagoda Hill Climb, and retained his title. He won three more events in 1974 but the title went to Bob Johnson in a Brabham.
Advertised by Stinsmen in November 1974 and sold to Robert Metcalf (Dallas, TX) 1974 who used it in club races in 1975. Then to Brian Goellnicht (then in Dallas, TX) and then Alex Polsinello (Toronto, Canada). Advertised by Polsinello as "chassis #5" in November 1994. From Polsinello to an unknown owner in the Pacific northwest then to Eric and Janet Fitch (Renton, WA) by 2006, and beautifully restored for them by Tony Garmey. Raced by Janet Fitch at the Columbia River Classic Formula 5000 race Sep 2010. Sold to Earl Zwickey (Amarillo, TX) in November 2013. Still with Earl in March 2014.
Driven by: Jane Stinsmen and John Stinsmen. First race: Pine Grove (R1), 21 May 1972. Total of 6 recorded races.
Earl Zwickey (USA) 2014
Lola T140
SL140/6
Invoice undated (sold to 'Arch Motors'). Nothing more known but Glyn Jones, head of Lola Heritage, believes this may have been because Arch were manufacturing components such as sub-frames for the T140 and may have needed a frame as a pattern.
Unknown
Lola T140
SL140/7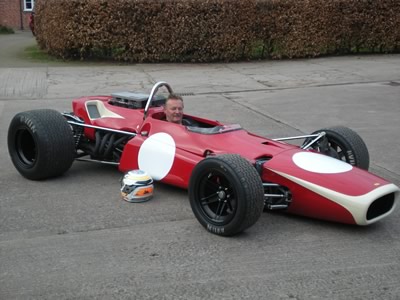 Invoice date 16 Feb 1968 (sold to 'Haas'). Early history unknown but may be the Rosbach car. Unknown until sold by Richard Blenko (Milton, West Virginia) on Ebay to Peter Knight (Rugby, UK) in 2002. The car was at that stage black with '12A' and a SCCA sticker on the side. Retained 2006. The gel coat on this car is red which matches with three of the mystery T140s: those of Hank Candler, Jerry Rosbach and Brian O'Neill. However, with Candler's car probably traced and O'Neill's appearing to be a late chassis, Rosbach's would be favourite. Sold to Richard Summers August 2007 and subjected to an extensive resoration including a new chassis which used the brackets from the damaged original frame. Retained March 2012 when ran for the first time following its restoration.
On display at Race Retro at Stoneleigh Park Feb 2013. Entered for Alex Summers in the Derek Bell Trophy race at Silverstone 18 October 2014.
Richard Summers (UK) 2014
Lola T140
SL140/8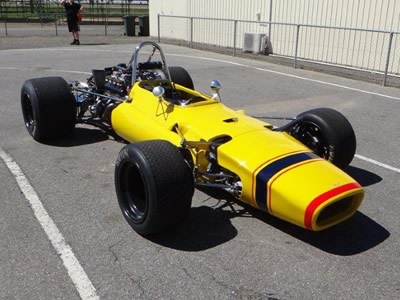 Invoice date 27 Feb 1968 (sold to 'Haas'). Jerry Hansen 1968 (R1 26 May - adv 30 Nov) - John Mahler (Bettendorf, IA) 1969.
Subsequent history unknown but in 1972, Wayne "Bing" Sherer (Buffalo, NY), acquired a crash-repaired T140 that he was told was ex-Mahler. Assisted by Ralph G. LoCurcio, Sherer built up the car for the 1972 season, racing in SCCA Nationals at Lime Rock and Bridgehampton. Sold at the end of the season to Phil "Butch" Hollenbeck who used it for SCCA driver schools and a few Regionals before selling it to Art Cross (Auburn, NY) who eventually took the car to Florida where he ran it for several years. Subsequent owners (dates unknown) were Owen Starr, Lou Pavesi and Rick McLean before it was sold to Mark Rincon (Redding, CA) and Hal Williams. Rincon raced a 1968 F5000 Lola T140 in vintage racing in 1994 which Victory Lane describe as a "beautiful blue". Oddly Vintage Motorsport pictured it in 1994 and 1995 and it was yellow with a black noseband! Raced again by Rincon in 1996. Later sold to Richard Cross.
Purchased through Rincon from Cross by John Bryant (Adelaide, Australia) at the Monterey Historics in August 2007 and imported into Australia. Raced at Mallala November 2007 but crashed at Philip Island March 2008. Rebuilt and tested for the first time since the accident in December 2011. Raced in the 2012 Tasman Revival Series. Raced at Sydney Motorsport Park 1 Sep 2013, the first round of the 2013/14 Formula 5000 Australia Cup Series. Practiced but did not start at the Monterey Pre-Reunion in August 2015.
Driven by: Jerry Hansen, John Mahler and Wayne "Bing" Sherer. First race: Continental Divide (US R1), 26 May 1968. Total of 29 recorded races.
John Bryant (Australia) 2015
Lola T140
SL140/9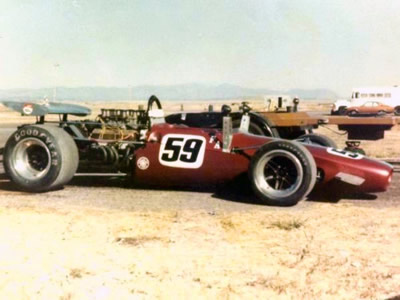 Invoice date 15 Mar 1968 (sold to 'Haas'). History unknown until bought from Jim Brackett (Arvada, CO, a suburb of Denver) by Ken Petrie (Colorado) around 1976. It was painted "metal flake green with gold pin stripes' when Ken bought it but he changed that to the maroon seen in the picture. He raced in SCCA autocross events in 1976 and 1977 but suffered constant engine trouble and traded the the car to Lee Huls (Colorado) for a T142 in either 1978 (Ken's recollection) or 1982 (Lee's). Sold by Huls to Chuck Haines of CanAm Cars in March 1983. Bought as a rolling chassis from Haines by Donald McGreevy in January 1987. By this time the car was complete with LG-600 #307 and Traco built engine. It is unrestored, highly original condition. Retained 2006. Sold back to Chuck Haines in November 2010.
Chuck Haines (USA) 2010
Lola T140
SL140/10
Invoice date 19 Apr 1968 (sold to 'Haas'). Pierre Phillips (Portland, OR) New Zealand 1968/89 (F1R and Vercoe).
History then unknown until owned by Dr Grant Hill (Okotoks, Alberta) in 1988. It must be around this time that it was bought by ex-F5000 driver Lou Pavesi (Los Altos, CA) as he advertised the car in 1990 and in 1993. Pavesi blew the engine in the car at an event in 1990 and it then remained in his workshop until bought by Bill Blake (San Carlos, CA) and Bruce Sevier (Sacramento, CA) late 2004. They completed the restoration late 2006 and have raced it in Northern California vintage racing since 2007. Raced by Sevier at the CSRG Charity Challenge at Infineon Raceway Oct 2011. Driven by Sevier at Laguna Seca June 2013. Raced by Blake at the Monterey Pre-Reunion in August 2015. Raced by Blake and by Sevier at Monterey in August 2018.
Driven by: Pierre Phillips. First race: Seattle, 25 Aug 1968. Total of 5 recorded races.
Bill Blake and Bruce Sevier (USA) 2018
Lola T140
SL140/11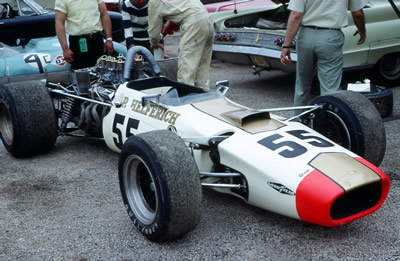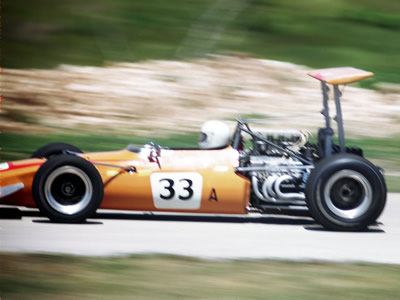 Pete Helferich (Long Grove, IL) US 1968 (R2 16 Jun) - Dick Jacobs (Waukegan, IL) US 1969 (3 races, debut R3 Continental Divide 8 Jun); SCCA National (at least one appearance: Milwaukee 29 June 1969); SCCA Nationals 1970 (four appearances including Road America June Sprints 21 June 1970 and on entry list for ARRC 29 Nov 1970. Subsequent history unknown but see the John Raecker car and the Mike Bloeman car below.
Driven by: Pete Helferich and Dick Jacobs. First race: War Bonnet (US R2), 16 Jun 1968. Total of 11 recorded races.
Unknown
Lola T140
SL140/12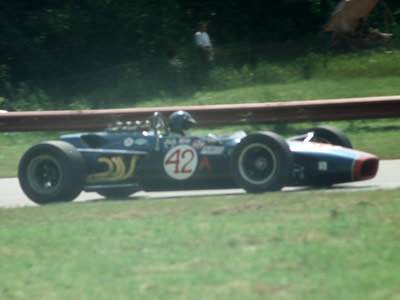 Invoice date 5 Apr 1968 (sold to 'Haas'). David Pabst (Oconomowac, WI) who debuted at the Milwaukee SCCA National on 30 Jun then raced in the pro series from July. Wrecked at Elkhart Lake 25 Aug 1968. Pabst bought SL140/17 as a replacement and any surviving parts would have gone onto that car.
Driven by: David Pabst. First race: Milwaukee (Wisconsin State Fair Park), 30 Jun 1968. Total of 4 recorded races.
Wrecked 1968
Lola T140
SL140/13
Invoice date 11 Aug 1968 (sold to 'Haas'). Brian O'Neil (Miami, FL) US 1968 (from R3 27 Jul; 7 races + 1 DNS). Advertised 30 Nov 1968 - see Belcher's "ARM" car below. - note O'Neill "retired his T142" early in 1969). Ivan Newlin (Panorama City, CA) 1969 (only seen in a single SCCA Regional event at Santa Barbara 1 Jun 1969; advertised 13 Jun 1970 and - as T142 - 7 Nov 1970) - Phil Henny Nov 1970 (raced at ARRC71); sold to Joe Simmons (Studio City, CA) Oct 1972 and used in Regionals and Nationals in California over several years. To Donald McGreevy Oct 1987 but kept as last raced by Simmons. To Lucien Eddisford (Whitethorn, CA) Oct 2004. Retained 2006.
Advertised, still in unrestored condition, on Chuck Haines' Can-Am Cars Ltd website some time around 2010.
By May 2011, a car in the same livery, with Simmons' distinctive triple intake and wearing this chassis number was with Rod Carroll (New South Wales, Australia). Raced in the 2012/13 Tasman Revival series. Raced by Carroll at Ruapuna Park Feb 2013. Raced by Carroll at the Phillip Island Classic in March 2016 and March 2018.
Driven by: Brian O'Neil, Ivan Newlin, Phil Henny, Joe Simmons and Robert Simmons. First race: Road America (US R3), 27 Jul 1968. Total of 13 recorded races.
Rod Carroll (Australia) 2018
Lola T140
SL140/14
Invoice date 31 Aug 1968 (sold to 'Scribante'). Driven by Dave Charlton SA 1968 (Chev engine: 2 races, won on debut), SA 1969 (8 races, 1 win). To Peter Parnell SA 1970 (2 races) then driven by John Amm SA 1970 (Chev engine: 3 races) when Parnell bought the Lotus 49. Sold to Mike Domingo and driven, still with its Chev engine, at the Rhodesian GP (R9 Bulawayo 13 September 1970). This car was referred to as a T142 by Motoring Mirror in late 1970 so this would match the "T142-Chev" raced by Mike Domingo through the latter half of 1971. Known to be the car ("ex-Charlton Lola T142") used by Joe Domingo at the Coronation 100 in April 1972 so presumably the car used by Mike in 1971 and Joe in 1972. Subsequent history unknown but Solly Domingo, MIke and Joe's father, is reported to have kept one of the T140/142 cars and with cars having apparantly been sold to Bryan Meano and Peter Haller, this may well be the one.
Driven by: Dave Charlton, Peter Parnell, John Amm, Mike Domingo and Joe Domingo. First race: Kyalami (R9), 5 Oct 1968. Total of 36 recorded races.
Unknown
Lola T140
SL140/15
Unknown
Lola T140
SL140/16
Invoice dates 18 Sep 1968 (sold to 'Avallone') and 13 Dec 1968. Antonio Carlos Avallone (Brazil) UK 1969 (3 races); UK 1970 (1 race only - crashed and burnt at Oulton Park 27 Mar and 'written off'). It is reported that the car was then reworked at the Lola factory and fitted with a Lola T165 Can-Am body for use as an "Avallone" sports car in Brazil. It appears to have been the prototype for a series of such sports cars. The T140 was soon rebodied with a T222 body ordered from Lola and fitted with a 318 ci Chrysler engine. In this form, the T140/T222 won many domestic sports car races in Brazil and was Brazilian champion four times, the last being in 1974. Carlos Avallone died in January 2002 and his remaining cars were acquired by Marcos Sacoman (São Paulo, Brazil). Retained 2008 although the exact ownership is unclear and aspects of the history were disputed on 10 Tenths in Feb 2006.
Driven by: Carlos Avallone. First race: Brands Hatch (UK R3), 11 May 1969. Total of 6 recorded races.
Marcos Sacoman (Brazil) 2008
Lola T140
SL140/17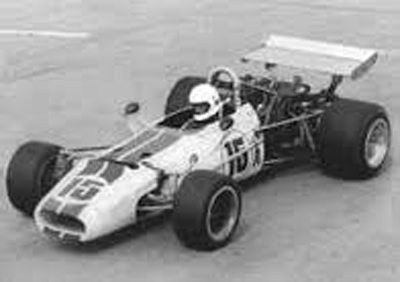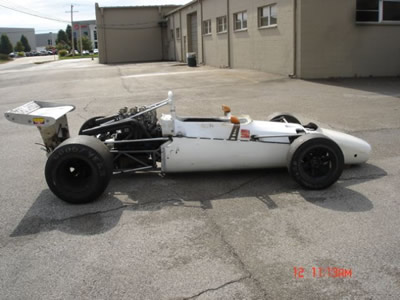 Invoice date 13 Sep 1968 (sold to 'Haas'). Unknown in 1968 and 1969 but almost certainly the new frame on which David Pabst rebuilt his wrecked original. Sold by Pabst in 1969 to Randy C Scheffer (Riverwoods, IL) who entered it for the Elkhart Lake race in July 1970 but did not practice. This would make it the "never raced" 1968 T140 advertised by Hector Schieffer [sic] (Dearfield, IL) in April 1970, Riverwoods and Deerfield being neighbouring townships to the north of Chicago. Unfortunately, Randy Scheffer died in 2002.
The SCCA number still stamped on this car in 2018 shows that it was the car raced by Kendall Noah (Kansas City, MO) in SCCA Nationals for three seasons from 1971 to 1973. Noah, a 42-year-old airline pilot with TWA, had raced a Porsche 914-6 with great success in MidWest Division C Production in 1970. His car was described as T142 at its single known event in 1971 (Olathe Airfield 25 July 1971) but as T140 at three events in 1972. He also appeared at a SCCA National at Hutchinson 17 Jun 1973, but by this time he had moved into the D Sports Racing class with a Bobsy, and the Lola was listed as a non-starter.
It was sold by Gene Forsthofel to Fred Stout (Brentwood, MO) 1973, and raced by him in SCCA races in 1973 and 1974 including Runoffs 1974. Raced by John Mullholland (Columbia, MO) 1975 including Runoffs. Returned to Stout after Mullholland's death in an aircraft accident. Retained until sold to collector Bill Wiswedel (Holland, MI) March 2006.
Sold by Wiswedel to Chuck Haines in September 2011, and sold by him to Jack L Chisenhall (San Antonio, TX) by May 2013. Sold to David Thompson (Australia) in 2018.
Driven by: Randy Scheffer, Kendall Noah, Fred Stout and John Mullholland. First race: Olathe Airfield, 25 Jul 1971. Total of 7 recorded races.
David Thompson (Australia) 2018
Cars built outside the factory
Chassis
History
Current owner
Lola T140
''T70/140 SL70/5''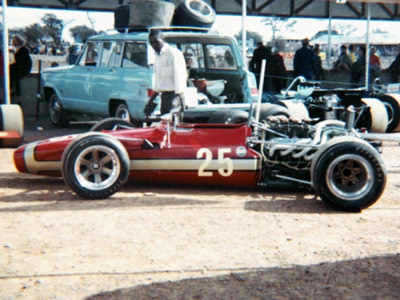 Doug Serrurier bought the ex-Mike Taylor/David Good 1965 Lola T70 (chassis SL70/5) with its 4.7-litre Ford Weslake engine for sports car racing in South Africa and raced it until it was crashed by teammate Jackie Pretorius in the 1969 Roy Hesketh 3 Hour race. Serrurier then converted the car into a Formula A T140 using the running gear, its Ford Weslake engine and Hewland LG gearbox. He did not use the "T/70/140" but sold it to the Domingo Bros. It was driven by Mike Domingo at the Bulawayo "100" (SA R5 Bulawayo 21 June 1970) and was then Alan Domingo's drive at the Rhodesian GP (R9 Bulawayo 13 September 1970). Presumably then the car then driven by Joe Domingo from the Natal Winter Trophy (R7 Roy Hesketh 4 July 1971) onwards. The Team Domingo equipe had three Lola T140-series cars during 1971, SL140/14-Chev bought from Peter Parnell, the ex-Leo Dave SL140/4-Ford and this T70/T140-Ford. The car shown in Doug Brown's photograph here is taken at the 1971 Rhodesian GP. The lack of wings implies it isn't the ex-Charlton/Parnell SL140/14.
According to a letter from Serrurier dated 8 Jul 1991, the T70/T140 then went from the Domingos to Peter Haller and was converted into a dragster racer by "a man named Delport". Johan van der Merwe, Janie van Aswegen and Ivan Glasby are all mentioned as owners of what Serrurier called "the sorry remains" during the 1980s before it was purchased by "A. R. Culpin" in 1989. The T70 origins of these remains were now more important than its T140 interlude so the parts were combined with new T70 body panels and the whole project was sold to David Harvey of GT40 Replications Ltd (New Zealand) in July 2003. The car had been completed as a new T70 by 2005 and is retained by Harvey 2007. With its remaining parts in the T70, the T140 no longer exists.
Driven by: Mike Domingo, Alan Domingo, Jackie Pretorius, Allan Saffey, Joe Domingo and Peter Haller. First race: Bulawayo (R5), 21 Jun 1970. Total of 8 recorded races.
Some parts with David Harvey (New Zealand) 2007
The 1968 mystery cars
Ten Lola T140s were invoiced by the start of April and nine of these went to the US. As well as the seven known cars of Dierking, Brown, Hansen, Phillips, Helferich, Pabst and O'Neil, unknown T140s in the first half of 1968 include those of Hank Candler, John Gunn and Jerry Rosbach. These three are the leading contenders for the three remaining unknown early-season cars 140/5, 140/7 and 140/9.
The very last invoiced of this first batch of nine US T140s were 140/2, invoiced to Haas on 13 May but presumably built in January and now known to be the car of Don Dierking, and 140/10, invoiced to Haas on 19 April. The early build 140/2 may have been acting as a show car for Haas in the US during the early months of 1968 and may have been sold on the lead-up to the opening Formula A round on 26 May; explaining the late invoice date from Lola. The latter car, 140/10, is identified by Vercoe as Pierre Phillips' car. An unraced T140 was advertised by Pierre's Motors Racing (Portland OR) on 22 Jun 1968 and Phillips' first known race in it was at Seattle 25 August 1968.
Two more T140s are invoiced to Haas in August: O'Neil's 140/13 and the mystery 140/15, which looks likely to be the car of Mike Hiss. Carl Haas advertised the "last new 1968 T140 in stock, color red" on 30 Nov 1968. This must have been the car that went to Don Dierking, 140/2, which he confirms was red.
Chassis
History
Current owner
Lola T140
'the Hank Candler car'
(1968-1970)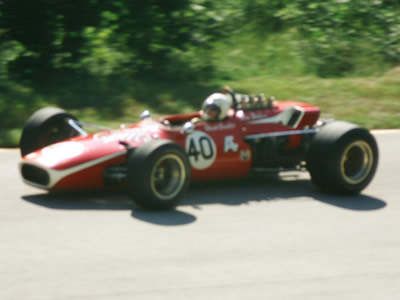 Hank Candler (Lakewood, CO) US 1968 (Austin Raceway Park - 12 May 1968; R1 26 May; last seen 29 Sep 1968). Sold to Jack Eiteljorg (Englewood, CO) and raced at the ARRC 24 Nov 1968 (Eiteljorg having qualified in his Eisert); US 1969 (4 races) and then Eiteljorg returned to his Eisert - Steve Pfeifer (San Francisco, CA) SCCA Nationals 1969 (first known race Tucson Airfield 12 October 1969; crashed in practice for Road Race of Champions Daytona 29 November 1969 and heavily damaged. David Pozzi bought it from Pfeifer in the late 70's or early 80's.
David has found that his car is stamped '11' on a triangular plate for the upper rear suspension link to chassis connection. This is unlikely to refer to SL140/11 as we can be confident that SL140/11 was Helferich's car.
Still with Pozzi in January 2018.
Driven by: Henry Candler, Jack Eiteljorg and Steve Pfeifer. First race: Austin Raceway Park, 12 May 1968. Total of 15 recorded races.
David Pozzi (USA) 2018
Lola T140
'the John Gunn car'
(1968 only)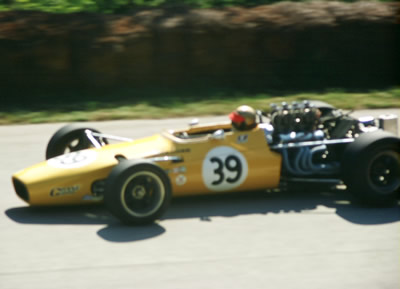 John Gunn (Miami, FL) US 1968 (R2 16 Jun; last seen 25 Aug 1968). Subsequent history unknown but likely to be the Hood car in 1969.
Driven by: John Gunn. First race: War Bonnet (US R2), 16 Jun 1968. Total of 6 recorded races.
Lola T140
'the Jerry Rosbach car'
(1968-1970)
Jerry Rosbach (Edina, MN). First observed at Milwaukee National 14 Jul 1968; also at R7 22 Sep; Retained for 1969 and 1970. Rosbach's car appeared rarely but his chief crew, Scott Beckett, confirms that he did not share it. Beckett recalls that the car was red and was numbered consecutively to Hansen's car. As Hansen's has been identified as 140/8, Rosbach's must have been 140/7 or 140/9. The colour matches with the gel coat on Peter Knight's 140/7.
Driven by: Jerry Rosbach. First race: Milwaukee (Wisconsin State Fair Park), 14 Jul 1968. Total of 8 recorded races.
Unknown
Lola T140
'the Mike Hiss car'
(1968-1970)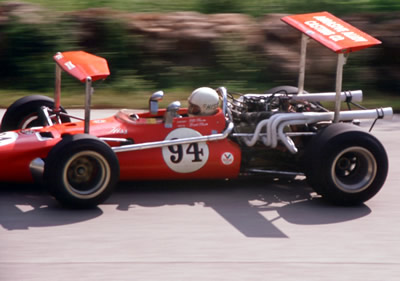 Mike Hiss (Delran, NJ/Laurel, MD) US 1968 (debut at Mosport Park 25 Aug 1968, also raced at Laguna Seca 12 Oct 1968). Retained for 1969: raced in eight Pro races plus 1 DNS. Crashed at crashed St Jovite 7 Sep 1969. Entered for Bobby Brown (Hicksville, NY) at Sebring 28 Dec 1969 but did not appear.
To Pete Sherman (Ashland, MD) and run as a Lola T142 wearing #52 in SCCA Nationals 1970 (at least three races: first seen Summit Point 12 Apr, won at Cumberland in May), US 1970 (one race only: R6 Dallas 5 Jul); ARRC 29 Nov 1970. Not seen again but likely to be the Randy Johnston Lola T142 in 1971 and 1972.
Driven by: Mike Hiss and Pete Sherman. First race: Mosport Park (US R5), 25 Aug 1968. Total of 14 recorded races.
Unknown
Lola T140
'the Sid Taylor loan car'
(1968 only)
In September 1968, Sid Taylor borrowed one of the new Formula A Lola T140s from the Lola factory for the libre race at Phoenix Park in Dublin. Taylor was using the car while his Lola T70 was repaired, and the white car had the full height rear wing and front "spats" that would be used on the 1969 T142. It was fitted with a 5.5-litre Chevrolet V8. Taylor was unhappy with the car on the Saturday, and on the Sunday handed it over to Chris Craft to race. Craft had a wing support break in Heat 1, and then retired from Heat 2, but set the fastest lap of the weekend at 1m 51.6s.
Nothing more was heard of this car, which would then have been returned to the factory. It seems very likely that this was chassis SL140/16, sold to Carlos Avallone later that year.
Driven by: Chris Craft and Sid Taylor. First race: Phoenix Park, 15 Sep 1968. Only one recorded race.
Unknown
The 1968-1969 mystery cars
Of the seven known cars, Dierkin's 140/2, Brown's 140/3, Hansen's 140/8, Helferich's 140/11 and the O'Neil/Newlin 140/13 continue into 1969, Pabst's 140/12 was wrecked, Phillips' 140/10 is last seen in January 1969 and 140/17 is on its way to Scheffer. Of the four mystery cars, Candler's, Rosbach's and Hiss's definitely continue but Gunn's joins Phillips' 140/10 on the missing list.
Cars likely to be second-hand include those of SouthEast Div drivers Gary Belcher (who may have driven the O'Neil car briefly before it went to Newlin) and John Hood. Hood, as a Floridian driving a yellow T140, is very likely to have acquired fellow Floridian Gunn's yellow T140. That may only leave Phillips' 140/10 missing.
Chassis
History
Current owner
Lola T140
'the Belcher car'
(ARRC 1968 DNS only)
Gary Belcher (Bal Harbor, FL/Davie, FL) was a non-starter at the ARRC on 24 Nov 1968 in a #65 Lola T140. He had qualified in SouthEast Division in what was described as a "ARM Belcher" with 6 pts, implying a single second place finish. ARM was Brian O'Neil's team, American Racing Motors in Miami, FL, but O'Neil also raced his T140 at the Runoffs. One possibility is that Belcher had planned to race O'Neil's car with O'Neil intending to drive something new, but the plan fell through. Not seen again.
Driven by: Gary Belcher. First appearance: Riverside, 24 Nov 1968.
Unknown
Lola T140
'the John Hood car'
(1969-1971)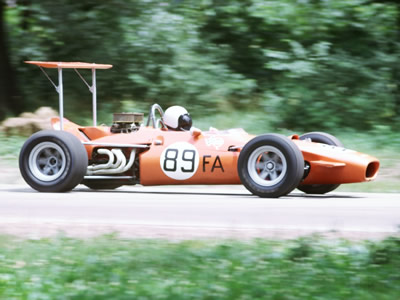 John Hood (Orlando, FL) SCCA Nationals 1969 (first seen Roebling Road Raceway - 11 May 1969 and had 15 pts in Nationals in "Lola"; ARRC 29 Nov 1969), US 1969.
Entered by Bruce Behrens Racing (at #89) for Mike Brockman (Orlando, FL) at Sebring Dec 1969, using the engine out of one of Behrens' Chevrolet Camaros.
Nick England's excellent VIR history website contains a picture of Hood's car at VIR in April 1969. The colour, mirror locations and even the location of decals matches that of John Gunn's T140 almost precisely, except that a higher roll hoop has been added. The orange colour shown in the picture here must have come later. Adding this evidence to the coincident location of the two drivers makes it highly likely that Gunn's car passed to Hood.
For Hood again in SCCA Regional 1970, US 1970. Not seen again but advertised as T140 29 Jan 1972. Acquired by Randy Blessing (Lakeland, FL) who already owned a T142. Blessings advertised both cars in August 1972 but wrecked his T142 in an accident before he could sell it. The T140 was sold to a local racer who, as far as Blessing could recall when asked in 2014, built it up and raced it. Subsequent history unknown.
Driven by: John Hood and Michael Brockman. First race: Savannah International Raceway, 11 May 1969. Total of 12 recorded races.
Unknown
The 1970 mystery cars
As well as the continuing 140/13 and 140/17, the Rosbach car from 1968 and the Hood and Jacobs cars from 1969, one new T140 driver appeared in the US. However, there were also a large number of unidentified T142s in the US in 1970 and one or more of these might have been an upgraded T140.
Chassis
History
Current owner
Lola T140
'the Denny Erickson car'
(1970 only)
Lola T140 adv Competition Motors Repco Northwest (Spokane, WA) Autoweek 24 Oct 1970 p26 (also Lotus 44 in stock). Said to be "Eric's" on 26 Dec 1970. These two cars were both entered at Edmonton in May 1970 in the FA and FB races respectively for Robert "Denny" Erickson (or Ericson), the FB Lotus 44 by Repco NW. The only T140 in the Pacific North West had been Pierre Phillips' 140/10.
Unknown
Lola T140
'the John Kircher car'
(1970 only)
John C. Kircher (Fresno, CA) appeared at two races of the 1970 SCCA Pro series: at Laguna Seca on 14 June and at Sears Point on 28 June. He was sponsored by Rotex Punch Co Ltd at the latter race, and was entered at #99, the same number that John Mahler of faraway Bettendorf, Iowa had used on his T140 the preceding season. Kircher later appeared in a San Diego Region SCCA Regional race at Holtville in November 1970. His F5000 career was short-lived: in 1969 Kircher had raced a Chevrolet Corvette, and in 1971 and 1972, he raced a Formula Ford Winkelmann. Nothing more is known of his Lola T140.
Driven by: John C. Kircher. First race: Riverside, 31 May 1970. Total of 4 recorded races.
Unknown
The 1971 mystery cars
Most US T140s were now down in SCCA National and Regional racing, which is less well covered by Autoweek from this point onwards. In South Africa, the three T140s continued in service.
Chassis
History
Current owner
Lola T140
'the Dan Harper car'
(1971-1974)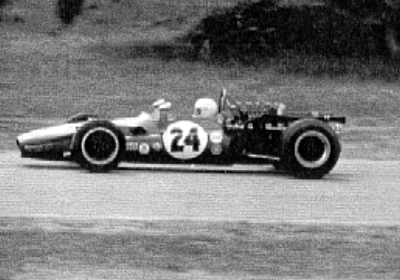 Dan Harper (Eureka, CA) US 1971 (one race only: R2 Laguna Seca 2 May 1971 - "T140"). Also appeared on the entry list for the equivalent fixture in 1972 (R1 Laguna Seca 7 May 1972 - "T142"). Harper advertised the car in August 1974, describing it as "Best T-142 in the country; rebuilt throughout, new fabroids, etc; fresh Al Bartz engine; have full history of car; never bent". Subsequent history unknown.
Driven by: Dan Harper. First race: Laguna Seca (US R2), 2 May 1971. Total of 2 recorded races.
Unknown
Lola T140
'the Jim Stevens car'
(1971 only)
Jim Stevens (Dearborn, MI): entered in a T142 at Road America 20 Jun 1971 and listed as a DNS at Road America 18 Jul 1971 in a T142. In CP&A 29 May 1971, James Stevens advertised a "T140 updated to T142" so it is assumed his T142 was actually a T140. Nothing more known.
Driven by: Jim Stevens. First appearance: Road America (US R5), 18 Jul 1971.
Unknown
The Fred Cowell car and the Harold Rosenberg shown on a previous version of this page are now both known to be Lola T142 [SL142/25]. Also on a previous version of this page it was noted that Piet de Klerk was a non-starter at Highveld "100" at Kyalami 30 January 1971 in a "T140". Firstly, that race was actually the Rand Summer Trophy, not the Highveld "100" and secondly de Klerk is shown on the entry list as a Wynns Friction Proofing entry in a Lola T142 which would therefore be the third car that team expected to have available at that race. In fact their new Surtees TS8 did not arrive in time so Willie Ferguson drove their TS5 and Spencer Schultze drove the Lola T142, leaving de Klerk out of a drive.
The later mystery cars
There may have been more T140s still in use beyond 1971 but survivors are likely to have been updated and described as T142s. Only one later mystery remains, a car driven as late as 1977.
One big puzzle needing to be solved regards the pair of Lola T140s and a T142 owned by Jim Brackett (Arvada, CO) in the mid-1970s. Brackett had raced one such Lola, described as a 305ci Lola-Chevrolet, at Pikes Peak in 1975 and 1976, failing to qualify for the Open Wheel race on each occasion. Ken Petrie bought SL140/9 from Brackett but recalls that Brackett also sold a T142 (frame SL142/42) to Lee Huls and another T140 to John Raecker (see above). See the Mike Bloeman car below.
Chassis
History
Current owner
Lola T140
'the Dave Eshelman car'
(1973-1977)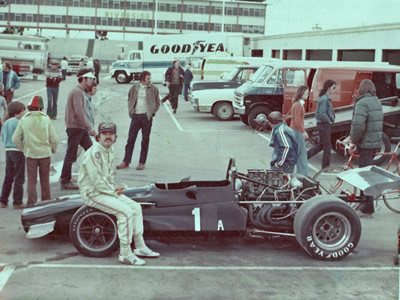 Dave Eshelman (Cucamonga, CA) entered a Lola "T142" for the Pro F5000 race at Riverside in April 1973, but there is no record of his participation. He was second overall, and first in FA, in a Cal Club (CSCC) SCCA Regional at Riverside in July 1973. He then sold the car to Jerome Dunwoody (Coto de Caza, CA) who raced it for four seasons in Cal Club events, finishing 10th in the Southern Pacific Division points standings in 1974 and fourth in 1975. Jerome remembers selling the car to a man who destroyed it in a traffic accident on the way home after purchase.
Driven by: Dave Eshelman and Jerome Dunwoody. First race: Riverside, 15 Jul 1973. Total of 2 recorded races.
Unknown
Lola T140
'the John Raecker car'
(mid-1970s-1982)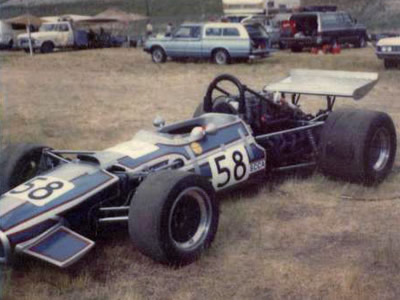 According to Ken Petrie, John Raecker (Littleton, CO) bought a Lola T140 from Jim Brackett (Arvada, CO) in the mid/late 1970s. This car competed in Midwest Division alongside two other T140-series cars, Ken Petrie's T140/9 and Lee Huls' T142. All three had come from Brackett and they raced in 1980 as #57 (Petrie), #58 (Raecker) and #59 (Huls). Raecker was Midwest Division ASR champion in a Lola T140 in 1981, 1982 and 1983. A picture of this car shows a scoop on the front bodywork very similar to that on Pete Helferich's Lola T140 SL140/11.
Unknown
Ian Webb remembers buying a Lola T140 or T142 from Robin Darlington. The suspension was used for a Lola T70 but the chassis and body were then sold to someone who traded as Eagle Racing, in Kent.
Mystery cars today
Chassis
History
Current owner
Lola T140
'the Mike Bloeman car'
Bought from Mike Bloeman (Denver, CO) by Chuck Kirkbride and Jack Harvey. It has no chassis plate or, as far as Chuck can tell, a frame plate. Chuck believed it may have been built from spares but Bloeman believed it was one of three T140s in the Denver area.
This car was advertised on race-cars.com in 1999. It was said to be located in New Jersey and last raced at Lime Rock and Pocono in 1997. it was black and wearing #42 in vintage racing pictures but photos of the car apparantly during restoration showed yellow sides.
According to an advert on eBay in 2011 placed by Dale Wright (Maplewood, NJ), Bloeman was "an ex-USAC pit crew type guy and ran the car in several oval events in the Denver area". Bloeman had bought the car in 1984 and sold it to Kirkbride in 1995. "The restoration of the car was complete in 2002 by Kurt Hoffman. Then the car was driven on weekends in Louden, NH and New Haven, CT putting approximately 500 miles on the car". Kurt Hoffman runs Hoffman Vintage Racing (Bangor, PA/Califon, NJ). Photographs of the car showed it was black and wearing #42.
The "ex-Bloeman" car was bought from Kim Baker by John Preisig (Auckland, New Zealand) and Alan & Paul Dunkley in Aug 2011. John believes that Baker bought it from Chuck Kirkbride's estate. Research presented in 2012 makes a strong claims that this car is SL140/11, having pased through the hands of Jim Brackett and John Raecker (see 'the Raecker car' above) on its way to Bloeman. Raced by Alan Dunkley in the 2012/13 Tasman Revival series and in the first round of the 2013/14 series at Manfeild in November 2013. Raced by Dunkley the Monterey Pre-Reunion in August 2015. Sold in October 2016 to Paul Kuhl (Vista, CA) and shipped to the US. Raced by Kuhl at the SVRA US Vintage National Championship at COTA in November 2017, and at Monterey in August 2018.
Paul Kuhl (USA) 2018
Lola T140
'the JC Gongaware car'
A Lola T140 chassis SL140/17 is owned by J. C. Gongaware (St Peters, MO) according to the Lola Heritage site. Nothing more known.
J. C. Gongaware (USA)
A note on chassis number identification
It has proved difficult to identify individual T140s as Lola records just say they went to Carl Haas and do not give the colour, a useful clue in the days before sponsors' liveries. If only we could get hold of Mr Haas' records. Where a car is identified, the reason is given below.
Car
Notes
SL140/1 and SL/142/1
An email from Caroline Pettitt of Lola Cars in 2000 states that SL/142/1 was "built as a prototype in November 1967, tested by David Hobbs and raced by Mike Hailwood in 1968 as works car". At least one of the years has to be wrong: either it was built in November 1968 as a T142 prototype and raced in 1969; or it was built in November 1967 as a T140 prototype, updated or evolved to a T142 and then raced in 1969. It seems odd that Hailwood would have been driving a well-used hack as the works car in 1969 but that is the inference. As Lola's invoice records show SL140/1 going to Avallone, it is assumed that SL140/1 evolved into SL/142/1 and was used by Hailwood in at least one race in 1969. Whether it is his "SL142/40" from 1969 is not yet clear but as SL142/40 appears to have spent 1969 in the US, this would also seem probable.
SL140/2

Phil Henny met up with his old friend Don Dierking in early 2007 and passed on this history of Don's Lola T140.

He purchased Lola T 140/2 from Carl Haas in Santa Ana in 1969 through Charlie Hayes. The car was a roller NEW! He took it to Roy Campbell to install a 5.0 liter Chevrolet engine, 48 DCOE Webers, heads by Louie Unser. He won the first race he entered at P.I.R. in Arizona as a novice. Then won again in 1970 at Laguna Seca in 1971. Roy Campbell modified the water pipes, placing them outside the body work. Also redid body panels in aluminium to replace the fiberglass. He sold the T140/2 to a SCCA staff officer in Scottsdale, AZ in 1972.

Don later confirmed to Phil that he bought the car on Easter weekend 1969 (5-6 April) and that it was red.

SL140/3
Canadian Track & Traffic (Mar 69 p6) said Manyon had bought the ex-Brown car for Pease to drive.
SL140/4
Racing Mirror of May 1972 says that "Bryan Meano appeared in his own Lola T142, recently purchased from the Domingos (it is the ex Leo Dave 5-litre)".
SL140/5
Eric and Janet Fitch (Renton, WA) advised Wolfgang Klopfer that they owned this car and that Mike Hiss had identified it as his 1968/69 car. However, the next owner Earl Zwickey traced the car back to Michigan in 1971 when it had no wings, meaning that it can't have been the highly-bewinged car that Hiss had raced in 1969.
SL140/7
Peter Knight advises that his car is "chassis 7". See notes on SL140/9.
SL140/8
Eric and Janet Fitch advised that SL140/8 was the Hansen car. Autoweek's report on the June 1, 1969 Donnybrooke National says that John Mahler raced the ex-Hansen T140.
SL140/9
Scott Beckett ran the T140s of both Jerry Hansen and Jerry Rosbach and recalls that they were one number apart. So if the Fitches are right about Hansen's car being SL140/8, Rosbach's must have been either SL140/7 or SL140/9 .
SL140/10
Graham Vercoe identifies SL140/10 as the car Phillips brought to New Zealand. Eric and Janet Fitch also advised that they had found out that Phillips drove SL140/10.
SL140/11
A setup sheet provided by Pete Helferich to Paul Dunkley of Dunkley Racing in New Zealand shows "chassis number SL140/11".
SL140/12
Bill contacted David Pabst in 2008 and Pabst confirmed to him that his original car, crashed at Elkhart Lake, had been 140/12. Pabst acquired 140/17 as a replacement so 140/12 ceases to exist in 1968.
SL140/13

The identification of SL140/13 as Brian O'Neil's car is based on three pieces of information. Firstly, the date on the invoice for 140/13 matched the first appearance of O'Neil reasonably closely. Although the invoice date is two weeks after O'Neil's first know race, the invoice number and gearbox number imply that 140/13 was significantly earlier than 140/15.

The second clue was that O'Neil's car was one of very few to disappear early enough to be the car Ivan Newlin had in June 1969.

It had been possible to trace Lucien Eddisford's 140/13 as far back as Newlin and the base colour of the car matched the red of O'Neil's 1968 car. So, with O'Neil's car now an odds-on favourite, a careful physical examination was conducted to try to find traces of O'Neil's livery under the layers of paint on the car. The photograph shown here shows the white stripe high on the cockpit of the car - an exact match with the blurred photograph of O'Neil's car. The combination of these three pieces of information makes a compelling identification of SL140/13 as Brian O'Neil's car in 1968.

SL140/14
Motoring Mirror November 1970 says that Mike Domingo "was to drive the Chev-powered car recently acquired from Peter Parnell". It mentions this again in the Dec 1970 edition when the car is being used by Team Parnell for John Amm despite the sale.
SL140/16
Motoring News in 1969 reported that: 'Brazilian driver Carlos Avallone has confirmed his entry into F5000 with a "new" Lola. The car is the last of the T140s to be built (chassis No. 16) and differs from the T142 by virtue of the front suspension pick-up points. Carlos.... is in the process of purchasing a 5-litre engine (either Ford or Chevrolet) for the chassis which will be known as a T141 as it features a few T142 mods (i.e. wing and spoilers).'
SL140/17
When Bill Wiswedel bought the car from Fred Stout in March 2006, Fred informed him that he had bought it from Gene Forsthofel (in Kansas City?) in 1973 and that Fred had raced it in 1974 and 1975. John Mulholland raced the car in 1975 but was later killed in an aircraft accident and the car returned to Fred. Bill suspected that 140/17 was the Kendall Noah car in 1971 and 1972, and in 2018, David Thompson received confirmation of this from Kansas City Region. Their records show that the number stamped onto David's car is that of a log book issued to Kendal Noah. The car has a blue gel coat so cannot be the red T140 advertised by Haas at the end of November 1968. Subsequently, Bill contacted David Pabst and Pabst confirmed both that his original car had been 140/12 and that he had acquired 140/17 as a replacement. Pabst told Bill that he had sold 140/17 to Randy Scheffer.
'the Candler car'
Jack Eiteljorg confirmed in January 2018 in an email to David Pozzi that he bought his car from Hank Candler, and that Candler's mechanic John Barker became Eiteljorg's. This confirmed what was already suspected. John Barker advertised a T140 in October 1968 and then 'the ex-Candler T140' in March 1969. Jack Eiteljorg then advertised his T140 using the same phone number used by Barker. The link to Steve Pfeiffer comes from a set of bodywork that David Pozzi acquired from Pfieiffer with the wrecked T140 that had Eiteljorg's name on it, together with mechanic Kent Miller (not Barker). Pfeiffer also recalled that he bought it from a man whose wife had a TV show. Eiteljorg was married to 1960s TV fitness guru Debbie Drake. Pfieffer recalls that he wrecked it by slamming the side against a guard rail at Daytona after just three laps of practice.
These histories last updated on .