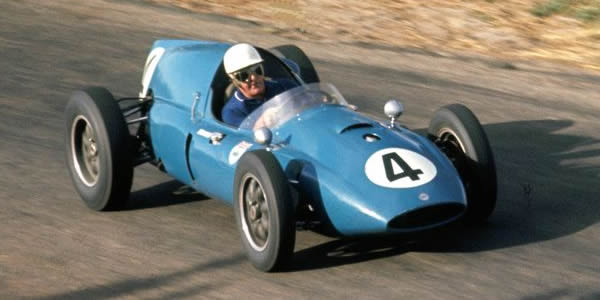 Australian Gold Star
Australian racing grew in importance in the late 1950s, in part because of the success in Europe of Jack Brabham and his willingness to take ex-F1 cars back to his homeland to compete in the major races. CAMS organised a national drivers' championship for 1957, known as the Gold Star, and the first International was held at the end of 1958, attracting Stirling Moss as well as Brabham. New Zealand had been running their GP as an International since 1954 and attracting great fields, so in 1961 this was expanded to a series of races on both sides of the Tasman sea. Team Lotus, BRM, Yeoman Credit and the Walker team joined Cooper Cars for these races and over the next few years, the Internationals grew into the Tasman Cup.
Brabham popularised the Cooper-Climax in Australian Gold Star racing and a large number of these were imported in 1959 and 1960, some new and some second-hand ex-Brabham works cars. Stan Jones, father of future World Champion Alan, Len Lukey, Alec Mildren, Lex Davison, Bib Stillwell and Bill Patterson were the leading drivers through this period, nearly all in Cooper chassis by 1959.
The 1957-1959 seasons are still being researched but 1960-63, charting the run-up to the Tasman formula, are available below.
The Gold Star seasons
In this list, Internationals are shown in bold and non-Gold Star races in brackets. Note that some races were classed as FPA (Foreign Participation Authorised) but were not actually internationals.