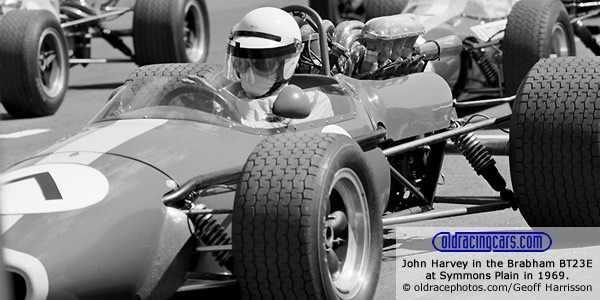 Australian Gold Star 1969
Alec Mildren now had two cars bearing his own name: a spaceframe car built by Bob Britton to a Rennmax pattern and a monocoque car designed by Len Bailey and built in England. The latter car was called the Mildren 'Mono' but better known as the 'Yellow Submarine'. The original plan had been to use the Alfa V8s from the Brabham BT23D but local engine builder Merv Waggott built a 4-valve Ford-based engine for ANF2 and the Mildren team used 1900cc and 2000cc versions of this engine with great success.
With the Scuderia Veloce Brabham BT23A-Repco now retired and Mildren's BT23D pushed into a corner, only Bob Jane's BT23E-Repco and Leo Geoghegan's evergreen Lotus 39-Repco remained of the traditional 2.5-litre competition. Mildren lead driver Kevin Bartlett retained his title quite comfortably from Geoghegan and Bartlett's teammate, rising star Max Stewart, in third. Niel Allen's F2 McLaren M4A proved very effective with its Cosworth FVA engine which was at the time eligible for ANF2.
Australian racing was locked into an abrasive debate over whether to move to a 2-litre formula based on the forthcoming European F2 or to move to Formula 5000. For now, they would continue with the 2.5-litre formula but a decision was needed as grids continued to decline.
The races
03 Mar 1969 > Symmons Plains
07 Apr 1969 > Bathurst
20 Sep 1969 > Sandown Park
13 Oct 1969 > Mallala
26 Oct 1969 > Surfers Paradise
07 Dec 1969 > Hordern Trophy at Warwick Farm
1969 Australian Gold Star table
1
Kevin Bartlett
Mildren - Alfa Romeo Tipo 33
1.9 Mildren - Waggott TC4V 4
36 pts
3 wins
2
Leo Geoghegan
Lotus 39 - Repco V8
20 pts
3
Max Stewart
(ANF2) Mildren - Waggott Ford
1.9 Mildren - Waggott TC4V 4
16 pts
4=
Niel Allen
(ANF2) McLaren M4A - Cosworth FVA
15 pts
4=
John Harvey
Brabham BT23E - Repco V8
15 pts
1 win
6
Garrie Cooper
(ANF2) Elfin 600B - Ford twin cam
12 pts
1 win
7
Jack Brabham
Brabham BT31 - Repco V8
9 pts
1 win
8
Henk Woelders
(ANF2) Elfin 600B - Ford twin cam
8 pts
9
Glyn Scott
(ANF2) Bowin P3 - Cosworth FVA
5 pts
10
Alton Boddenberg
(ANF2) Lotus 32 - Ford twin cam
3 pts
All cars are 2.5-litre ANF (Tasman formula) cars unless otherwise noted.