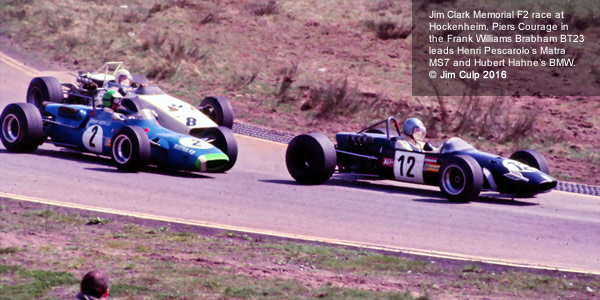 Formula 2 1969
The Matra MS7 maintained its stranglehold on Formula 2 with Johnny Servoz-Gavin taking the title in the Ken Tyrrell's second Matra International entry. Graded drivers took 70% of the podium places in 1969 with Servoz-Gavin's teammate Jackie Stewart winning two races and the title and Jochen Rindt also bagging a brace in his works Lotus 59B. The only other ungraded drivers to achieve regular success were Hubert Hahne in BMW's Lola T102 and François Cévert in one of the works Tecnos. So five different constructors had success in F2 in 1969, Matra, Brabham, Lotus, Tecno and Lola.
A hypothetical team championship would have been won by Ken Tyrrell's Matra International with the Lotuses of Roy Winkelmann Racing and the works Matras of Matra Sports tied for second, Frank Williams Racing Cars in fourth, Bayerische Motoren Werke fifth and Tecno Racing Team sixth.
The races
07 Apr 1969 > BARC 200 at Thruxton
13 Apr 1969 > Jim-Clark-Gedächtnis-Rennen at Hockenheim
20 Apr 1969 > Grand Prix de Pau
27 Apr 1969 > Eifelrennen at Nürburgring
11 May 1969 > Gran Premio de Madrid at Jarama
08 Jun 1969 > Grote Prijs van Limburg at Zolder
15 Jun 1969 > Rhein-Pokalrennen at Hockenheim
22 Jun 1969 > Gran Premio della Lotteria at Monza
29 Jun 1969 > Grand Prix de Reims
12 Jul 1969 > Flugplatzrennen at Tulln-Langenlebarn
03 Aug 1969 > Grosser Preis F2 von Deutschland at Nürburgring
24 Aug 1969 > Gran Premio del Mediterraneo at Enna-Pergusa
14 Sep 1969 > Grand Prix d'Albi
12 Oct 1969 > Gran Premio di Roma at Vallelunga
26 Oct 1969 > Flughafenrennen München-Neubiberg
European Trophy for F2 Drivers events shown in bold
1969 European Trophy for F2 Drivers table
The BMW and Ferrari teams were the only ones not run Cosworth FVA engines.
All but the final championship race were won by graded drivers, by Rindt (twice), Jean-Pierre Beltoise (works Matra MS7), Stewart (twice) and Piers Courage in Frank Williams' Brabham BT30. Maximum points in those races were awarded to Pescarolo, Hahne (twice), Servoz-Gavin (twice) and Cévert. They are not included in the win totals above.