Brabham BT23 car-by-car histories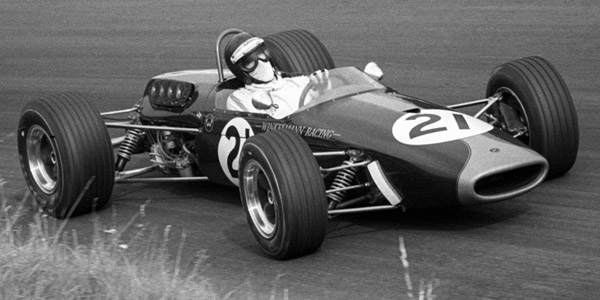 The 1967 Formula 2 car was a more significant revision to the Brabham line, after the minor evolutions from the BT10 to the BT18. Jochen Rindt won nine of the season's F2 races in his BT23.
Thanks to Jochen Rindt's success in Roy Winkelmann Racing car, the BT23 was the most successful F2 model of 1967, winning six of the ten championship rounds against three for the Matras and one for the monocoque Lotus 48. The factory Brabham team ran three cars for World Champion Jack Brabham, Denny Hulme and Frank Gardner, and Winkelmann ran a second BT23 for Alan Rees. Robin Widdows also ran a BT23 all season and another later appeared for Gerhard Mitter but the last two cars spent most of their lives in Formula 3.
Of the nine BT23s, only three are known to have survived to the present although rumours persist of another BT23 in Italy. These histories have been constructed by Andrew Fellowes with the assistance of Allen Brown, Bryan Miller, David McKinney, Chris Townsend, Philippe Demeyer, Ted Walker, Simon Hadfield, Steve Wilkinson and others. Thanks also to Jay Galpin for details on his cars.
If you can add or correct anything, please contact Allen Brown (allen@oldracingcars.com).
Chassis
History
Current owner
Entered by Motor Racing Developments for Jack Brabham in F2 in 1967 until crashed at Rouen in July. Repaired and sold to Mick Mooney's Irish Racing Cars in July, fitted with a 1600cc Ford twin cam and raced by Tommy Reid (Tandragee, County Armagh, Northern Ireland) in Irish 1600cc Formula events for the rest of 1967 and through 1968. Refitted with a Cosworth FVA for 1969 and dominated the Irish season. To Walter Kinnear (Gilford, County Down, Northern Ireland) with twin cam power for 1970 but crashed heavily at Mondello Park in August. Rebuilt on a new BT23C frame and raced in 1971 and 1972 by Nelson Todd (Lisburn, Northern Ireland). To Maurice Stirling (Crumlin, County Antrim, Northern Ireland) for 1973 and converted to Irish Clubmans for 1974. Advertised from a Ballymoney, County Antrim telephone number in 1979 but then unknown until for sale by Northdown Racing (Ripley, Surrey) in 1982. Then to Bob Wilson (Glasgow) and sold via dealer Jon Bradburn to Andrew Fellowes in late 1984. To Joe Fairley (Belfast, N. Ireland) 1986. To John Moulds (Alderley Edge, Cheshire) 1997. Sold to Steve Padgett (Australia) 2013.
Driven by: Jack Brabham, Tommy Reid, Walter Kinnear, Nelson Todd and Maurice Stirling. First race: Snetterton (R1), 24 Mar 1967. Total of 61 recorded races.
Steve Padgett (Australia) 2013
Motor Racing Developments entry for Denny Hulme in 1967 and probably the car used by Jack Brabham for a few races in July and August after his usual car was sold to Mick Mooney. Then raced by Frank Gardner in September. Taken to the Tasman series for Denny Hulme after he had wrecked BT23-5 at Pukekohe. Then sold to Italy and a Scuderia Picchio Rosso entry in 1968, but only appeared once for Tino Brambilla in July, and once for Enzo Corti in October. Retained by Scuderia Picchio Rosso for Corti a full season in 1969 and again for Vittorio Brambilla at the start of 1970, when it had BT30 sidepods. Last seen in July 1970. Subsequent history unknown but a chassis was found in Switzerland in 2005 that was believed to be "ex-Brambilla". The frame does appear to be the one raced by Tino Brambilla in 1968, but it is said to have come from Antonio Bernardo, who claims to have bought it from Winkelmann Racing at the end of the 1967 season. This car is still being investigated in July 2019.
Driven by: Denis Hulme, Jack Brabham, Frank Gardner, Ernesto "Tino" Brambilla, Enzo Corti and Vittorio Brambilla. First race: Snetterton (R1), 24 Mar 1967. Total of 35 recorded races.
Unknown
Motor Racing Developments entry for Frank Gardner in 1967. To Squadra Tartaruga for Xavier Perrot (Zürich, Switzerland) to race in F2 in 1968. Retained early 1969 but damaged at Nürburgring 27 April by a Porsche landing on top of it. Sold via Jo Siffert in 1969 to Jacques Joliat (Porrentruy, Switzerland) who raced it in French and Swiss hillclimbs in 1970 and 1971, before replacing the FVA with a FVC for 1972. Unknown in 1973 and 1974, then to Michel Salvi (Malbuisson, France) and raced with a 1300cc Renault Gordini engine in 1975 and 1976. To Alain Ribager (Mulhouse, Alsace, France) in 1977, and raced by him until 1979, then very probably the Renault-engined BT23 raced by Jean-Pierre Mutel in 1981 and 1982. Found by Gérard Gamand in 1984 near Valence, France with March bodywork but still with a Renault engine. To Michel Champelovier 1989 then 'Hollinger' then Thierry De Mortier by 2006. To Max Pearson (Queensland, Australia) 2010. Sold to Steve Weller (UK) February 2020.
Driven by: Frank Gardner, Xavier Perrot, Günther Huber, Jacques Joliat, Michel Salvi, Alain Ribager, D Coquet and J.P. Mutel. First race: Snetterton (R1), 24 Mar 1967. Total of 100 recorded races.
Steve Weller (UK) 2020
Roy Winkelmann Racing for Alan Rees in F2 1967. To Walter Habegger (Oberönz, Switzerland) 1968 for Swiss championship events. To Gérard Pillon (Geneva, Switzerland) 1969 and used in Swiss national events and French hillclimbs. (Although one source gives this as the car of Enzo Corti at Rheims and Albi in 1969, that identification looks highly doubtful.) Crashed at Côte de la Faucille on 7 September and not seen again. In 2009, Walter Habegger recalled that Pillon had an accident in the car and that it was badly damaged.
Driven by: Alan Rees, Walter Habegger and Gérard Pillon. First race: Snetterton (R1), 24 Mar 1967. Total of 47 recorded races.
Wrecked 1969
Roy Winkelmann Racing for Jochen Rindt in F2 in 1967, winning nine races that season. Also for Gijs van Lennep as a Roy Winkelmann Racing Team Holland entry at Zandvoort that July. Then used by Denny Hulme for the 1968 Tasman series but crashed at Pukekohe. Feo Stanton and Alex Mildren bought the wreck which went, less suspension, to Bob Britton in Australia who used it to make a jig for a 'Rorstan' for Stanton, a 'Mildren' for Alex Mildren and his own series of Rennmax BN3 cars. The BT23 frame later passed to Graham Hepburn and then to Denis Lupton (Melbourne) 1981 who also bought the suspension, by then with Les Sargent. Sold to George Goodare (Sydney, NSW) 1983 - Jean-Marie Muller (France) 2008 . Involved in an accident at Reims in 2010 and reported to be damaged by fire. Subsequent history unknown. On display in the Heeresgeschichtlichen Museums at Zeltweg, Austria, in September 2013. On display at the Techno-Classica Essen in Germany in April 2015. Offered at auction in June 2015. On display at the Essen Motor Show in December 2017.
Driven by: Jochen Rindt, Gijs van Lennep and Denis Hulme. First race: Snetterton (R1), 24 Mar 1967. Total of 17 recorded races.
Unknown owner (Germany) 2017
1967 Whitley Racing Services for Robin Widdows. Sold at the end of the 1967 season to Mitsubishi Motors and shipped to Japan. May have been used by Kouichi Satou in 1973 and Masaru Tanaka in 1975
Driven by: Robin Widdows. First race: Snetterton (R1), 24 Mar 1967. Total of 18 recorded races.
Unknown
To Gerhard Mitter (Germany) and raced in selected F2 events in 1967. Then entered by Mitter Tuning for Werner Lindermann in 1968. Retained by Lindermann and entered by Montan Racing Team through the 1969 season, returning in 1970 for the team's second driver Helmut Gall. Last seen at Hockenheim on 12 April 1970 but believed to have been destroyed some time later.
Driven by: Gerhard Mitter, Werner "Noddy" Lindermann and Helmut Gall. First race: Nürburgring (R3), 23 Apr 1967. Total of 17 recorded races.
Believed destroyed 1970
Fitted with an Alfa Romeo GTA engine and entered by Scuderia Ala d'Oro for Nanni Galli to drive in the Vallelunga F2 race in October 1967. Raced again by Galli at Jarama April 1968 and then by Alfa Romeo test driver Giorgio Pianta at Monza in June 1968. Then converted to F3 specification and entered by Jolly Club France Racing Team for Etienne Vigoureux to drive in mainly French F3 races through 1969. Subsequent history unknown but some of the Italian references mentioned under BT23-9 may refer to this car.
Driven by: Nanni Galli, Giorgio Pianta and Etienne Vigoureux. First race: Vallelunga (R10), 8 Oct 1967. Total of 7 recorded races.
Unknown
To David Bridges Racing for Brian Redman to drive in F2 but only seen once in F2 spec, at Brands Hatch in August 1967, Redman preferring the team's Lola T100 at other races. To Harry Stiller and converted to F3 spec, appearing twice in October 1967. Then probably the ex-F2 BT23 supplied by Frank Williams to Italy in 1968. Raced by Gian-Luigi Picchi twice in September 1968 and then by Claudio Francisci in the first half of 1969 before he moved to a De Sanctis. Raced by Franco Bernabei later in 1969. Unknown in 1970 but raced by Marcello Gallo as a 1600cc F3 in 1971. May then be the "BT23B" advertised by Diego Ritucci in 1972. There were reports of a BT23 in Italy in 1990, a further report that it has been sold in 2002 and then that it was understood to be undergoing restoration in 2010. Whether this refers to BT23-9 is unknown.
Driven by: Brian Redman, Harry Stiller, Gian-Luigi Picchi, Claudio Francisci, Franco Bernabei and Marcello Gallo. First race: Brands Hatch, 29 Oct 1967. Total of 20 recorded races.
Unknown
The mystery cars
Chassis
History
Current owner
Brabham BT23
'the Roy Courtney car'
Roy Courtney (Lisburn, County Antrim, Northern Ireland) entered a Brabham BT23 in Club Specials races at Kirkistown in 1972. He bought a March 722 for the 1973 season and the identity of the Brabham remains unknown.
Driven by: Roy Courtney. First race: Kirkistown, 25 Mar 1972. Total of 2 recorded races.
Unknown
For Samuel Hauser's Brabham-Wankel in Switzerland in 1969/70, see the Brabham BT23B page.
Also worth mentioning here is the 1968 EMC F3 car which was built along very similar lines to a Brabham BT23. During the 1970s it was used in Monoposto Formula and after racing under a variety of names, it was misidentified as a Brabham some time in the early 1980s. It was restored to BT23 specification when owned by Jay Galpin in the mid-1990s, after which it was owned by Barry Marquardt, Bob Baker and, since 2006, David Jacobs. As of 2011, David was planning to restore the car to its original EMC specification. In September 2018, Jacobs sold it back to Jay Galpin (Litchfield, CT), and it has been retored by David Irwin to full BT23 Formula 2 specification with Cosworth FVA engine and Hewland FT200 gearbox.
In addition to the above, an unknown Brabham BT23 was driven by John Richardson.
These histories last updated on .