Brabham BT23 car-by-car histories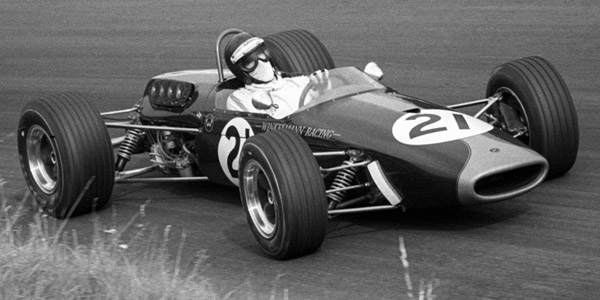 The 1967 Formula 2 car was a more significant revision to the Brabham line, after the minor evolutions from the BT10 to the BT18. Jochen Rindt won nine of the season's F2 races in his BT23.
Thanks to Jochen Rindt's success in Roy Winkelmann Racing car, the BT23 was the most successful F2 model of 1967, winning six of the ten championship rounds against three for the Matras and one for the monocoque Lotus 48. The factory Brabham team ran three cars for World Champion Jack Brabham, Denny Hulme and Frank Gardner, and Winkelmann ran a second BT23 for Alan Rees. Robin Widdows also ran a BT23 all season and another later appeared for Gerhard Mitter but the last two cars spent most of their lives in Formula 3.
Of the nine BT23s, only three are known to have survived to the present although rumours persist of another BT23 in Italy. These histories have been constructed by Andrew Fellowes with the assistance of Allen Brown, Bryan Miller, David McKinney, Chris Townsend, Philippe Demeyer, Ted Walker, Simon Hadfield, Steve Wilkinson and others. Thanks also to Jay Galpin for details on his cars.
If you can add or correct anything, please contact Allen Brown (allen@oldracingcars.com).
Chassis
History
Current owner
The mystery cars
Chassis
History
Current owner
Roy Courtney (Lisburn, County Antrim, Northern Ireland) entered a Brabham BT23 in Club Specials races at Kirkistown in 1972. He bought a March 722 for the 1973 season and the identity of the Brabham remains unknown.
Driven by: Roy Courtney. First race: Kirkistown, 25 Mar 1972. Total of 2 recorded races.
Unknown
For Samuel Hauser's Brabham-Wankel in Switzerland in 1969/70, see the Brabham BT23B page.
Also worth mentioning here is the 1968 EMC F3 car which was built along very similar lines to a Brabham BT23. During the 1970s it was used in Monoposto Formula and after racing under a variety of names, it was misidentified as a Brabham some time in the early 1980s. It was restored to BT23 specification when owned by Jay Galpin in the mid-1990s, after which it was owned by Barry Marquardt, Bob Baker and, since 2006, David Jacobs. As of 2011, David was planning to restore the car to its original EMC specification. In September 2018, Jacobs sold it back to Jay Galpin (Litchfield, CT), and it has been retored by David Irwin to full BT23 Formula 2 specification with Cosworth FVA engine and Hewland FT200 gearbox.
In addition to the above, an unknown Brabham BT23 was driven by John Richardson.
These histories last updated on .