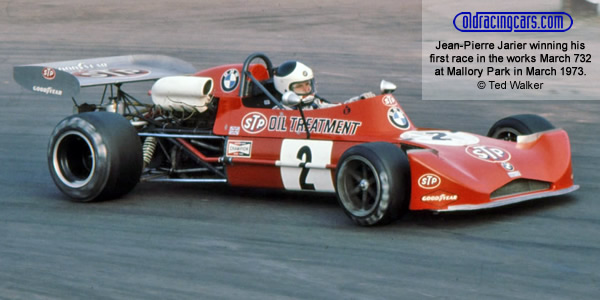 Formula 2 1973
Although 1973 will be remembered for the dominance of Jean-Pierre Jarier and the BMW-engined March 732, it was a season of great variety, with Chevron, Rondel, Brabham, Surtees, Alpine and GRD all producing competitive cars. The CSI had produced an overcrowded calendar with 22 planned races, and had overlayed that with an immensely complex championship which involved "basic events" and "non basic events". A driver could only score points in his first four "non basic" events but they had to be in different countries.
Behind Jarier, the most impressive driver was Jochen Mass in the works Matchbox Surtees TS15, using Brian Hart alloy engines. Patrick Depailler led the Elf Alpine team and was a regular point scorer, unlucky not to win at the Nürburgring and at Pau. The GRD 273 sold in large numbers after the new company's success in F3 in 1972, but once Roger Williamson had given up his GRD for a March 732, GRD's interest appeared to wane. Ron Dennis's Rondel operation also built their own cars, named the Motul M1 in deference to a sponsor, but lacked focused development and the team only won two races. John Watson's accident at the Race of Champions led to him being replaced in the works Brabham BT40 by Wilson Fittipaldi, whose only win came in a poorly-supported non-championship race at Misano in July. Peter Gethin drove the new works Chevron B25 but without great success. The most impressive March privateers were Vittorio Brambilla and Jacques Coulon.
The races
11 Mar 1973 > Radio Luxembourg Trophy at Mallory Park
08 Apr 1973 > Jim Clark Memorial Trophäe at Hockenheim
23 Apr 1973 > Esso Uniflow Trophy at Thruxton
29 Apr 1973 > Eifelrennen at Nürburgring
06 May 1973 > Grand Prix de Pau
20 May 1973 > Swedish Gold Cup at Kinnekullering
10 Jun 1973 > GB Grand Prix at Nivelles-Baulers
17 Jun 1973 > Jochen Rindt Trophy at Hockenheim
24 Jun 1973 > Grand Prix de Rouen at Rouen-les-Essarts
29 Jun 1973 > Gran Premio della Lotteria at Monza
22 Jul 1973 > Coppa di Santamonica at Misano
29 Jul 1973 > Mantorp Park Grand Prix
12 Aug 1973 > Cannon Race at Karlskoga
26 Aug 1973 > Gran Premio del Mediterraneo at Enna-Pergusa
02 Sep 1973 > Salzburger Festspielpreis at Salzburgring
09 Sep 1973 > Norisring Trophy
16 Sep 1973 > Grand Prix d'Albi at Circuit d'Albi
14 Oct 1973 > Gran Premio di Roma at Vallelunga
21 Oct 1973 > Grande Prémio do Estoril
European F2 Championship events shown in bold
1973 European F2 Championship table
Other winners were all graded drivers who were not eligible to score points: Henri Pescarolo in a Rondel at Thruxton, Reine Wisell in a Team Pierre Robert GRD at the Nürburgring, François Cevert in the Elf-Alpine at Pau and Tim Schenken in a Rondel at the Norisring.
Cars
While the March 732 was the dominant car in 1973, there was tremendous variety at this time from English constructors and also a couple of French constructors. The March 732 was the most numerous, with a total of 89 race starts in championship events, followed by the GRD 273 on 66, Rondel M1 on 46, Surtees TS15 on 41, Chevron B25 on 23, Brabham BT40 on 22, and the Alpine A367, called an Elf 2 after its sponsor, on 17. The Lotus 74 was a dreadful flop and managed only ten starts, the one-off Scott ran out of funding after three starts, the Royale RP15 only started twice and the Ensign just once. The remaining starters were older cars, Surtees TS10s accounting for 15 starts, older Marches for nine, older Brabhams for seven, GRD 272s for two and a Pygmée MDB17 for one.
Engines
The works-built BMW M12/6 engine had 86 starts and ten wins, which was explained by the 89 starts made by March 732s, less the three times that one of the Brambilla brothers used a Schnitzer BMW 20-4 engine instead. The Schnitzer BMW started a race 11 times in total and won once, in Vittorio Brambilla's March 732 at Albi. Despite claims by some members of the historic racing community, no March 732 ever turned up to a race in 1973 with anything other than a BMW engine. The nearest competitors to BMW were the alloy-block Ford BDA engines, which accounted for 81 race starts, built by either Brian Hart from Harlow in Essex (66 starts and three race wins), Racing Services of Twickenham (11 starts and one win) or Race Engine Services of Bedford (four starts and one win). Cosworth's own iron-block BDG engine was next highest on 56 starts but never placed higher than third. Alan Smith produced a version of the Cosworth sports car engine, called the FVD, of debatable legality, and this started 15 times with one win, in Reine Wisell's GRD 273 at the Nürburgring. A Novamotor Lotus 907s started ten times, and the rest was older tech, including three Cosworth FVCs, a one-off Formula 3 Novamotor Ford twin cam and 93 assorted iron-block BDAs from about 16 different engine builders. In a small number of cases it was not clear whether the engine was iron or alloy, most notably in the case of a Racing Services development engine in July/August, so these have been added to the iron block count.