March 732 car-by-car histories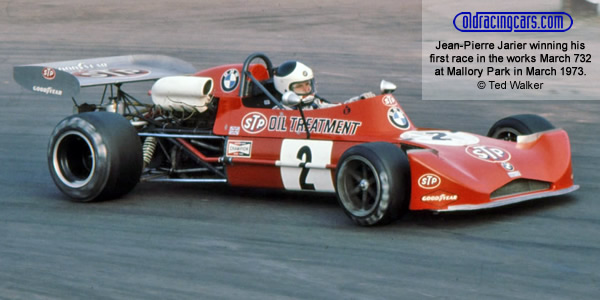 The March 732 was the car that reshaped Formula 2 through its domination of the 1973 Formula 2 season, winning 11 of the 17 championship races. STP March team leader Jean-Pierre Jarier won eight races and the title.
March boss Max Mosley had a very good relationship with Jochen Neerpasch, Competition Director of Ford of Germany, and this paid off in 1972 when Neerpasch left Ford to take on the same role at BMW. Neerpasch offered March an exclusive deal for BMW's new Formula 2 M12/6 engine, as long as March agreed to buy 50. As well as being standard equipment on the new F2 March 732, March also built a range of 2-litre sports cars, the March 73S. After the disappointing side-radiator March 722, Robin Herd returned to the March 712M template for his 1973 F2 car. The nose was based on the wide "sports car" nose that March had tried on the 722 towards the end of the 1972 season, so the main radiator was returned to the front of the car. In other respects, the car was a refinement of the 712M. In a further change from 1972, the Formula B/Atlantic and F2 cars had different type numbers, the Formula B/Atlantic variant being the March 73B. It appears that eight 732s had been completed in time for the opening race at Mallory Park on 11 March, although only three were actually present, and then another three were delivered in time for the second round, bringing the total production at that point to 11. Six other cars were later built in the season, the earliest of those appearing in June.
The BMW engine proved to be both powerful and reliable, and thanks to the inspired driving of March team leader Jean-Pierre Jarier, the March 732 was by far the most successful car of the 1973 season. Of the competition, Jochen Mass went very well in the factory Surtees TS15, winning two races, and Francois Cevert won one race with the Alpine A367, both these teams using Brian Hart's alloy engines. GRD won two races, but the marque's star driver Roger Williamson defected when his patron Tom Wheatcroft bought a March 732. The massed ranks of the Motul Rondel team won two races, and Wilson Fittipaldi won a non-championship race in a Brabham BT40. The success of the March-BMW had a profound impact on the constructor landscape. GRD only found one person to buy a F2 GRD for 1974, and soon folded; Brabham pulled out of production racing car construction; the Lotus team packed away their failed "Texaco Stars" and were not seen in F2 again; Pygmée quit F2 mid-season and stopped production; and as the impact of the oil crisis was felt, Rondel went into liquidation. The Ensign and Scott F2 cars turned out to be one-offs. Only Chevron, Alpine and Surtees survived the steamroller.
If you can add to our understanding of these cars, or have photographs that we can use, please email Allen at allen@oldracingcars.com.
Chassis
History
Current owner
March 732 mysteries in 1973
In June, Ecurie Santos were said to have built up a Formula 5000 car using the March 732 monocoque damaged when Jarier crashed 732/6 at Thruxton in April. This car was entered for the British GP during a brief period when the Grand Prix organisers were haggling with the "Formula 1 Association" over the fee for the race and were threatening to fill the grid with F5000 cars.
The only unidentified March 732 in 1973 is the Heroes Racing Corporation car raced in Japan by Hiromu Tanaka. This would be 732/2, 732/3 or 732/16, but given how early in the season it appeared, it must really be 732/2 or 732/3. Either way, it can only account for one of those three unexplained cars. What happened to the other two remains unresolved.
Chassis
History
Current owner
Heroes Racing Corporation ran a March 732 in the Japanese Formula 2 series in 1973, raced by Hiromu Tanaka. Tetsu Ikuzawa raced the car in early 1974, and it is then highly likely to have been the 732 entered by Niscait Racing for Fukumi Koutake in November 1974. By the same logic, as it was the only 732 known to have gone to Japan, it was presumably the BDA-engined 732 raced by Tomohiko Tsutsumi in 1975. Subsequent history unknown.
Driven by: Hiromu Tanaka, Tetsu Ikuzawa, Fukumi Koutake and Tomohiko Tsutsumi. First race: Fuji (R1), 3 May 1973. Total of 10 recorded races.
Unknown
March 732s in 1974
Six of the March 732s cannot be traced beyond the end of 1973: 732/2, 732/3, 732/5, 732/6, 732/8, and 732/16. One of these will be the car that went to Japan, probably 732/2 or 732/3. The Brambillas kept one of their two cars, 732/4 and 732/5, but the other vanishes, possibly as the result of one of Vittorio's many accidents. Chassis 732/6 also vanishes, but may well be the car in the BMW Museum. Colin Vandervell's 732/8 also disappears, and was probably sold into the second-hand market. That leaves 732/16, about which we know nothing.
Two March appeared in French hillclimbs in early 1974 which were described initially as 1974 Marchs, but neither had BMW engines, so are unlikely to have been 742s. These were both supplied by French March agent Pierre Maublanc Racing to two of his customers: Jean Lapierre and Régis Péchaire. As best we can tell, Lapierre's car was fitted with a 2-litre Racing Services BDA engine, a popular option in F2 in 1973 for those who could not get hold of a BMW engine. Péchaire's car was initially called a 74B, then later a 742. When it was advertised in May 1975, the engine was a 1900cc Cosworth FVC, an even lower-cost option. Although this car is currently listed with the 732s, one possibility is that it was the March 74B ordered by Miguel Coarasa for 1974 but sold to Pierre Maublanc before it was raced.
The other car to appear in 1974 was Max Bonnin's, which was built using a previously unused tub, and first raced in August.
Chassis
History
Current owner
Jean Lapierre ran a March 732 in French hillclimbs from the start of 1974 until the end of the 1976 season. Its identity is still unknown but nearly all the March 732s can be traced into 1974 so it is most likely to be the ex-Colin Vandervell chassis 732-7. Lapierre ran the car in the 2-litre Group 8/9 class but its engine is usually only described as a Ford. The one time it is identified in any detail, it appears to have been a Racing Services BDA, a popular option in F2 in 1973. As the car did not have a BMW engine, it is possible - but unlikely - that it was an updated 722. At some point in 1976 the car was crashed and Lapierre may have had two Marchs by the end of 1976. In 1977, it was reported that Hervé Bayard had acquired the wrecked ex-Lapierre March 742 and had rebuilt it. However, another report said that he had the ex-Lateste March 742-BMW, which seems much more plausible.
Driven by: Jean Lapierre and Bernard Delage. First race: Ampus, 31 Mar 1974. Total of 50 recorded races.
Unknown
Having run a 1970 Pygmée during 1972 and 1973, Régis Péchaire acquired a Formula 2 March for French hillclimbs in 1974. The car was described throughout his three seasons as a March 742, but a later owner described it as a 732, hinting that it was older than Péchaire's description. Péchaire used this with an unknown 2-litre Ford engine during 1974, 1975 and 1976, regularly winning regional events and being well placed in major events. He moved to a Chevron B35 for 1977, and the '742' was sold to Michel Turrel for 1977, who raced it in south-eastern France with a 2-litre Hart engine. Although this was described by Echappement as the ex-Péchaire 742, it is also described as a 732 on at least two occasions. This might be the result of its early-1974 short-nose bodywork, but is thought to indicate it was a 732, not a 742. Turrell raced the car again in 1978 and 1979, and advertised it in December 1979 as a March 742 with Hart 420 engine. Subsequent history unknown.
Driven by: Régis Péchaire and Michel Turrel. First race: Ampus, 31 Mar 1974. Total of 62 recorded races.
Unknown
Max Bonnin raced a March in F2 in 1974, which was described by Motoring News as being "one of last year's March monocoques", to which Bonnin had fitted his own suspension, "which featured narrower track and revised roll centres". Bonnin later told Gérard Gamand that he acquired an unused 732 monocoque to build this car. It was powered by a Hart BDA. Bonnin raced this car in F2 through 1974 and 1975 before buying a March 752 for 1976. The 732, by then called a 742, was sold to Jean-Louis Albinet and used in French hillclimbs in 1976, 1977 and 1978, using a 2-litre Hart engine. In July 1978, Albinet acquired a Martini MK22, and the March-Hart was sold to Gérard Lafaurie (Bordeaux, Aquitaine), first appearing in August 1978 in a "March 732", and then regularly from the start of 1979 in a "March 742". Lafaurie raced the car again in 1980, 1981, and 1982. Later in 1982, the car was reported to have been sold to Pascal Malateste, but photographs of Malateste's car show a later generation March 752/762/772. Subsequent history unknown.
Driven by: Max Bonnin, Jean-Louis Albinet and Gérard Lafaurie. First race: Enna-Pergusa (R8), 25 Aug 1974. Total of 75 recorded races.
Unknown
March 732s in 1975
Of the 17 March 732s, one (732/9) had been destroyed in 1973 and six went missing at the end of that season, leaving 10 that could be traced into 1974. After one more (732/12) was wrecked in 1974, the remaining nine can be tracked through into 1975: 732/1 went to John Calvert for libre, 732/4 remained with the Brambillas, 732/7 remained with Gérard Pillon, 732/10 went to Roger Heavens for Antônio Castro Prado for F2, 732/11 was still with Bill Gubelmann, 732/13 went to Beat Blatter in Switzerland, 732/14 was in Tom Wheatcroft's collection, 732/15 remained with Ken Shirvington, and 732/17 was retained by Roland Binder.
The six that had gone missing at the end of 1973 (732/2, 732/3, 732/5, 732/6, 732/8, and 732/16) can be partly explained by one car going to Heroes Racing in Japan, one probably being lost in all the Brambillas' accidents, one going to the BMW Museum and one perhaps going to Jean Lapierre, and one maybe going to Régis Péchaire. The Heroes Racing, BMW Museum, Lapierre and Péchaire cars can all be tracked into 1975, so no further 732 went missing between 1974 and 1975.
One more mystery March 732 appeared in 1975, the car of Spaniard Luis Maria de Almenara. It was described by Motoring News as a 732 but a photograph of this car taken towards the end of the year shows it in works 742 bodywork with side radiators.
Previous versions of this page listed the car of Italian Adriano Parlamento as a likely March 732. Better photographs have since indicated it is more likely to have been a March 712M.
Chassis
History
Current owner
Luis Maria de Almenara Juandò (Barcelona, Spain) raced a March 732 at five races in Formula 2 in 1975, but failed to qualify for four of them. He also ran the car at the Carrera en Cuesta a la Rabassada hillclimb in Spain in October 1975, finishing second. His March 732 was identified at Mugello by Motoring News as chassis number "732/44", but this number makes little sense as a chassis number. There was a 722/44 but de Almenara's car had forward-facing rollhoop supports, so this is unlikely. A photograph of the car at Rabassada shows it wearing works-style 742 bodywork with side radiators, and the rollhoop casing cut down as happened to the 752s early in the 1975 season. This all suggests it was a 742, not a 732. Nothing more is known of his car.
Driven by: Luis Maria de Almenara. First race: Misano, 24 Aug 1975. Total of 2 recorded races.
Unknown
March 732s in from 1976 to 1979
By the end of 1975, four March 732s had appeared in French hillclimbs: Gérard Pillon's ex-Ecurie Filipinetti/Jacques Coulon 732/7, the ex-everyone 732/10, the mystery ex-Jean Lapierre 732/742, and the ex-Régis Péchaire "742". Also, Max Bonnin had built a car around an unused 732 monocoque, which had been sold to Jean-Louis Albinet for French hillclimbs.
Pillon's 732/7 was retained for many years, so its movements are fully understood through to 1980. The ex-everyone 732/10 can be traced confidently to 1982 at least. Lapierre's 732/742/752 was last seen in Bernard Delage's hands in September 1977, before he replaced it with the ex-Max Mamers March 762. The Péchaire "742" was with Michel Turrel as late as December 1979. The ex-Bonnin/Albinet car was with Gérard Lafaurie in 1982. So the only one of these cars to go missing before the end of the 1970s was Jean Lapierre's car, last seen in September 1977, which is therefore the most likely candidate for the car of Michel Salvi in 1978 and 1979.
An additional puzzle to be solved is the 1600cc March-Ford raced by "Jacquard" at two hillclimbs just north of Lyon in July 1977. His car was described as a 732 at his first event, and as a 733 at the second. A photograph shows that the car had a 732-style nose. This was the first "732" to appear in the 1600cc class, but only just: Delage drove the ex-Lapierre 732 at Eymoutiers the same day that "Jacquard" was having his second race 400 km away at Boyeux-St-Jérôme.
However, we should not forget that three other 732s were not far away: Jacques Joliat's 732/12 had been wrecked hillclimbing in Switzerland in 1974 and parted out, Beat Blatter had owned the ex-Roland Salomon 732/13 in Switzerland in 1975, and Roland Binder had raced his 732/17 in 1975.
Chassis
History
Current owner
The Brambilla brothers did a deal with Lancia for 1976 to provide Lancia-Ferrari V6 engines to Ron Dennis's Project 4 Formula 2 team. Engines were installed in March 752 and 762s for Project 4, but the engine was not a success, and Dennis pulled out. The Brambillas then installed the engine in a test car that appears to have been a 1973 or 1974 March chassis, possibly one of the 732s the brothers had raced in 1973. The car was described by Autosprint as a 732 and "apparently ex-Pesenti" [Alessandro Pesenti-Rossi], suggesting it was his 742, but that 742 was in long-nose specification in early 1976 and the Lancia test car was in an older specification, so the Pesento reference is thought to be incorrect. Vittorio Brambilla drove this test car at Enna-Pergusa in July 1976 but failed to qualify. He then raced it in the non-championship race at Misano four weeks later, finishing last in the first heat but improving to ninth in the second heat. The car's only other known appearance was when Guido Pardini raced it at Mugello in June 1977, retiring after only two laps. The identity of the car remains unresolved.
Driven by: Vittorio Brambilla and Guido Pardini. First race: Misano, 22 Aug 1976. Total of 2 recorded races.
Unknown
Michel Salvi (Malbuisson, Franche-Comté, France) raced a "March 732" in French course de côte in 1978 and 1979, using a 1600cc engine variously reported as Ford, Cosworth or Hart. After being a very regular competitor, he disappeared after Bourbach le Haut in May 1979, returning at the end of the season with a newer March 772. This suggests he may have had an accident in the 732, but no report has been found.
Driven by: Michel Salvi. First race: Bagnols-Sabran, 2 Apr 1978. Total of 19 recorded races.
Unknown
March 732s in the 1980s
Of the five cars mentioned above as being 732-ish and active in French hillclimbs up to the end of 1979, three can be traced through to 1982 at least: Pillon's 732/7, the ex-everyone 732/10, and the ex-Bonnin/Albinet car. That leaves the ex-Jean Lapierre 732/742 and the ex-Régis Péchaire "742". Also in the mix is the "March 732" raced by Michel Salvi in 1978 and 1979.
Two more mystery 732s appeared in 1980 and 1981: Gérard Fau's March 732/772 with Renault engine in 1980 and probably early 1981; and Patrick Thibonnet's March 732 with 1600cc Ford engine in 1981. The Lapierre car and the Salvi car, which may be one and the same, are the most likely contenders. As the Péchaire car was nearly always described as a 742, not a 732, it is less likely to be one of these.
Chassis
History
Current owner
Gérard Fau raced a March 732/772 with a 1.6-litre Renault engine in French hillclimbs in 1980 and 1981. He advertised the car in Echappement in September 1980 as a 732 with 772 bodywork, a Renault engine and Hewland FT200 gearbox. In early 1981, Fau was reported to have a 742 with 1600cc Ford engine, but by August 1981, it was clear that he was racing a March 782 or 783. Exactly when he moved from the 732 to the 782 is unclear.
Driven by: Gérard Fau. First race: Hautefage-la-Tour, 11 May 1980. Total of 12 recorded races.
Unknown
At a few minor French hillclimbs in 1981, a Vichyssois driver called Thibonnet, presumably Patrick Thibonnet, raced a "March 732" with 1600cc Ford engine. Nothing more known.
Driven by: Patrick Thibonnet. First race: Livradois-Forez, 12 Apr 1981. Total of 3 recorded races.
Unknown
March 732s in the 1990s
For much of the 1980s, the Historic F2 races were only held for cars built up to 31 December 1971, which meant there was nowhere for a 732 to race, unless of course it was rebuilt into a 712M. In the early 1990s, the first 2-litre cars started to appear in a few events, but it was only in the early 2000s that 2-litre Historic Formula 2 really started to develop.
Chassis
History
Current owner
In addition to the above, unknown March 732s were driven by Jacquard and Ph. Montier.
Acknowledgements
This has been a very long project, and I am grateful to Chris Townsend for the immense amount of work he put into this topic. Thanks also to Adam Ferrington, Simon Hadfield, Ted Walker, Bryan Miller, David McKinney, Michael Ferner, Philippe Demeyer, Jeremy Hall, Michael Oliver and Brian Speake for their assistance with the research. This topic was initially researched on 10 Tenths from 2003 to 2009 by Chris, David, Bryan, Ted, Adam, Michael O and myself, and thanks from that time must also go to Jeremy Jackson, Max Blees, Leighton Irwin, Andrew Fellowes, Ian Douglass, Dan Rear, and Kevan McLurg, whose email from Roger Orgee regarding 732/1 was very useful. In more recent times, thanks also to Rob Hall and Andy Willis at Hall & Hall, Marcel Biehl, Gérard Gamand and Will Tomkins.
This is an especially complex subject, and we are a long way from knowing the whole story. If you can add to our understanding of these cars, or have photographs that we can use, please email Allen at allen@oldracingcars.com.
These histories last updated on .